Entertainment lovers looking for a 4K projector that does everything may want to turn their attention to Optoma's impressive lineup. One model capturing our attention is the UHD35STx. Its price tag is a little startling, but it is on point with comparable home theater projectors. According to its advertising, the projector works great for competitive gaming or for watching movies and live-action sports. It also comes with internal speakers and claims to have everything else you want in a projector.
Ready to find out if the projector lives up to the hype? Read what we learned in our Optoma UHD35STx review.
Optoma UHD35STx Review of The Main Specs:
| | Optoma UHD35STx |
| --- | --- |
| | |
| Resolution | 3840x2160 |
| Dynamic Contrast | 1,000,000:1 |
| Brightness (Lumens) | 3,600 ANSI |
| Input lag | 4.2ms-16.9ms |
| Throw Ratio | 0.5:1 |
| Screen size | 36" - 300" |
| Speakers | 10.0 Watts Mono |
| Today's Best Price | |
Image Quality
With 4K resolution, you know onscreen images will be crisp and immersive, and the UHD35STx doesn't disappoint. A dynamic 1,000,000:1 contrast ratio ensures detail and clarity in dark and bright scenes. Colors are sharp and accurate, thanks to the 8-bit color processing technology. Our tests also indicate the dreaded rainbowing effect isn't an issue. Check  on Amazon
HLG and HDRO10 support further enhances image quality.
We often prefer home theater projectors with laser light sources. The light source seems to last longer, even when you are not using eco-mode. The UHD35STx uses a 3,600 lumens metal halide bulb. You get around 4,000 hours in standard settings and up to 10,000 hours with the eco-mode. It's more than enough to accommodate weeks of binge-watching and gaming.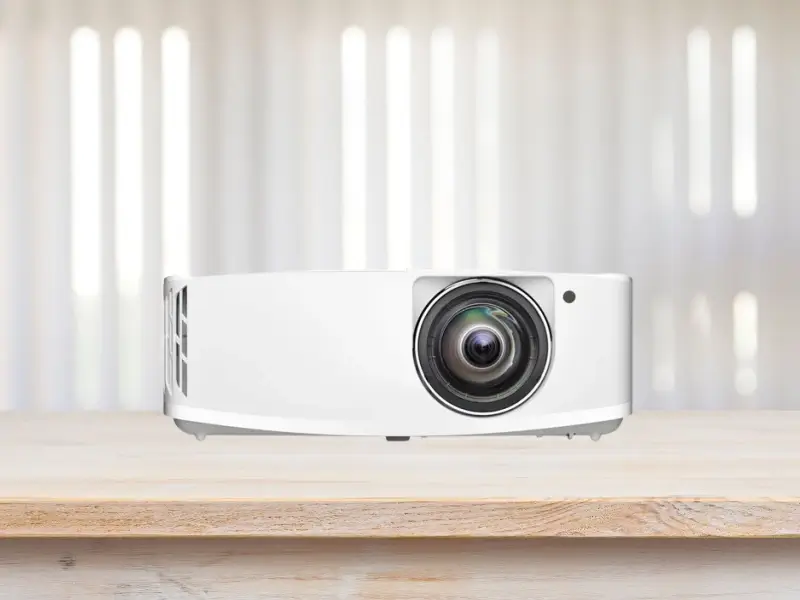 Pros
Enhanced gaming mode
4K resolution
Flexible installation
Onboard 10W speakers
High dynamic contrast ratio
Cons
Without lens shift, accounting for how high or low onscreen images appear can be a trial-and-error process
Even though the projector has a 3,600 lumens light source, it may not be bright enough for all daytime uses.
Gaming Quality
Gamers want two things in their gaming devices, a low input lag and a fast refresh rate. Input lag refers to the amount of time it takes the onscreen avatar to respond to the commands coming from the controller. Higher refresh rates help ensure graphic-rich and live-action scenes play smoothly without any tearing or delays between frames.
You get a 240Hz refresh rate and a 4.2ms input lag with this Optoma projector. However, you are dropping from 4K resolution to ultra HD. It's not enough of a difference to affect image quality and keeps you competitive regardless of which title you are playing.
Audio Quality
You aren't going to replace your existing speaker setup with this projector. What does surprise us is the audio quality without connecting a soundbar or external speakers.
The projector comes with an onboard 10W speaker. The speakers are powerful enough to fill a large room with sound. You can hear whispered conversations, experience the thrill of sound effects, and listen to music. When you are ready to connect external speakers, the projector has an audio port.
Video Review:
Ease of Installation and Set Up
Weighing slightly under 8 lbs. and measuring 4.65″ x 12.40″ x 10.63", it's a compact and lightweight home theater projector.
The short throw lens allows you to cast 100" images in small spaces. You only need around 4 feet of space between the screen and projector. You can go up to 300" but you will need around a distance of 10 or 11 feet.  For the exact numbers try our throw distance calculator.
Finding a shelf or small table to set the projector is rarely a problem. Remember, it's a short-throw projector so you have some flexibility with installation. You can also mount the projector, but the accessories are extra.
The lens has a fixed focal length, but the manual focus makes it easy to bring images into view. Horizontal and vertical digital keystone correction center onscreen images. Geometric correction also helps with image alignment.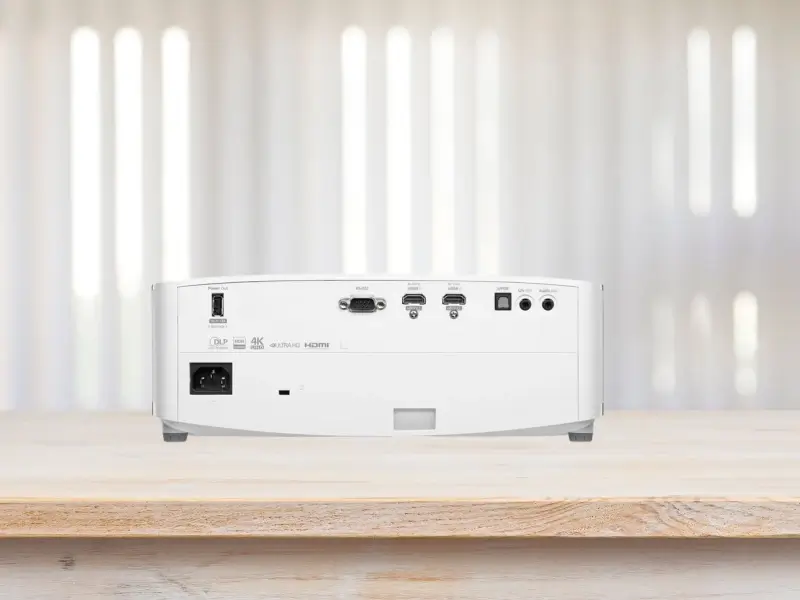 Connectivity
Even though the projector is lacking built-in WiFi, our tests show you can still connect your external devices. HDMI ports, one is the 2.0 version, make it easy to connect gaming consoles and laptops. A USB port simplifies streaming. Plug the stick in and you have instant access to your favorite content.
Consumer Impressions
Consumer impressions are overall favorable. They appreciate the short-throw distance and lightweight construction. Gamers love the low input lag and do not mind dropping to 1080p. Some buyers have trouble aligning onscreen images. Since the projector does not have a lens shift function, consumers are responsible for accounting for how high or low the picture appears on the screen.
Conclusion
There is a lot we like about the UHD35STx and a few aspects we are not impressed with. Built-in Wifi is something that's missing, along with lens shift. It can make a difference during installation. With that being said, the projector is a strong option for games and lovers of live-action sports. With a 240Hz refresh rate, frame delays are virtually impossible. It's also hard to dismiss image quality, you get immersive images. Hopefully, this review will help you decide if it's the right projector for you. Find on ProjectorScreen.com