Today we will look at the Optoma4K400STx, a short throw projector that delivers detailed 4K images and excellent color accuracy. We will be taking a deep dive into the Optoma 4K400STx specs to see what sets this projector apart from the competition. You're in the right place if you've been looking for a new short-throw projector! Keep reading on to learn more about the Optoma 4K400STx test we performed to highlight the performance of this projector. Check the Latest Price on ProjectorScreen.com!
Optoma 4K400STx Review of Specs:
| | Optoma 4K400STx |
| --- | --- |
| | |
| Resolution | 3840x2160 |
| Dynamic Contrast | 1,000,000:1 |
| Brightness (Lumens) | 4,000 ANSI |
| Lens | 1x Fixed |
| Input lag | 4.2ms in 1080p & 240Hz |
| Throw Ratio | 0.5:1 |
| Screen size | 36"-300" |
| Speakers | 10 Watts Mono |
| Today's Best Price | |
Design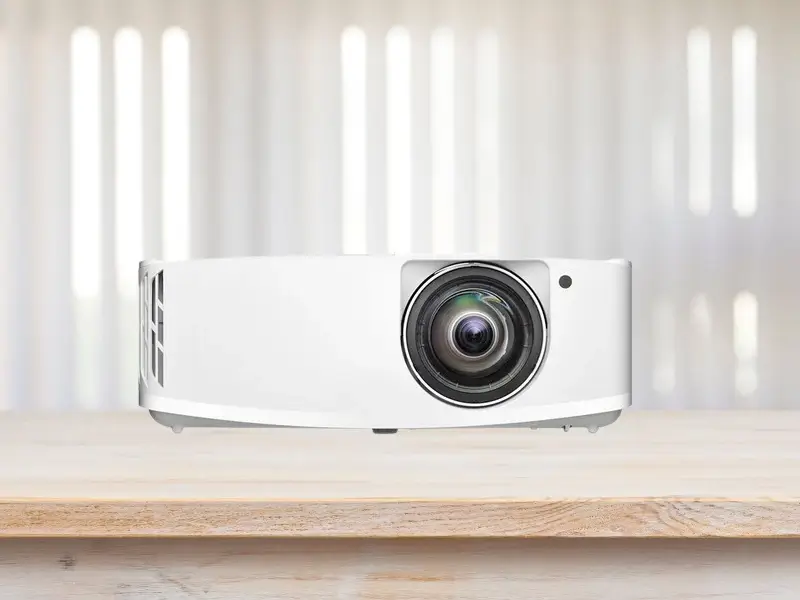 The 4K400STx features a simple, all-white design that will blend seamlessly into an office or classroom, although we found the design to be a bit basic. In a home theater setup, it looks like a standard projector, but we wouldn't use the term 'sleek' by any means to describe the 4K400STx. The back panel features your I/O ports, and we were happy to see that Optoma included two HDMI ports, both supporting HDCP 2.2. There's also an RS-232 serial port, a S/PDIF for any digital audio devices, and a 12V connection and Audio output.
Most notably, as the 4K400STx isn't a smart projector, there aren't any built-in streaming functions or apps. But, Optoma has included a 5V USB Type-A port on the back panel of the 4K400STx, which allows you to connect any USB-powered streaming platform such as a Roku, Firestick, or Apple TV.
Picture Quality
The Optoma 4K400STx delivers a bright and vibrant picture quality thanks to its Ultra HD 3840 x 2160 4K resolution and incredibly bright 4000 lumens-rated light source. The projector comes with HDR10 and HLG support for any HDR content you want to showcase using the Optoma 4K400STx, while the dynamic contrast ratio of 1,000,000:1 provides accurate colors with a high range of difference between white and black.
Overall, the picture quality of the Optoma 4K400STx impressed us, especially as the 4K400STx is such an affordable projector. This is a great projector in terms of picture quality for gamers, cinephiles, or just anyone looking to replace their TV with a short-throw projector. One note we wanted to make for gamers in particular, though, is that this projector will allow you to experience a 240 Hz refresh rate when paired with a computer. However, you will need to drop the resolution to 1920 x 1080 to experience this refresh rate. If you are projecting at 4K with a gaming console or computer connected, you will only experience 60 Hz.
Brightness
As we mentioned above, the Optoma 4K400STx handles brightness with a 4,000 lumens-rated light source. This allows the projector to provide a bright image even in rooms with a lot of ambient light, making this an ideal projector for classrooms, office boardrooms, and home living rooms. Find our list of the top office projectors
Ease of Use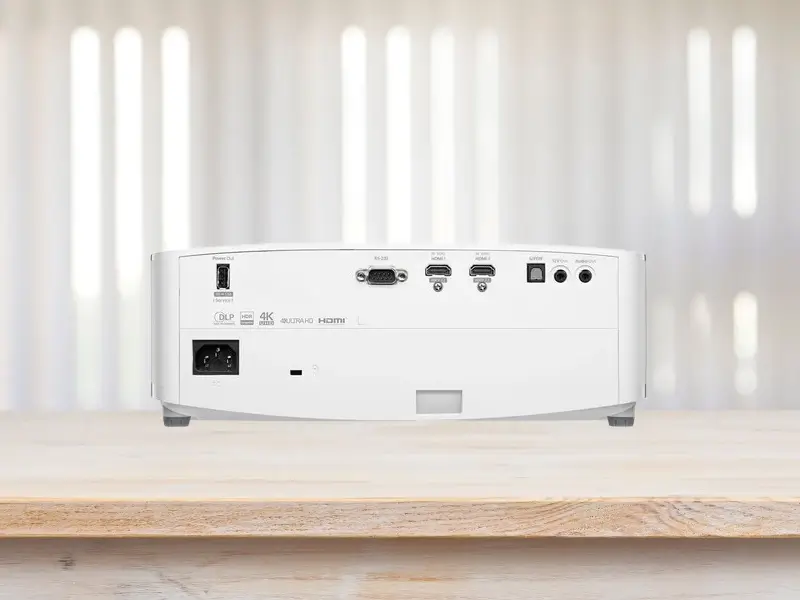 As a short-throw projector, the Optoma 4K400STx allows users to project a 100-inch image size with only a required distance of three feet from the screen or wall you plan on projecting onto. This means you won't have to buy an expensive third-party monitor mount, nor will you need to drill anything into your ceiling in order to set up this projector.
The setup for the Optoma 4K400STx is relatively simple. You will need to connect the projector to a source device; we first tested this by connecting our laptop to the projector via HDMI and later did the same with a PlayStation 5. Adjusting the picture image was easy; adjustable feet at the projector's base allow you to adjust the image height on the screen. Once everything is ready to go, there is an on-screen menu that is always accessible via the included remote, which gives you more settings you can adjust related to resolution, image shift, zoom, aspect ratio, and more.
Pros & Cons of the Optoma 4K400STx UHD Short Throw Projector
Pros
Bright 4000 lumens light source
Gamers can set the resolution to 1080p and experience a 240 Hz refresh rate and 4.2 ms response rate.
100" projection size from only three feet of distance
Cons
Barebones menu and adjustment settings.
Manual lens focus
The Bottom Line: Optoma 4K400STx
To finish out our review, the Optoma 4K400STx is a highly capable, albeit simple projector, that can deliver bright, immersive 4K and HDR-supported visuals to the classroom, office, or even home living room. If you're looking for a projector to replace your TV, the Optoma 4K400STx isn't a bad option. External audio devices can be easily connected as there is no integrated sound. We would have liked to see this projector as a smart projector. Still, even without any built-in capability, we were pleased to get an additional HDMI and 5V USB port to connect external HDMI/USB-powered streaming devices to the Optoma 4K400STx. Ultimately, the 4K400STx is a powerful and capable projector; it can replace your TV while maintaining bright, colorful 4K images without needing a long distance from the projection source. It's a great option for anyone looking to project in a small room, and the bright 4000-lumens-rated light makes this projector capable of being used in even the brightest of indoor environments. Check the Latest Price on BHPhotoVideo.com!
Related Reviews: