BenQ projectors are renowned for their versatility and value, and the TH line of gaming-ready models fits this reputation. Comparing the BenQ TH585P vs. TH685P, the TH685P is overall the better projector based on its performance (>>> Check on Amazon). However, the TH585P offers similar performance and versatility for a lower price, giving it the edge on value. Let's take a closer look at the differences so you can decide which one's the perfect fit for your home!
BenQ TH585P vs TH685P Side by Side:
| | BenQ TH585P | BenQ TH685P |
| --- | --- | --- |
| | | |
| Resolution | 1920x1080 | 1920x1080 |
| Contrast | 10,000:1 | 10,000:1 |
| Brightness (Lumens) | 3,500 ANSI | 3,500 ANSI |
| Input lag | 16.7ms | 8.3-16ms |
| Throw Distance | 3.6' - 32.7' | 3.2' - 24.6' |
| Screen size | 30" - 300" | 30" - 300" |
| Speakers | 10.0 Watts Mono | 5.0 Watts Mono |
| Today's Best Price | BHPhotoVideo.com | BHPhotoVideo.com |
Image Quality
The BenQ TH585P and BenQ TH685P are evenly matched when it comes to their native display details. Both have a wide color gamut and high contrast, with a full HD display resolution. The main difference here is that the BenQ TH685P also supports HDR, which is not supported by the TH585P. This means sharper, more realistic images.
Higher image quality: BenQ TH685P
Throw Distance
Both of these are standard-throw projectors, and will be at their best in a larger room. That said, they're not identical in this regard. The BenQ TH585P needs 11-12 feet to fill a 100-inch screen. Conversely, the BenQ TH685P can produce that same image size from around 8-10 feet away, with a wider zoom that gives users more flexibility during installation.
Shorter throw distance: BenQ TH685P
Gaming Performance
The BenQ TH585P has a reasonably low input lag and a 60Hz frame refresh rate that will keep most players fully immersed in their gameplay. Its Game Mode detail enhancement helps here, too, ensuring players see everything that happens on the screen.
For serious or competitive gamers, the BenQ TH685P is likely more your speed. Its input lag is roughly half that of the 585P in full HD, with a frame refresh rate that's twice as fast. Additionally, it supports 4K gaming, though these games will play at the lower 1080p resolution.
Better gaming performance: BenQ TH685P
Sound
The BenQ TH685P has a dedicated Game Sound Mode, which is a helpful feature for bringing out audio details as you navigate the game environment. Unfortunately, the physical speaker on the TH685P doesn't do full justice to this addition. It has a sound quality and output on par to many laptop speakers. The 10-watt speaker on the BenQ TH585P is a definite step up in this regard, producing sound more similar to a standalone Bluetooth speaker. It's still not going to give you immersive surround sound, but it's more suitable to being used without external sound.
Better built-in sound: BenQ TH585P
---
BenQ TH585P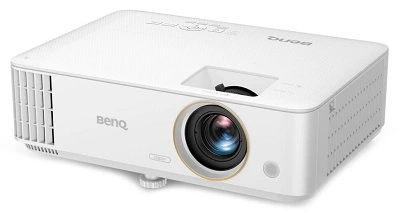 The BenQ TH585P is the ideal way to upgrade your home theater setup to the big screen on a budget. It uses the same full HD DLP display technology as more expensive projectors, and a similarly robust color gamut, with coverage for 95% of the Rec.709 spectrum. You'll enjoy that same high image quality in any space, as well, thanks to the powerful 3,500-lumen lamp.
Gamers will find a lot to love about the BenQ TH585P, as well. Switching to Game Mode drops the input lag down to around 17ms, low enough most players won't notice any delay. It also enhances the image detail and contrast, particularly in darker or shadowy screen areas, helping players to see every detail.
Now, you'll need a larger space to get a big screen with the BenQ TH585P. On the plus side, its installation is straightforward and quick so long as you have the space for it. This includes automatic vertical keystone correction, along with a 10% digital vertical lens shift. It can also be installed using a ceiling mount or on a shelf or table, giving you more options for fitting it into your space. For our more in-depth review of this projector, click here.
Pros
Colorful and vibrant full HD picture
Enhanced image detail in Game Mode
Bright lamp suitable for any indoor light level
No noticeable input lag for most gamers
Lens shift and automatic keystone correction
Acceptable output from built-in speakers
Cons
No support for 4K content
Needs a lot of space
---
BenQ TH685P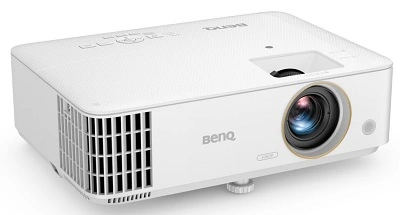 The BenQ TH685P is the next step up in the TH line from the 585P, and shares may of its strengths and features. This includes a powerful 3,500-lumen lamp, which produces a sharp and detailed 1080p picture. It also matches the 95% Rec.709 color coverage, though with the addition of HDR support. You can also play 4K content on the TH685P, though it will be downscaled to 1080p resolution.
The BenQ TH685P offers similar enhancements for gamers. Using Game Mode drops the input lag down to around 8ms for 1080p content, with a higher 120Hz frame refresh rate for smoother on-screen movement. It also supports 4K games, with a 16ms input lag and 60Hz frame refresh rate.
There is also a Game Sound Mode that increases the sonic detail, though  you'll likely want to use external speakers to take full advantage of it. The 5-watt speaker built-in to the TH685P just can't do justice to movie and game sounds, especially in the bass end of the frequency spectrum.
The BenQ TH685P has a standard-throw lens, but with a reasonable throw distance, needing as little as 8'2" to produce a 100-inch image. This is combined with a 1.3z zoom, as well as a digital vertical lens shift and automatic vertical keystone correction that give it an overall easy and flexible setup. For our full review of the BenQ TH685P visit this link: http://projectortop.com/benq-th685p-review/
Pros
Full HD picture with HDR support
Image enhancement and low lag in Game Mode
Shorter throw distance
Bright lamp works in any indoor environment
Easy installation with zoom, lens shift, and keystone correction
Compatible with 4K content
Cons
Low output and sound quality from built-in speaker
4K content still plays in 1080p
---
BenQ TH585P vs TH685P In Conclusion
When it comes to performance, the BenQ TH685P is just a little bit better than the TH585P across pretty much every category (>>> Find on Bhphotovideo). However, it also costs a couple hundred dollars more, so while it's still a very affordable projector, the 585P is arguably the better value. In the end, choosing between them comes down to what you're looking for from your projector. We hope this comparison has helped you decide on the right model for your home entertainment needs!
Related Guides: