In the realm of home theater projectors, the BenQ TH685P and the HT2050A have firmly established their presence as heavyweights in the marketplace. Offering a vast array of impressive features, they significantly enhance the viewer's cinematic experience. After extensively testing both projectors, we've embarked on this in-depth comparison of the BenQ TH685P vs HT2050A. Not only will we delve into their similarities and differences, but we will also share our personal experiences to offer you a comprehensive understanding of what you can expect from each device.
Despite the numerous merits of both projectors, it is the BenQ TH685P that stands out as our pick, offering a fine blend of performance, versatility, and affordability that truly sets it apart. Join us as we unfold why the TH685P is our favored choice and how it could potentially be the perfect fit for your home theater setup. >>> Get the Best Deal on Amazon Today!
BenQ TH685P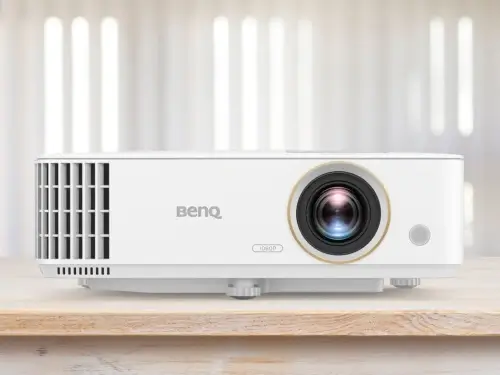 The BenQ TH685P is a technological marvel. Its 1080p resolution enhanced by 4K readiness makes it a go-to projector for high-definition content lovers. In our testing, the unit's impressive brightness of 3500 ANSI lumens made it an ideal choice for rooms with ambient light. The image quality was striking, with vibrant colors supported by the 95% Rec. 709 coverage, making movie and gaming scenes come to life.
We also found the low input lag of 8.3ms at 1080p/120Hz to be a game-changer for gamers. With game mode and game sound mode, we had an immersive gaming experience with detailed audio from the integrated 5W treVolo speaker. The lack of VGA-in or Monitor-Out compared to the TH685 was slightly disappointing, but the overall performance of the TH685P makes it a worthy investment.
Pros
4K readiness for high-definition content.
3500 ANSI lumens for bright projections.
Exceptional gaming experience with 8.3ms lag.
Vibrant colors with 95% Rec. 709.
Integrated 5W treVolo speaker for detailed audio.
Cons
Lacks VGA-in or Monitor-Out ports.
Contrast ratio could be better.
---
BenQ HT2050A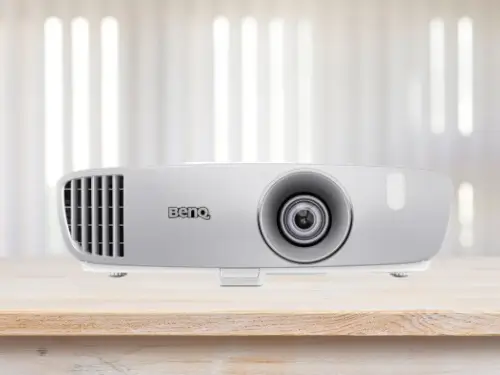 The BenQ HT2050A left us impressed with its superior picture quality and high native contrast ratio. The projector's 2200 ANSI lumens may not be as bright as the TH685P, but we found it adequate in a controlled lighting environment. The picture quality, with its 96% Rec. 709 coverage, was crisp and immersive, making it an excellent choice for movie enthusiasts.
What sets the HT2050A apart is its superior image quality, made possible by a high contrast ratio and color accuracy calibration. Its low input lag of 16ms at 1080p/60Hz made it ideal for casual gaming, although hardcore gamers might lean towards the TH685P. The projector's audio occasionally cut out over HDMI, which was a minor setback in an otherwise solid performance. Overall, the HT2050A is a reliable choice for users prioritizing image quality and cinematic experience.
Pros
Superior image quality with high native contrast ratio.
Excellent color accuracy with 96% Rec. 709 coverage.
Adequate brightness at 2200 ANSI lumens.
Lower input lag ideal for casual gaming.
Outstanding cinematic experience.
Cons
Not as bright as the TH685P.
Occasional audio cut-outs over HDMI.
---
BenQ TH685P vs. HT2050A Specs:
Feature
BenQ TH685P
BenQ HT2050A
Where to Buy?

Check on Amazon





BHPhotoVideo.com

Check on Amazon





BHPhotoVideo.com

Projection System
DLP
DLP
Brightness (ANSI lumens)
3500
2200
Resolution
1080P, with 4K compatibility
1080P
Contrast Ratio
10,000:1
15,000:1
Light Source Life (Normal/ECO/SmartEco)
4000/10000/8000 hrs
3500/5000/7000 hrs
Throw Ratio
1.127~1.46
1.15 ~ 1.5
Zoom Ratio
1.3x
1.3x
Keystone Adjustment
1D, Vertical ± 40 degrees
2D, Vertical ± 30 degrees, Horizontal ± 30 degrees
Rec. 709 Coverage
95%
96%
Input Lag (1080p@60Hz)
8.3 - 16.7 ms
16 ms
HDMI in
x2 (2.0b/HDCP2.2)
x2 (1.4a/HDCP1.4)
USB Type A
x1 (2.0/Power Supply 1.5A)
x1 (2.0/Power Supply 1.5A)
Acoustic Noise (Typ./Eco.)
35/29 dB
29/27 dB
Dimensions (WxHxD) (inch)
12.2 x 4.3 x 8.8
15 x 4.8 x 10.9
Net Weight (lb)
6.15
6.6
Today's Best Price

Check on Amazon





BHPhotoVideo.com

Check on Amazon





BHPhotoVideo.com
BenQ HT2050A vs. TH685P Features Comparison
Build and Design
Both the TH685P and the HT2050A are impressively built. With a compact and lightweight design, the TH685P weighs just 6.15 lb and measures 12.2 x 4.3 x 8.8 inches, whereas the HT2050A is slightly bulkier, at 6.6 lb and 15 x 4.8 x 10.9 inches. We found that the smaller footprint of the TH685P makes it a better fit for smaller spaces or for those who need a portable projector. You might be interested in our full BenQ TH685P review.
Display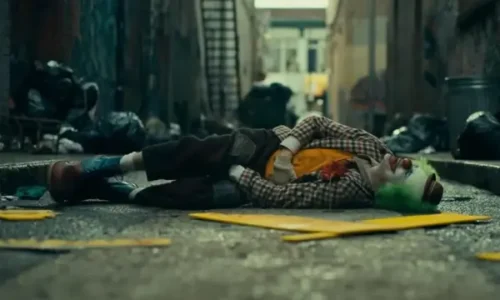 While both projectors feature a 1080p native resolution and 16:9 aspect ratio, there are significant differences in their display capabilities. The TH685P, with its 3500 ANSI lumens, outperforms the HT2050A's 2200 ANSI lumens in terms of brightness, making it a superior choice for environments with ambient light. The higher brightness rating was evident during our tests in a lit room, where the TH685P was able to produce a clear and bright image while the HT2050A struggled a bit.
However, the HT2050A scores higher on contrast ratio, providing deeper blacks and more vibrant colors, thanks to its 15,000:1 FOFO contrast ratio compared to the 10,000:1 offered by the TH685P. Both projectors promise Rec.709 coverage, with the HT2050A at 96% and the TH685P slightly lower at 95%. Read our in-depth BenQ HT2050A review.
Performance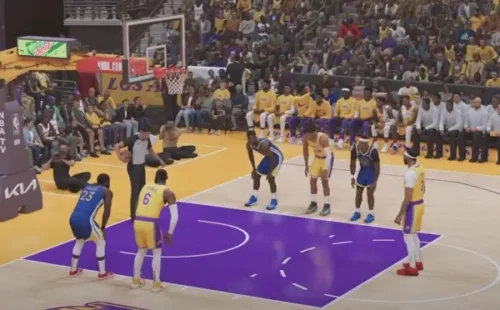 Performance is where the comparison of BenQ TH685P vs HT2050A gets interesting. The TH685P is geared towards gaming with a low input lag of 8.3ms at 1080p@120Hz, 16.7 ms at 1080p@60Hz, and 33.4 ms at 4K@60Hz. This is excellent for games, resulting in smooth gameplay without noticeable delay. On the other hand, the HT2050A has a lag time of 16 ms at 1080p@60Hz, which is still decent for casual gaming.
Our gaming experience on the TH685P was superb, with no noticeable lag. It also handles downscaling 4K inputs to 1080p impressively, a feature the HT2050A lacks.
Connectivity
Both projectors feature two HDMI inputs, with the TH685P having the edge with HDMI 2.0b/HDCP2.2 support, which can handle higher bandwidth content like 4K@60Hz. The HT2050A, on the other hand, only supports HDMI 1.4a/HDCP1.4.
The TH685P, however, does not feature a VGA input, which the HT2050A does, limiting some connectivity options for older devices.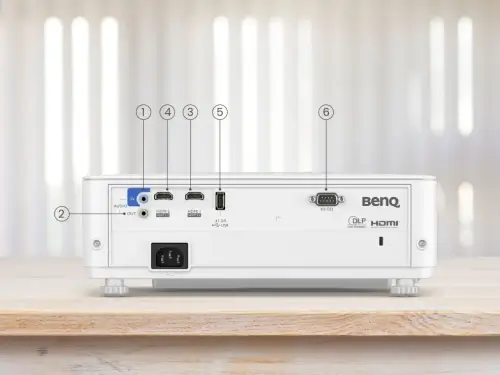 Audio
The built-in audio systems of the two projectors are quite different. The TH685P has a single 5W chamber speaker integrated with a treVolo equalizer for enhanced audio, while the HT2050A comes with a more powerful 10W chamber. Both speakers are acceptable for casual viewing but for the best audio experience, we recommend using an external sound system.
Customer Reviews
We've noticed that customers of both the BenQ TH685P and HT2050A are quite satisfied with their purchases. Many were impressed with the image quality and overall performance of both projectors. For the TH685P, customers praised its brightness, color accuracy, and gaming capabilities. However, some customers wished for a smaller throw distance as they had to either move the projector back or get a larger screen.
HT2050A customers were pleased with its image quality and performance, too. Some customers did mention issues with sound output over HDMI.
Conclusion
In conclusion, while the selection between the BenQ TH685P and HT2050A inevitably boils down to your individual needs, we firmly believe the TH685P holds a slight edge. It shines as an ultra-bright projector that not only excels in gaming but also effortlessly handles 4K content. The HT2050A, on the other hand, stands out with its exceptional image quality, deep blacks, and superior contrast ratio, but it doesn't offer the same versatility that the TH685P brings to the table. Check the Latest Price on BhPhotoVideo!
Related Comparisons: