The BenQ HT2050A won the Editor's Choice award from Tech Gear Lab as the best cinema projector of 2019. Obviously, this made us want to take a closer look and see whether it's really worth all the hype. In our opinion, the BenQ HT2050A is an excellent value and is a great choice for anyone looking for a versatile and easy-to-use home theater projector.
Are you curious about what makes the BenQ HT2050A such a popular choice? We'll break it down feature by feature below to give you the full scoop on this impressive device.
Main Characteristics
| | BenQ HT2050A |
| --- | --- |
| | |
| Measurements | 4.80" x 15.00" x 10.90" |
| Resolution | 1920x1080 |
| Brightness (Lumens) | 2,200 |
| Contrast Ratio | 15,000:1 |
| Input Lag | 16ms |
| Lamp life (Hours) | 7,000 |
| Built in Speakers | 10W |
| Price | BHPhotoVideo.com |
Set-up and image adjustment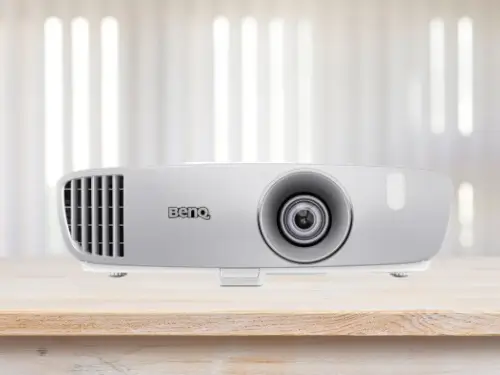 Projectors, in general, have been getting easier and easier for laymen to set up as their popularity grows. The BenQ HT2050A definitely follows that trend, with as close to a no-hassle initial setup as we've seen in any projector. The plug-and-play set-up lets you go from in the box to watching movies in less than 30 minutes.
One big question with any projector is how big you want the screen to be—and the inevitable follow-up: whether your room is big enough to get it there. This isn't a short-throw projector (though you can buy a version of the BenQ HT2050 that is) but if you have the space the screen can get pretty massive, up to 300" diagonal.
Of course, every projector can give you a big image. What makes the BenQ HT2050 easier to set up than comparably-priced models is that it gives you ways to adjust the image beyond moving the projector. It includes a 1.3x zoom for adjusting the size. It also includes both vertical and horizontal keystone adjustment, letting you place it slightly off-center without skewing what you see.
Set-up stats:
Throw ratio: 1.15-1.5
Max screen size: 300"
Zoom: 1.3x
Keystone: Vertical and Horizontal
Picture quality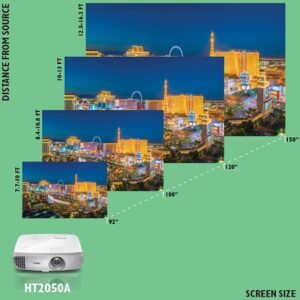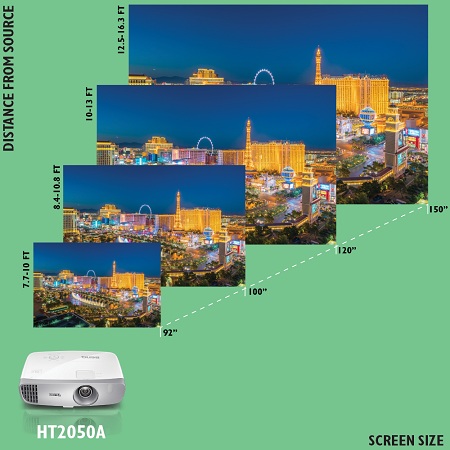 Source:benq.com
The brightness of the lamp is arguably the most important factor in the picture quality of a projector. With 2,200 ANSI lumens, the BenQ HT2050A will give you a bright, clear image in dim to moderately-lit rooms. This makes the most of the 1080p HD resolution.
The contrast ratio and color accuracy impact the picture quality as well, of course, and in both of those stats, the BenQ HT2050A is comparable with other projectors in the $500-$1,000 price range: http://projectortop.com/best-projector-under-1000/ The 6 segment color wheel produces vibrant, accurate colors, so you'll see movies the way they were meant to be seen. There is even a wall color adjustment feature to maintain the right on-screen colors even if you're projecting onto a non-white surface.
True blacks are one of the trickiest things for a projector. The BenQ HT2050A helps this with an automatic gamma control. This makes it easier to see details in the shadowy, darker scenes of movies, enhancing the contrast even in higher-light environments.
Picture quality stats:
Resolution: 1080p
Brightness: 2,200 ANSI lumens
Contrast ratio:
Color accuracy: Rec. 709
Performance
The versatility of the BenQ HT2050A is one of its strongest points. It's equally viable for home theater and gaming. The in-depth menus let you fine-tune your viewing experience beyond what most home theater projectors allow. This gives you the freedom to put the BenQ HT2050A in more rooms—and lets you use it to directly replace a TV.
One of the most common complaints against projectors versus televisions is the lag time. With the BenQ HT2050A, there is no noticeable lag. You can also adjust the frame delay to speed the picture movement even more. Gamers will love this since the action on your controller will instantly be represented on the screen, allowing for smooth, frustration-free playing.
The dual HDMI ports on the BenQ HT2050A are also a convenient feature, letting you plug in multiple content sources at once. These ports will work for streaming sticks, gaming systems, and other popular content sources. There are also RCA and USB inputs available. However you get your content, you can play it on the BenQ HT2050A.
Performance stats:
Lag time: 16ms
Connection options: HDMI (2), RCA (3), USB (Type-A and Mini-B)
Picture modes: Bright, Vivid, Cinema, Game, 3D
Pros
Easy, fast set-up
Large screen potential up to 300" diagonal
Low lag time of 16ms is ideal for gamers
2D keystone adjustment for more flexible placement
Wall color correction expands placement options
3D functionality
Cons
Not a short-throw projector
Lamp isn't bright enough for well-lit rooms
Customer Impressions
The overall consumer opinion on the BenQ HT2050A is just as positive as the reviews given by industry experts. Customers who have switched from Epson or Optoma projectors report noticeably lower lag and higher picture quality. The stunning color accuracy and sharpness of the image really blow other projectors out of the water. Some users have reported connectivity issues with the BenQ HT2050A, either a picture with no sound or an intermittent interruption to both picture and sound. This isn't an issue with the projector itself, however, but rather the HDMI cable used to connect it to your content source. The BenQ HT2050A is a bit pickier about which HDMI cables will work well with it than other projector brands. If you're noticing these issues, buying a new HDMI cable designed for use with projectors should fix the issue. Check the review of the successor model, the BenQ HT2060.
Conclusion
If you're looking for a top of the line, ultraHD projector, the BenQ HT2050A won't quite cut it. It does include some features that you might not expect at the price point, though, like the 3D functionality and 2D keystone adjustment.
The bottom line is that the BenQ HT2050A out-performs projectors that cost $1,000 or more. After looking at the stats, it's easy to see why it's so highly regarded by industry experts and consumers alike. You'll definitely get what you pay for and then some out of the BenQ HT2050A home theater projector. (>>> Check on Bhphotovideo)
Check comparisons against other projectors: