The TK810 is one of the newest home theater projectors offered by BenQ and the first from the company to include smart features and wireless connectivity. This is exciting news for fans of the projector company, especially since it still sells at a competitive price. With its user-friendly design and high picture quality, the BenQ TK810 is an appealing option for any home theater. In this BenQ TK810 review we'll take a closer look at the details so you can decide if it's the best choice for you. >>> Check it's pricing on Amazon
BenQ TK810 Review of Main Specs:
| | BenQ TK810 |
| --- | --- |
| | |
| Resolution | 4K ultra HD |
| Brightness (Lumens) | 3,200 |
| Contrast Ratio | 10,000:1 |
| Zoom | 1.1x manual |
| Throw Distance | 3.5' - 32.3' |
| Screen size | 30" – 300" |
| Wireless Networking | YES |
| Speakers | 5.0 Watts |
| Price | Check on Amazon |
Flexibility and Installation
One great thing about BenQ projectors is that they're easy to install, and the features on the TK810 follow this trend. The automatic vertical keystone correction is especially helpful for ceiling-mounted installations, taking a lot of the work out of aligning the image.
You do have to be fairly precise with your placement of the BenQ TK810. The zoom is limited and there's no lens shift. It's also a standard throw projector, so you'll need a decent amount of space to get a big picture—roughly 11 feet for a 100" image. That said, most users find this an easy projector to install, and the set-up on the software side is equally intuitive.
The BenQ TK810 is both lightweight and durable, and can produce an image up to 300". That gives it the flexibility for use with outdoor screens. While it's not quite bright enough to compete with direct daytime sunlight, you don't have to wait until the sun's completely set, or worry about limiting ambient light during indoor use. Check the comparison vs. the HT3550
Pros
Excellent resolution with no pixel blur
Wide color gamut with HDR color mapping
Option of physical remote or BenQ app for navigation
Supports wireless casting and direct streaming from popular content apps
Automatic vertical keystone correction
Bluetooth 4.0 connectivity for speakers and other peripherals
Cons
Limited Bluetooth range
Relatively long throw distance
Connectivity
The wired inputs on the BenQ TK810 are fairly standard, including 2 HDMI ports and 2 USB connections. More impressive are its wireless options. It supports casting from both Android and Apple devices. You can also watch content directly on the projector, no streaming stick needed. The Aptoide store that comes on the built-in Android navigation system includes popular apps like Netflix and YouTube.
For the audio, you'll have the choice of a 3mm connection or Bluetooth 4.0. This is a good thing because you'll need external speakers—the 5-watt chambered speaker that's built-in is barely loud enough to be heard over the fan. You may find the Bluetooth range somewhat limited when you're using it outdoors, but for most indoor set-ups it's easy to connect external sound.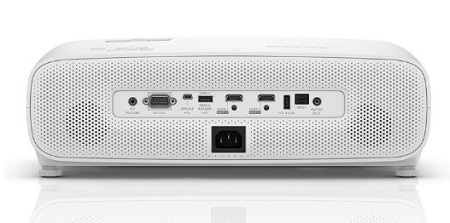 BenQ TK810 connectivity
Picture Quality
The resolution and color on the BenQ TK810 are on par with what you'll see in the movie theater. It uses HDR color mapping to produce more vibrant on-screen colors. Paired with the clarity of true 4K resolution, this creates a picture that's remarkably life-like and immersive.
This is a great choice for watching both sports and movies because it keeps the picture smooth no matter what's happening on-screen. The motion enhancement feature helps eliminate pixel blur and other image loss. Find more projector options for sports
Our only issue from a picture standpoint is that the contrast ratio doesn't quite measure up. There is some loss of depth in shadowy areas of the screen, especially if there's ambient light in the room. Using a high-contrast screen could be a great way to counter-act this.
Navigation and Performance
The BenQ TK810 comes with a physical remote, but that's not your only option. If you'd rather, you can download the BenQ app and turn your smartphone into a remote. This makes it a lot easier to search for content since you can type it out on your phone's keyboard.
No matter how you go about it, navigating the menus and settings of the BenQ TK810 is intuitive. The same is true of viewing content using the Android operating system or downloading it through the Aptoide store. Overall, it's user-friendly and has the convenience features most people want in a projector.
---
What's the Verdict?
Anyone who's looking for a 4K home theater projector will want to give the BenQ TK810 a look. The convenience you get from Bluetooth and Wi-Fi connectivity will be the main appeal to most, though the immersive, sharp picture is certainly a point in its favor, too. >>> Check it's pricing on Amazon
That said, it does have its limitations. Those in small spaces might find the long throw distance frustrating, for example. For most users, though, it's both easy to use and high performing and is certainly a great value at the price.
REFERENCES AND FURTHER READING