For many buyers, BenQ projectors strike the ideal balance between quality, convenience, and affordability. Comparing the BenQ TK810 vs HT3550, you'll see they're similarly priced at around $1,500, making either a great value for a true 4K projector (>>> Check how much it cost on Amazon). While neither projector is perfect, they both have their strengths. Choosing which one to buy really comes down to what you need from your projector. Let's take a closer look at the key differences.
BenQ TK810 vs HT3550 Side by Side:
| | BenQ TK810 | BenQ HT3550 |
| --- | --- | --- |
| | | |
| Resolution | 3840x2160 | 3840x2160 |
| Contrast | 10,000:1 | 30,000:1 |
| Brightness (Lumens) | 3,200 ANSI | 2,000 ANSI |
| Input lag | 51ms | 34ms |
| Throw Distance | 3.5' - 32.3' | 3.2' - 16.4' |
| Screen size | 30" - 300" | 30" - 200" |
| Speakers | 5.0 Watts Mono | 5.0 Watts × 2 |
| Today's Best Price | Check on Amazon | BHPhotoVideo.com |
Brightness
The BenQ HT3550 has a brightness of 2,000 lumens. That's ideal for spaces with low ambient light and you won't need to turn out all the lights to use it. It will struggle in brighter rooms, though, especially ones with lots of windows. The 3,200 lumens put out by the BenQ TK810 make it the better choice for these spaces. While it's still not equipped for daytime outdoor use, you won't need to worry about the light level in most indoor environments.
Brighter projector: BenQ TK810
Picture Quality
Both of these projectors produce a true 4K resolution paired with a high image contrast. The biggest difference between them here is their color performance. The BenQ TK810 covers most of the Rec.709 spectrum but the CinematicColor on the BenQ HT3550 expands this to the DCI-P3 space that's the standard for movie theaters. It's also factory calibrated and uses HDR color mapping for a more realistic overall image.
Better picture quality: BenQ HT3550
Wireless and Streaming
There is no built-in wireless on the BenQ HT3550. The BenQ TK810, conversely, has both Wi-Fi and Bluetooth, along with an Aptoid interface for streaming shows and movies directly to the projector.
Better wireless streaming: BenQ TK810
Gaming Performance
Neither of these is what we'd call a gaming projector. Both have an input lag over the 30ms threshold for serious gamers, and have a resonable but not great 60Hz frame refresh rate. With that said, the BenQ HT3550 has a lag as low as 34ms, making it responsive enough for most casual gamers.
Better for gaming: BenQ HT3550
---
BenQ TK810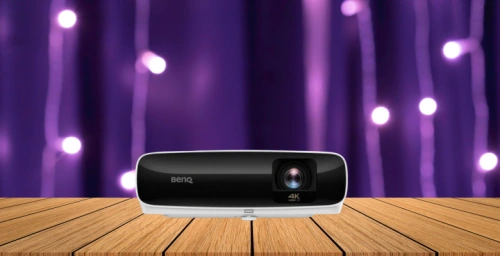 The BenQ TK810 lets you watch movies and shows on the big screen wherever you are. Its lamp is powerful enough to maintain the image contrast and color even in rooms with lots of ambient light, and the built-in light sensor lets it automatically optimize the brightness to your space. It's also portable, with a compact design and a weight less than 10 pounds, and has a fast and easy tabletop setup.
It's easy to get your content to the BenQ TK810, too. Along with dual HDMI inputs, it supports wireless casting through Chromecast and has an integrated Aptoid interface so you can watch content through streaming apps without an external device. Controlling it is just as easy, whether you use the included remote or download the BenQ Smart Control app on your phone. Both options support Google Assistant Voice Search, though bear in mind this won't work for all streaming services.
Whatever you like to watch, it'll look it's best on the BenQ TK810. It has a true 4K resolution with HDR color mapping and support for HLG. This ensures accurate colors, and with coverage for 92% of the Rec.709 color gamut, it can produce the nuanced shades and tones that bring a picture to life.
Pros
True 4K picture with good contrast and color
Full wireless connectivity with wireless casting
Bright enough for lights-on viewing
Easy to use with multiple control options
Built-in streaming interface
Compact and portable design
Supports 3D content
Cons
Input lag too high for serious gamers
Long throw distance
Full review: BenQ TK810
---
BenQ HT3550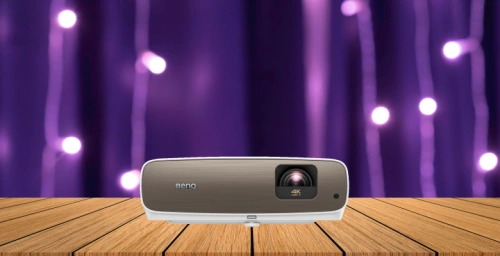 You'll feel like you're in a movie theater when you're watching the BenQ HT3550. Its 10-element all-glass lens produces a sharp image, with XPR processing for a true 4K resolution. Along with this, it has CinematicColor technology, exceeding the Rec.709 spectrum to cover 95% of the wider DCI-P3 color gamut. This color is calibrated to ISF standards at the factory, and is further enhanced by the HT3350's sophisticated HDR-Pro tone mapping and HDR10 contrast.
The BenQ HT3550 is also easy to install. Its throw distance is shorter than many standard-throw projectors, and it has a good array of adjustment options for fine-tuning the alignment, including a 10% vertical lens shift and automatic vertical keystone correction. There are also 6 aspect ratio options and multiple Movie Modes and Sound Modes so users can tailor the image to perfectly match their content. See how it compares to the newer BenQ HT3560.
The BenQ HT3550 is similar in size and weight to the TK810, making it similarly portable. However, it doesn't have any streaming or wireless support, so you'll need to connect external content sources through the dual HDMI inputs. It's also not as bright and may be prone to washout in spaces with high ambient light.
Pros
Sharp, high-contrast 4K picture
Exceptional color performance
Flexible and fast installation
Lightweight and portable
Low enough lag for casual gaming
Full HD 3D
Cons
Low lamp brightness
No streaming or wireless connectivity
Full review: BENQ HT3550
The Verdict
If you're looking for the best picture quality, the BenQ HT3550 is the better choice (>>> Check price on Bhphotovideo). It's also the better option for gaming and has a shorter throw distance, giving it a bit more installation flexibility. On the other hand, the wireless connectivity of the BenQ TK810 is convenient, and its bright lamp gives it more versatility for different light levels. We hope this comparison has helped you decide which one's a better fit for your home!