With so many options available in the market, finding the best AV receiver under $1000 can be a challenging task. In this buying guide, we aim to simplify the process by providing you with all the information you need to make an informed decision.
We've rounded up our 6 top options and compared them side by side below.
Taking all factors together, the Denon AVR-X3600H is our top choice, but these are all strong receivers with their own unique strengths. >>> Check current price on Amazon Let's take a look at what each one can do so you can see what we mean.
Best AV Receiver Under 1000 – Top Picks for 2023:
| | Marantz SR6014 | Denon AVR-S960H | Denon AVR-X2700H | Denon AVR-X3600H | Marantz NR1711 | Marantz NR1710 |
| --- | --- | --- | --- | --- | --- | --- |
| | | | | | | |
| Channels | 9.2 | 7.2 | 7.2 | 9.2 | 7.2 | 7.2 |
| Watts per channel | 110W | 90W | 95W | 105W | 50W | 50W |
| Wireless connectivity | Bluetooth, Wi-Fi, HEOS | Wi-Fi, Bluetooth, HEOS | W-Fi, Bluetooth, HEOS | Wi-Fi, Bluetooth, HEOS | Wi-Fi, Bluetooth, HEOS | Wi-Fi, Bluetooth, HEOS |
| Dimensions | 15.4" X 17.4" X 6.4" | 13" X 17.1" X 6.6" | 17.1" X 13.4" X 6.6" | 15.4" X 17.1" X 6.6" | 17.3" X 14.8" X 4.1" | 14.5" X 17.3" X 4.1" |
| Weight | 33.2lbs | 21lbs | 25.3lbs | 23.8lbs | 18.2lbs | 22.2lbs |
| Price | Check on Amazon | BHPhotoVideo.com | BHPhotoVideo.com | Check on Amazon | BHPhotoVideo.com | Check on Amazon |
Channels
The channels on an A/V receiver tell you how many speakers it can power. You'll usually see this as 2 numbers separated by a period. The first number is the speaker count, and the second the subwoofer count. As an example, a 7.2 system can power 7 speakers and 2 subwoofers.
For most home theaters, a 7.2 (or even 5.2) system will be plenty to give you immersive sound. Larger spaces and more complex set-ups may need more power, however. A receiver like the Denon AVR-X3600H is set up for 9.2 systems and can be expanded to process up to 11.2 channels, making it the most robust option.
Most channels: Denon AVR-X3600H
Sound and Picture Quality
At minimum, the signal sent from the receiver to your speakers or screen should be of equal quality to the signal that entered the receiver. In many cases, the right A/V receiver can enhance the original signal with technology like 4K upscaling.
For the maximum sound and picture quality, you want a receiver that supports the latest signal technology. Supported technology like Dolby Atmos or IMAX Enhanced gives you a more three-dimensional sound experience, letting you get truly immersed in your content.
You also want to look for a high per-channel power, which will improve both the quality and the volume of your music and effects.
Best sound and picture quality: Marantz SR6014
Set-up Ease
For A/V novices, receivers are one of the more intimidating pieces of equipment out there. Many powerful units are design for use by experienced hobbyists, which can leave amateurs in the dust when they're trying to install and calibrate their system.
Both Denon and Marantz receivers come with a guided set-up wizard to help you through the process.
Comparing the two, we find the Denon system to be more user-friendly since it also includes the Audyssey MutEQ system, allowing you to not just set up your system but optimize the sound to your space.
Easiest set-up: Denon AVR-X2700H, Denon AVR-X3600H
Smart Features
All of these receivers offer basic voice control through services like Alexa, Google Home, and Siri. Along with that, all have the wireless connectivity to support multi-room music set-ups, and most will let you stream content right to the receiver.
For those who want more robust smart control and features, the Denon AVR-X3600H is the strongest contender. It has a built-in intelligent system that lets it communicate better with third-party smart automation systems like Josh.ai or Control4 SDPP.
Best smart features: Denon AVR-X3600H
Reviews of Best AV Receivers Under $1000:
Marantz SR6014


Pros
4K support with Ultra HD upscaling
Graphical user interface is easy to understand and control
Supports IMAX enhanced and Dolby Atmos Height Visualization
Voice control through Alexa, Google, Siri, or Josh.ai
Broad and versatile inputs and outputs
Allows streaming of content straight to receiver
Cons
Doesn't work well with Sonos speakers
Missing some wireless control options (FireConnect, Chromecast, etc.)
The Marantz SR6014 has all the modern signal processing technology you want in a home theater. First of all, it supports 4K video signals, with support for HLG, HDR10, and Dolby vision. Even better, it can upscale content at a lower resolution to have the clarity and detail of 4K, so some content will look even better than the original.
The sound support of the Marantz SR6014 is equally strong. This 9.2 system has a separate high-current amplifier on each channel for balanced, powerful sound from all your speakers.
You'll also appreciate the inclusion of technology like IMAX enhanced and Dolby height visualization, which allow you to modify the system to include overhead speakers for a more immersive sonic picture.
This is a great option for smart home users, too. Along with support for voice control through all the major systems, it also comes with HEOS multi-room music, letting you control your entire home's audio in one easy spot.
Since it also has wireless streaming of content through apps like Pandora and Netflix, it's an easy, all-in-one way to up your home theater game.
---
Denon AVR-S960H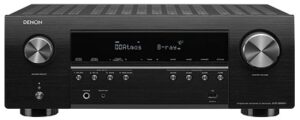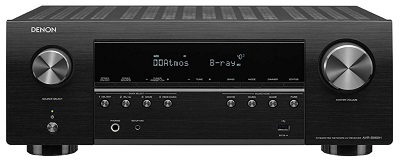 Pros
8K pass-through supports the latest video formats
Supports 3D video and audio
On-screen assistant simplifies set-up
High video quality with Dynamic HDR and HDR10+ support
Low signal lag makes it great for gamers
Full support for voice control and smart home integration
Cons
Doesn't come with a manual
Using 8K pass-through is a bit clunky
For most home theater spaces, a 7.2 system provides all the audio channels you need—and at a more affordable price than receivers with more channels. The Denon AVR-S960H is one of the best 7.2 receivers on the market, with full 4K and 3D support for video signals and powerful, audiophile-level sound with Dolby Audio and DTS Virtual:X support.
We love the Denon AVR-S960H for multi-use spaces because it offers top-level support for every kind of content. This includes games, which have the same high visual quality as movies or TV.
It's lag-free, as well, with a Variable Refresh Rate and an Auto Low Latency Mode so there's no added delay between your input and what you see on the screen.
You'll still get the high-end connectivity features you're looking for from the Denon AVR-S960H, as well. This includes voice control support and easy integration with smart homes through Josh.ai or Control4 SDPP. Something else we love is how user-friendly this receiver is.
The on-screen set-up walks you through calibrating and tuning your system, so you don't need to be a tech geek to get the most out of the Denon AVR-S960H.
---
Denon AVR-X2700H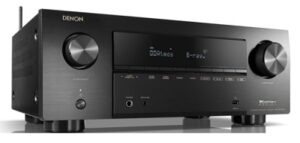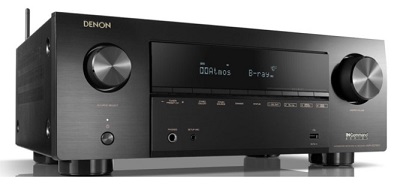 Pros
Seamless, quick set-up and calibration
8K signal pass-through at 60Hz (4K at 120Hz)
Supports all the latest 3D audio formats
Auto Low Latency Mode and Variable Refresh Rate for gamers
Voice control through all the major systems
Stream music wirelessly to receiver through Bluetooth or Wi-Fi
Cons
Firmware has a few bugs
Included remote is cheap
Here's another excellent 7.2 channel option from Denon. The Denon AVR-X2700H is our top choice if you're looking for the ultimate in audio and visual realism.
For visual signals, this starts with both 4K and 8K pass-throughs. It also supports Dynamic HDR for enhanced color and contrast, with Quick Media Switching to cut down on visual delays.
From a sound perspective, it's just as impressive. The full 3D audio support lets you add an overhead speaker. It also has DTS:X, Dolby Atmos, and IMAX Enhanced technology, so all your bases are covered when it comes to getting an immersive, ultra-realistic sound.
You can set up and calibrate the Denon AVR-X2700H easily. Its Audyssey MultEQ calibration technology lets you quickly tailor the sound to your space, and Denon's setup assistant has won awards for its user-friendly design.
It's arguably the easiest way to bring professional-quality sound and video to your home.
---
Denon AVR-X3600H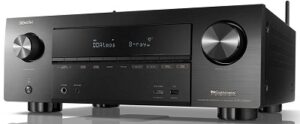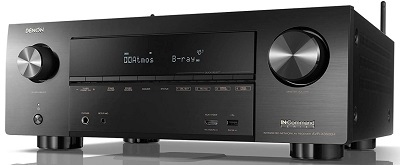 Pros
High-quality video processing with 4K upscaling
Supports IMAX Enhanced and Dolby Atmos audio
Easy guided set-up and calibration
Versatile and expandable channel configuration
Compatible with third-party smart home integration systems
High-resolution audio streaming of multiple file types
Cons
No 8K pass-through
Outputs are more limited than other receivers
If you're looking for a Denon receiver that can power larger 9.2 systems, the Denon AVR-X3600H is one you should check out. It has similar specs for audio and video quality as the AVR-X2700H above but with more amplifiers and more power per channel.
Versatility is one of the main strengths of the Denon AVR-X3600H. It supports 3D audio formats like IMAX Enhanced and Dolby Atmos Height Virtualization that gives you an immersive sound no matter how many speakers you use.
Since it can process 11.2 channels, you can use it to power 7.2.4 systems with overhead speakers, and it also supports HEOS multi-room music and other more advanced configurations.
The smart home support on the Denon AVR-X3600H is strong, as well. Along with integrated voice control through Alexa or Google Home, it comes with Creston Intelligence so it can communicate with a wider range of home automation systems.
This allows you to use external control like Control4 SDPP, giving you far more robust smart options than you'll get with most receivers. For full Denon AVR-X2700H review click here.
---
Marantz NR1711


Pros
8K HDMI support with 4K upscaling
Lag-free switching and gaming with QMS and ALLM
Supports 3D sound in multiple speaker configurations
Slim profile fits more easily in tight set-ups
Auto Eco Mode reduces power consumption without altering sound
Voice control through Alexa, Google, Siri, or Josh.ai
Cons
Some users have issues switching video signals
Less power per channel than other receivers
A lot of high-end receivers can be bulky and difficult to fit on crowded entertainment centers. The slim 4" profile of the Marantz NR1711 lets it fit more easily into any home theater.
And when we say any, we mean it. This 7.2 receiver has an immersive 3D sound with Dolby Atmos and DTS:X processing that lets you easily get the most out of your content.
Budget-conscious buyers will love the Marantz NR1711, too. Not only is it a great value at the price, it makes it easier to control your long-term energy costs.
The Auto Eco Mode adjusts the power consumption of each channel based on volume, limiting the energy use without affecting the sound or picture quality.
The Marantz NR1711 is a receiver that will serve you well in the long-term. It's sturdy and well-built, and is fully-updated to support the latest in both video and audio technology.
This includes an 8K signal passthrough on the HDMI inputs as well as smart home features like voice control and multi-room music. All-told, it's a compact and unobtrusive way to get the most out of your home theater.
---
Marantz NR1710


Pros
Compact build fits easily in tight spaces
Supports 3D sound with DTS:X and Dolby Atmos
Multi-room music and voice control support
Versatile speaker set-up options
Graphical interface makes set up easier
Stream both music and movies directly on the receiver
Cons
No 8K support
Some users have issues with Audyssey EQ system
Finally, here's another super slim option from Marantz: The Marantz NR1710. Like the NR1711 above, it has a slim 4" profile and a compact, durable build that's ideal for tighter home theater spaces. Setting it up is as easy as finding a place for it.
The graphical interface of the set-up wizard guides you through connecting and calibrating your system, letting you get to enjoying your content faster.
The video technology isn't quite as advanced on the Marantz NR1710 as other options. Its video resolution support tops out at 4K. This is the top resolution most devices will support anyway, but it may cause the receiver to become outdated more quickly as 8K becomes more available.
Having said that, the Marantz NR1710 still has all the support you need right now. This includes visual technology like HDR10 and HLG and sound technology like DTSX and Dolby Atmos Height Virtualization.
It also has smart features like voice control and multi-room music support, with wireless connectivity for streaming content right to the receiver.
---
What's the Bottom Line?
There's no one perfect AV receiver for every home. Getting the right one means first assessing your home theater space. For some, the 11.2 channel potential of the Denon AVR-X3600H is key (>>> Find on Amazon), while others will find the 7.2 channels and slim build of the Marantz NR1711 or NR1710 are a better fit.
Your level of smart home use will be a factor here, as well. Having easy third-party control isn't much benefit if you only use voice commands through a service like Alexa.
Consider what you'll be using the receiver for, as well. If you plan to connect a gaming system, look for a receiver with ALLM and a variable refresh rate to lower lag.
For those who mainly watch movies, the option of an 8K pass-through is a more valuable feature, letting your receiver grow with your system.
We hope this breakdown has helped demystify the world of A/V receivers! Whichever one you go with, all of these options are an exceptional value for the price. One of them is sure to be a great fit for your home theater.
REFERENCES AND FURTHER READING: