Are you comparing the Epson 2250 vs BenQ HT2050A and aren't sure which one best suits your needs? Both offer an easy set-up and good versatility for an excellent value. Since both excel in a home theater context, the difference between them comes down to other factors, with the Epson 2250 offering direct streaming and voice control and the BenQ HT2050A providing superior sound and gaming performance. Let's take a closer look at these key differences so you can decide which one best meets your needs.
Epson 2250 vs BenQ HT2050A Side by Side:
| | Epson 2250 | BenQ HT2050A |
| --- | --- | --- |
| | | |
| Resolution | 1920x1080 | 1920x1080 |
| Brightness (Lumens) | 2,700 ANSI | 2,200 ANSI |
| Contrast Ratio | 70,000:1 | 15,000:1 |
| Input lag | 28ms | 16ms |
| Throw Distance | 4.7' - 29.0' | 4.4' - 25.1' |
| Screen size | 30" - 300" | 40" - 300" |
| Speakers | 10.0 Watts Mono | 10.0 Watts Mono |
| Price | BHPhotoVideo.com | BHPhotoVideo.com |
Brightness
The 2,200 lumens produced by the BenQ HT2050A supports some lights-on viewing, but is likely to get washed out in rooms with lots of natural light or other bright spaces. The Epson 2250 has a 2,700-lumen lamp, and will maintain its picture quality in brighter spaces than the BenQ.
Brighter lamp: Epson 2250
Gaming Performance
The Epson 2250 has an input lag on the upper end of the "acceptable" range for gamers, with a lowest recorded lag of about 28ms. While this makes it a suitable choice for casual gaming, serious gamers will prefer the BenQ HT2050A. Its input lag measures as low as 16ms in Advanced Gaming Mode, letting users play online or graphic-intensive games without frustrating delays.
Better gaming performance: BenQ HT2050A
Wireless Capabilities
The BenQ HT2050A has a wide range of wired input options but doesn't have any built-in wireless capability. Conversely, the Android TV interface and Wi-Fi support of the Epson 2250 let you stream content directly to the projector, no content sources required. It also works with Google Assistant for voice control and smart home integration.
Better wireless capabilities: Epson 2250
---
Epson 2250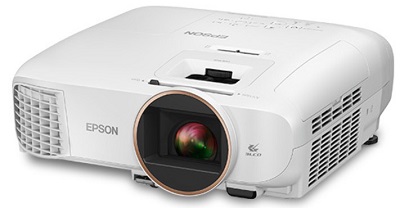 The Epson Home Cinema 2250 is a versatile and affordable way to make any room in your home into an entertainment hub. This full HD projector uses a 3-chip LCD display with Dynamic Iris technology that maximizes the sharpness and brightness of the image. Colors are consistent across the picture, too, with no hot spots, flickering, or other image issues commonly caused by the use of color wheels.
The alignment features of the Epson 2250 are especially robust. It has both horizontal and vertical keystone correction to fix issues with skew or warp. Along with that, the 15% lens shift and 1.6.x manual zoom give you all the tools you need to quickly align the picture to the screen.
The Epson 2250 is relatively versatile when it comes to where you can use it. The lamp puts out 2,700 lumens, enough to produce a fully-saturated image in low to moderate light conditions. Like many projectors, it needs a lot of space to operate—around 10 to 13 feet for a 100" image, depending on how you set the zoom. Since it has an Android TV interface and 10-watt speakers built in, you may not even need any extra accessories to use it.
Pros
Vibrant colors with no rainbowing
Smooth, crisp action with Frame Interpolation
Built in Android TV interface
Supports Google Assistant
Bright enough for most light levels
Robust image adjustment options for fast set-up
Cons
Long throw distance
Not as responsive for gamers
---
BenQ HT2050A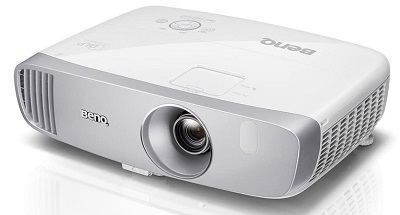 The BenQ HT2050A is an ideal projector for multi-purpose spaces like media rooms, where you need both home theater and gaming performance. Its Advanced Game Mode drops the input lag down to around 16ms, plenty low enough for even competitive players. Movie and TV watchers will appreciate the full HD resolution and exceptional color performance through its True Color technology.
The BenQ HT2050A has a similarly easy set-up to the Epson 2250. Like that model, it has 2D keystone correction along with zoom and vertical lens shift. Its throw distance is a bit shorter, too, needing about 8-10 feet for a 100" screen, so while it still needs a decently large space it can accommodate slightly smaller areas. On the flip side, however, its lamp only puts out about 2,200 lumens, so you may need light control measures in some spaces. You might be interested in this comparison: BenQ TH685P vs HT2050A
Pros
Great choice for gamers
Wide color gamut (96% of Rec.709 spectrum)
Dedicated sound modes for better audio quality
Easy set-up with lens shift and keystone correction
Robust array of input options
Cons
May trigger rainbowing in sensitive viewers
No built-in streaming capabilities
---
The Verdict
The BenQ HT2050A and Epson 2250 are similarly priced, and either will be an excellent option for watching movies and TV on the big screen. Both are also very user-friendly, with a straightforward and flexible installation and a lamp that's bright enough you won't need a fully-dark space to use them.
The choice ultimately comes down to gaming vs. smart features. For a low input lag, the BenQ is your answer. For voice control and direct streaming, you'll want to go with the Epson 2250 (>>> Find on Bhphotovideo). If neither of these is a concern for you, you can't go wrong with either model.
REFERENCES AND FURTHER READING