BenQ's 1080p projectors are an excellent value for those who want affordable big screen entertainment. Comparing the BenQ TH685 vs. HT2050A, the former is arguably the better buy, offering a brighter lamp and superior gaming performance. Having said that, though, the picture quality and user-friendly setup of the HT2050A could make it the better choice for some.(>>> Find on Amazon) Let's break down how they compare so you can decide for yourself.
BenQ TH685 vs HT2050A Side by Side:
| | BenQ TH685 | BenQ HT2050A |
| --- | --- | --- |
| | | |
| Resolution | 1920x1080 | 1920x1080 |
| Brightness (Lumens) | 3,500 ANSI | 2,200 ANSI |
| Contrast Ratio | 10,000:1 | 15,000:1 |
| Input lag | 8ms | 16ms |
| Throw Distance | 3.2' - 24.6' | 4.4' - 25.1' |
| Screen size | 30" - 300" | 40" - 300" |
| Speakers | 5.0 Watts Mono | 10.0 Watts Mono |
| Price | BHPhotoVideo.com | BHPhotoVideo.com |
Set-up Ease
Both the BenQ TH685 and HT2050A have a standard throw ratio and will likely require a ceiling mount in most spaces. The difference between them from an installation standpoint comes down to two factors: the image adjustment options and the ease of connectivity.
The BenQ TH685 has a vertical lens shift but it's narrow (+/- 5%). It's also limited to vertical keystone correction and only offers HDMI and USB inputs. The BenQ HT2050A has a wider vertical lens shift and 2D keystone correction for more installation flexibility. Along with that options for both composite and component RCA inputs expand its options for content sources.
Easier set-up: BenQ HT2050A
Brightness
The 2,200 lumens produced by the BenQ HT2050A is enough for low ambient light—say a couple lamps on in a room with few windows. In a brighter space, the 3,500 lumens produced by the BenQ TH685 will maintain the image quality better, and may spare you the need to buy special curtains or other light-control measures.
Brighter projector: BenQ TH685
Image Quality
These projectors perform similarly when it comes to their overall image quality. They have the same resolution (full HD) and use nearly identical technology to produce the picture, including a DLP display with a 6-segment color wheel.
Ultimately, the BenQ HT2050A edges out the TH685, with a higher dynamic contrast and a broader color gamut. These differences are subtle, however, and the image quality of the TH685 is still high.
Better picture quality: BenQ HT2050A
Gaming Performance
Here's another category where these two projectors are neck-and-neck. The Advanced Gaming Mode on the BenQ HT2050A gives it a 16ms input lag, well within the under-30ms threshold that's the standard for gamers. Overall, it's responsive enough most players won't notice any frustrating delays or issues.
For serious gamers, the BenQ TH685 goes even further, with an input lag as low as 8.3ms and a higher frame refresh rate (120Hz). That's ideal for online gamers and competitive players.
Better gaming performance: BenQ TH685
---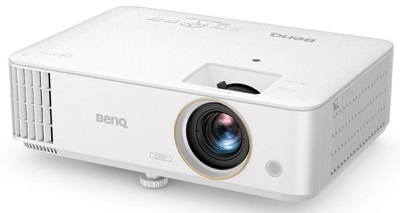 The BenQ TH685 is a versatile projector ideal for common areas, media rooms, and anywhere you want big screen entertainment. While its throw distance is on the long side (about 8-10 feet for a 100" image) it's relatively easy to align and correct the image. The 3,500-lumen lamp is helpful here, too, producing a bright enough picture that it won't get washed out by ambient light.
The main strength of the BenQ TH685 is that it performs equally well for home theater and gaming. Its Game Mode drops the input lag down to the single digits. This is paired with a relatively high 120Hz refresh rate for blur-free play.
On the home theater side, the BenQ TH685 is an excellent 1080p projector. It accepts 4K input so your content choices won't be limited, even if it does have a maximum resolution of full HD. The DLP display and 6-segment color wheel produce a crisp and realistic image that's authentic to the source material, with vibrant colors and sharp details.
The only significant weakness of the BenQ TH685 is its sound. It does have multiple sound modes with CinemaMaster tuning, but the speaker itself is too weak to do it justice and lacks the low-end depth you want for immersive movie and game sound effects. That said, this is a common weakness of projectors, and the audio does sound great when played through better speakers.
Pros
Compatible with 4K input and HDR10
Good color depth and accuracy (95% of Rec.709 spectrum)
Bright lamp works in most light levels
Super-low lag ideal for gaming
Fast and easy set up
Cons
Weak built-in sound
Limited wired content inputs
---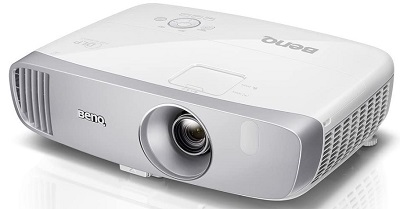 The BenQ HT2050A has a lot in common with the TH685. It uses a DLP display and 6-segment color wheel, with THX and ISF certification for accuracy. That wheel operates at a higher speed, however, increasing the color coverage. A higher dynamic contrast improves the sharpness and detail of the image, giving the HT2050A among the best picture quality you'll get from a 1080p projector.
The user-friendly set-up of the BenQ HT2050A is another strength. It has 2D keystone correction along with a 10% lens shift and manual zoom and focus controls. While the standard throw distance means most will still need to ceiling-mount it, this gives more flexibility in the placement so it's easier to align the image with the screen. Connecting content sources can also be easier with the HT2050A, especially for those who have a lot of components in their home entertainment system, with RCA inputs as well as HDMI and USB.
The BenQ HT2050A can be used for gaming, as well. It has an input lag of around 16ms in Advanced Gaming Mode, well within the range for serious gamers and multi-player online play. This responsiveness also improves its 3D performance, and it supports top/bottom, side-by-side, sequential, and frame packing 3D formats without additional accessories required.
The overall performance of the BenQ HT2050A is high but it does have some limitations. It doesn't support 4K input, for one thing, which could limit the kinds of content you can view. The lamp brightness can also be a concern in brighter spaces. It's powerful enough to still use with a few lights on but is susceptible to wash-out in even moderate light levels, and you'll likely need black-out curtains in rooms with lots of windows.
Pros
Excellent color performance with high dynamic contrast
Suitable for gaming
Good variety of input options
Full 3D compatibility (4 formats supported)
Flexible installation
Cons
Not bright enough for well-lit rooms
No support for 4K input or HDR
---
The Verdict
The BenQ TH685 and HT2050A both outperform other projectors at their price point, and each model has its strengths. (>>> Check on Bhphotovideo) Consider whether picture quality or responsiveness is more important for you, as well as the light level of your space and which content sources you plan to connect to the projector. Luckily, you'll get a versatile and high-performing projector whichever way you go.
REFERENCES AND FURTHER READING: