These days, you don't need a massive, fully-dark room to use a projector for big screen entertainment. Projectors using a laser light source can produce a massive picture with just a couple of feet of distance, letting you turn any room into a home theater. Comparing the Epson LS500 vs VAVA, the VAVA is the winner when it comes to home theater performance, though the Epson is more versatile and responsive (>>> Check on Amazon). Still not sure which one is best for you? Let's break the key features down side by side.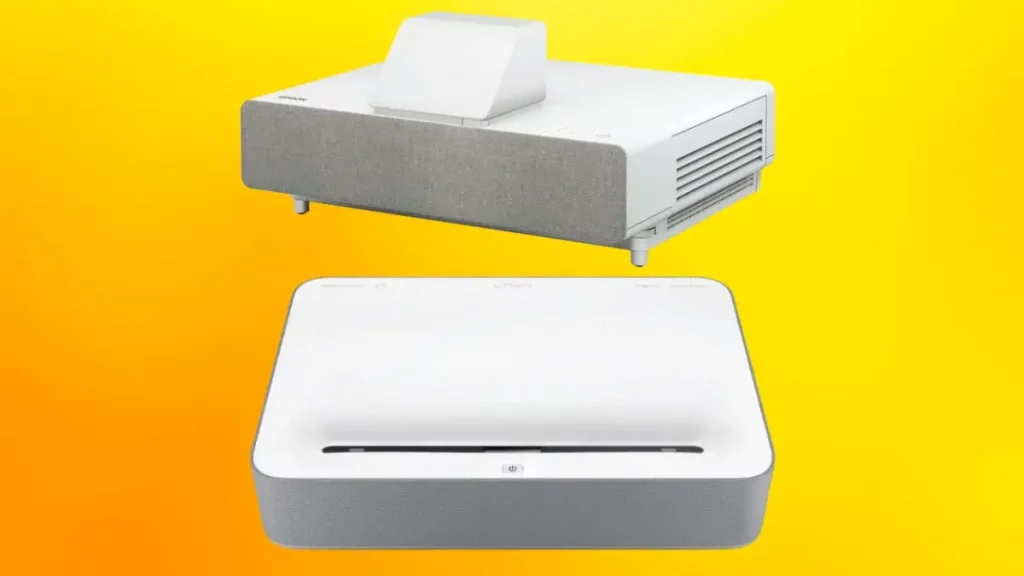 Epson LS500 vs VAVA Side by Side:
| | Epson LS500 | VAVA |
| --- | --- | --- |
| | | |
| Resolution | 1920x1080 4K w/pixel shifting | 3840x2160 |
| Brightness (Lumens) | 4,000 ANSI | 2,500 ANSI |
| Contrast Ratio | 2,500,000:1 | 1,500,000:1 |
| Input lag | 21ms | 98ms |
| Throw Distance | 0.7' - 1.9' | 1.4' - 2.5' |
| Screen size | 70" - 130" | 80" - 150" |
| Speakers | 10.0 Watts × 2 | 30.0 Watts × 2 |
| Price | BHPhotoVideo.com | |
Brightness
The 2,500 ANSI lumens put out by the VAVA 4K projector is enough for most spaces, with a fully-saturated image in low to moderate light levels. It may still experience some wash-out if it's competing with lots of natural light, though. For rooms with lots of large windows or indoor/outdoor use, the 4,000 ANSI lumens of the Epson LS500 are a better choice.
Brighter projector: Epson LS500
Picture Quality
The Epson LS500 uses a technology known as pixel shifting that essentially doubles the number of on-screen pixels compared to full HD (1080p). This is paired with 1-bit color processing through a 3LCD display that provides full coverage of the Rec.709 spectrum.
While the picture quality of the Epson is good, the VAVA is even better. Its true 4K resolution generates 4 times the pixels of full HD, roughly twice the pixel-shifted 4K of the Epson. A high native contrast ratio with HDR10 ensures a sharp, crisp image with excellent detail and color accuracy, closely replicating the viewing experience you'd get in a professional theater.
Better picture quality: VAVA
Gaming Performance
While specs like contrast and resolution matter to gamers, too, the most important consideration for a gamer is the projector's lag. Anything under around 30ms is low enough to support online play with no noticeable lag. Even at its slowest, the Epson LS500 comes in under this range, letting you use it with the latest consoles and games no matter what picture and alignment settings you have active.
While the video processing on the VAVA is high for movies, its input lag measures around 100ms. That's high enough even casual players will be annoyed by the lag, and reflex-based games will be virtually unplayable.
Better gaming performance: Epson LS500
Built-in Speakers
The 2 10-watt speakers on the Epson LS500 have a more powerful output and better balanced sound than most projector speakers. They have good clarity in the mid-range for dialogue and are acceptable for music and sound effects, though they're admittedly weak in the bass end of the frequency range.
The VAVA has an integrated 60-watt soundbar, backed by audio technology like Dolby Audio and DTS-HD. The result is lossless high-fidelity audio that's equal in power and quality to most stand-alone Bluetooth soundbars, providing more immersive sound than the speakers on the Epson LS500.
Better sound: VAVA
---
Epson LS500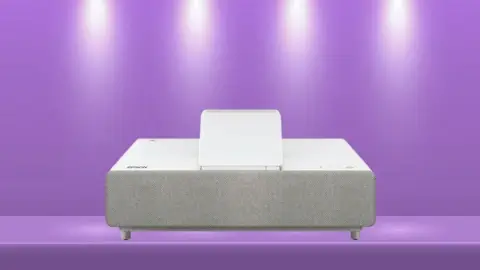 The Epson EpiqVision Ultra LS500 is one of the most versatile home theater projectors on the market. It works well in a wide variety of spaces, first of all, with a bright lamp that resists wash-out in even well-let rooms. The ultra-short throw distance gives it equal versatility when it comes to the room size, along with eliminating the hassle of a ceiling mount.
The Epson LS500 is responsive, with a low input lag and powerful real-time video processing. This gives it excellent gaming performance and ensures smooth on-screen action when you're watching movies and shows, too. You can watch all kinds of content on the Epson LS500, with full 3D support and 4K input. While the resolution is a bit lower than true 4K it's still noticeably sharper than regular HD, with accurate, realistic color and a high dynamic contrast that makes shows and movies really come to life.
First-time projector owners will especially love that the Epson LS500 comes with a 100" screen included. Since you can also stream content directly through the Android TV interface, most can use the projector right out of the box with no extra accessories or devices required. If you do want to use wired inputs, its dual HDMI ports both have eARC support.
Pros
Super bright lamp works in any light level
Includes a 100" ALR screen
Wide color gamut with no rainbowing
Low lag suitable for gaming
Easy installation with short throw
Android TV interface with Google Assistant support
Cons
Resolution isn't quite as sharp as true 4K
Built-in speakers are weak in the low end
---
VAVA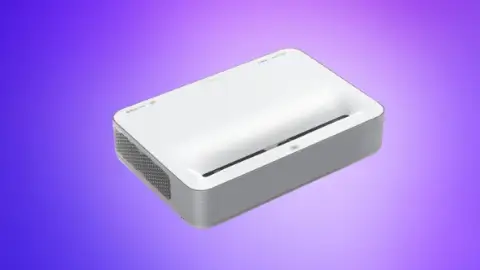 The picture quality of the VAVA 4K makes it an ideal choice for dedicated home theaters. It has true 4K resolution and full 3D support, with a native contrast ratio higher than most movie theater projectors. The color gamut is wide and accurate, as well, though viewers sensitive to the rainbow effect should be aware it uses a color wheel and could trigger it.
The lamp on this VAVA projector is bright enough for most indoor spaces. It uses ALDP 3.0 technology to increase the lamp efficiency and has a short throw, so that light doesn't have far to travel. That said, it still may be prone to wash-out in particularly bright spaces, giving it a bit less versatility in that regard than the Epson above. It's also not a great option for media rooms
These issues aside, the VAVA has everything most people look for in a modern home theater projector. Its Android interface and Harman Kardon soundbar give it all-in-one potential. Its sound is especially impressive for a projector, on par with most Bluetooth soundbars, so most don't need external speakers unless you want a full surround sound experience.
Pros
Sharp, detailed picture with excellent contrast
Lossless, hi-fi sound with built-in soundbar
Short throw distance (1'8" for 100" picture)
Android operating system supports streaming apps
Versatile wired and wireless connectivity
Cons
Input lag is too high for gaming
Picture may get washed out in well-lit rooms
---
The Verdict
The Epson LS500 and VAVA are both great ways to watch movies on the big screen in any room of your home. While the image quality of the VAVA is higher, the brighter lamp and gaming performance of the Epson LS500 makes it a more versatile option for media rooms and other multi-use spaces (>>> Find on ProjectorScreen).
REFERENCES AND FURTHER READING: