A Hisense ultra-short throw laser projector is a great choice for modern home theater owners. These projectors combine a stunning Ultra HD image with an ultra-short throw distance, letting you turn any room into a cinema-quality home theater. Comparing the Hisense PX1-PRO vs. L9G, you'll see both projectors have the features modern users want in a projector.
While the PX1-PRO is more affordable, the L9G comes with a high-quality screen, along with offering better speakers and a brighter lamp, so it still offers a lot of value (>>> Check on Amazon).
Choosing which one is right for your home comes down to how and where you'll use the projector. Let's take a closer look at the key differences before getting into the full review.
Hisense PX1 PRO vs L9G Side by Side:
| | Hisense PX1-PRO | Hisense L9G |
| --- | --- | --- |
| | | |
| Resolution | 3840x2160 | 3840x2160 |
| Contrast | 1,000,000:1 | 1,000,000:1 |
| Brightness (Lumens) | 2,200 ANSI | 3,000 ANSI |
| Input lag | 30ms | 34ms |
| Throw Distance | 1.6' - 2.4' | 1.8' - 2.2' |
| Screen size | 90" - 130" | 100" - 120" |
| Speakers | 15.0 Watts × 2 | 20.0 Watts × 2 |
| Today's Best Price | | |
Brightness
The Hisense PX1-PRO has a 2,200-lumen laser light source, though it will look brighter than a standard-throw projector with the same brightness, thanks to its ultra-short throw distance. Still, while it can handle moderate light levels and supports some lights-on viewing, it may struggle to maintain the picture quality in well-lit spaces.
With the Hisense L9G, you'll get a 3,000-lumen light source and the same ultra-short throw distance. This gives it the capability to work well even in partially-outdoor spaces or rooms with lots of windows.
Brighter projector: Hisense L9G
Gaming Performance
Both the PX1-PRO and L9G will work for casual gaming. Each projector has a game mode with ALLM, as well as MEMC technology to ensure smooth on-screen movement and a 60Hz refresh rate for both 1080p and 4K content.
The Hisense PX1-PRO takes the slight lead on input lag. Its measured lag is around 30ms in Game Mode, compared to the slightly higher 34ms average of the L9G. Now, this does put both projectors on the higher end of the acceptable range for reflex-based games, and may still add too much lag for professional or competitive gamers. For most players, though, the 30ms response of the PX1-PRO will let you play frustration-free.
Better gaming performance: Hisense PX1-PRO
Sound
The PX1-PRO has Dolby Atmos sound and built-in stereo speakers powered by a total of 30 watts. Its overall sound output and quality is on par with what you'd get from many stand-alone soundbars, and most users find they don't need external speakers unless they want to add surround sound to their home theater space.
The stereo speakers of the Hisense L9G are more powerful, driven by 40 watts, and support a range of sound technology including Dolby Atmos and Dolby Digital decoding. No matter how large your space is, you can fill it with sound without external speakers, another reason it's a great choice for home theater beginners who haven't already invested in a surround sound speaker system.
Better sound: Hisense L9G
Included Accesories
There isn't much in the box with the PX1-PRO—just the power cables and remote you need to connect and control it. Conversely, the L9G comes with a lenticular ALR screen designed to amplify the contrast and clarity of images from ultra-short throw projectors. That's a very convenient extra for home theater beginners, sparing you the hassle of finding a compatible screen for your new projector.
Better included accessories: Hisense L9G
---
Hisense PX1-PRO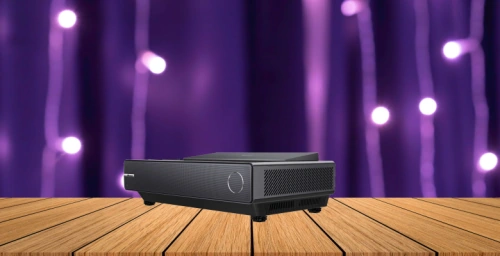 The Hisense PX1-PRO uses a laser light source with a TriChroma optical engine. This use of pure red, blue, and green lasers gives it exceptional color depth and accuracy, with coverage wider than the BT.2020 color space. The contrast and clarity of the image are equally impressive, with XPR Ultra HD resolution and support for HDR10 and HLG.
Along with its high image quality, the Hisense PX1-PRO is easy to set up and use. This starts with its ultra-short throw lens, producing a 100-inch image with less than 2 feet of distance. That short throw helps to maximize the brightness of the lamp and gives it tons of space flexibility. The image may still experience wash-out in very bright spaces, but it can handle lights-on viewing in any size of room.
Adding to the convenience of the PX1-PRO is its potential for all-in-one operation. The integrated 30-watt Dolby Atmos speakers have a well-balanced and detailed sound with great mid-range clarity for dialogue. It also has a built-in Android interface for streaming content, as well as support for Chromecast for wireless screen mirroring, reducing the need for content sources. Its wireless connectivity includes both Wi-Fi and Bluetooth, so you can connect headphones and speakers wirelessly along with playing content.
Smart home users will appreciate the Hisense PX1-PRO, too. It works with voice control systems like Google Assistant and Amazon Alexa and is compatible with Control4, giving users mutliple ways to automate their home theater. Click here for our more in-depth review of the Hisense PX1-PRO.
Pros
True 4K resolution with excellent color and contrast
Ultra-short throw distance
Compatible with voice control and smart home systems
Built-in streaming and wireless casting
Acceptable lag for gamers with ALLM
Good sound quality and output from built-in speakers
Cons
Lamp not suited for bright viewing areas
---
Hisense 100L9G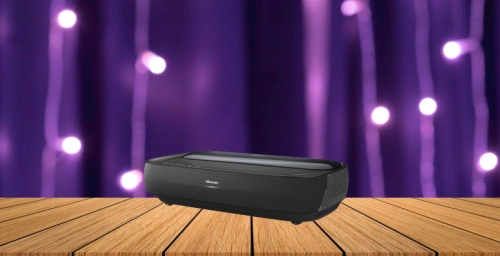 If you want a high picture quality from your projector, the Hisense 100L9G delivers a similarly stunning image as the PX1-PRO. It shares the XPR 4K technology, as well as its TriChroma engine and support for HDR. Along with this, it has features like Filmmaker Mode and Game Mode, making it easy to customize the settings to your specific content and preferences.
The Hisense 100L9G also matches the ultra-short throw distance of the PX1-PRO. It's brighter, as well, with a 3,000-lumen output. This expands its versatility, giving it the capability to maintain a high picture quality in even bright viewing areas.
The L9G is a great choice for first-time projector owners. Part of this is thanks to how easy it is to set up and use. The 40-watt Dolby Atmos speakers and Android OS give it all-in-one capability. It can also be used hands-free through Alexa or Google Assistant and integrates easily into smart home networks.
The biggest reason it's great for beginners, though, is that it comes with a 100-inch ambient light-rejecting (ALR) screen. Thanks to that, this is basically an entire home theater in a box, great for anyone who's setting up their first projector from scratch since you can start using it right away, with no need to buy any extra accessories. Related comparison: Hisense l9g vs Formovie Theater
Pros
Cinema-quality color with Ultra HD resolution
Bright enough for any indoor space
Includes a 100-inch ALR screen
Ultra-short throw distance
Voice control through multiple services
Great sound from built-in speakers
Built-in wireless streaming and mirroring
Cons
Higher cost
Not the best choice for serious gamers
---
The Verdict: Hisense PX1 PRO vs L9G
The Hisense PX1-PRO and L9G are evenly matched on a lot of key points. They both produce a phenomenal, realistic picture, and neither needs much space to do it, thanks to their ultra-short throw ratios. They're also evenly matched when it comes to smart features and voice control.
The difference between them really comes down to the details. The Hisense L9G has better sound and a brighter lamp, along with an included screen (>>> Find on ProjectorScreen.com). On the other hand, the Hisense PX1-PRO is slightly better for gamers, and is significantly more affordable, especially for those who already have a screen and don't need a new one. We hope this side-by-side has helped guide you to the best model for your home!
REFERENCES AND FURTHER READING: