Smart laser projectors have become very popular among home theater owners—and with good reason. They offer an incredibly short-throw ratio that takes the hassle out of installation, along with a high image resolution and phenomenal color accuracy.
If you're looking for a short-throw 4K projector, Optoma and LG are two companies you'll want to check out. Comparing the Optoma CinemaX P2 vs LG HU85LA, we'd say the Optoma CinemaX P2 is the better value. >>> Check on Amazon  That said, which one is right for you really depends on what you need. Let's take a more in-depth look at their features so you can make an informed decision.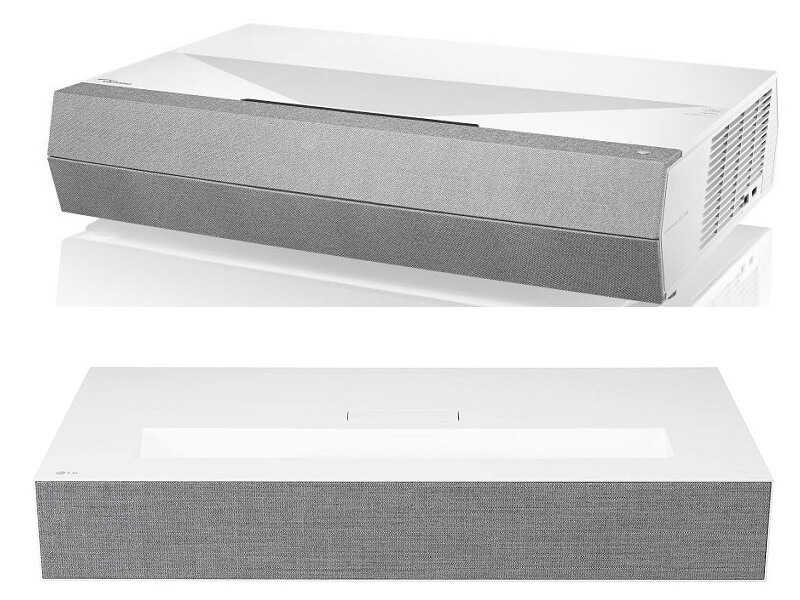 Optoma CinemaX P2 vs LG HU85LA Side by Side:
| | Optoma P2 | LG HU85LA |
| --- | --- | --- |
| | | |
| Resolution | 4K | 4K |
| Brightness (Lumens) | 3,000 ANSI | 2,700 ANSI |
| Contrast Ratio | 2,000,000:1 | 2,000,000:1 |
| Throw Distance | 1.5' - 2.2' | 1'3" – 1'7" |
| Screen size | 85" - 120" | 90" - 120" |
| Input lag: | 50ms | 50-55ms |
| Speakers: | 40W NuForce soundbar | 2 X 5W Stereo |
| Price | BHPhotoVideo.com | BHPhotoVideo.com |
Installation
Both of these projectors use an ultra-short throw ratio that lets you place them mere inches from the screen and still get a large picture. The throw distance of the LG HU85LA is a smidge shorter but it's a difference of inches. You'll only need between 1 and 2 feet of space for a massive screen from either of these projectors.
The more important consideration here is how easy they are to set up. The Optoma CinemaX P2 comes with the SmartFIT app for one-touch alignment. While it's relatively easy to use, you will need to have an Android or iOS device to run it. It's also known to have some issues with certain screen types. The 12-point warp adjustment on the LG HU85LA is built right into the projector, no outside device required, and is on the whole a smoother and faster adjustment process.
Easier installation: LG HU85LA
Smart Features
Alexa and Google voice control come standard on both the LG HU85LA and the Optoma CinemaX P2. With the LG HU85LA, you'll also get an on-board smart TV system and MiraCast support, giving it more robust options for wirelessly streaming content.
That said, the Optoma CinemaX P2 has more features aimed at smart home integration. Most notably, it can be used with IFTTT. This means you can do things like program the sound to mute when your smart doorbell rings, or set the lights to automatically dim when you start a movie.
Better smart features: Optoma CinemaX P2
Picture Quality
Both these projectors have 4K Ultra HD resolution and a high contrast ratio with HDR10 support. If you want crisp detail and rich black levels, you'll be impressed with either of these models. They're both very smooth for fast action scenes, as well, with TruMotion technology that fills in between the frames for more fluid movement.
Where the LG HU85LA has a slight edge is its color accuracy and brightness. It uses a 3-channel laser, as opposed to the 6-segment color wheel on the Optoma CinemaX P2. Along with that, it uses tone mapping to optimize the hues frame by frame, for more realistic and more vibrant colors overall.
Better picture quality: LG HU85LA
Sound
The LG HU85LA has a pair of 5-watt speakers for the sound. This is enough for basic TV watching, but it's not going to give you an immersive viewing experience, and is especially lacking in bass power. With the CinemaX P2, you'll get a 40-watt soundbar with 2 woofers and 2 full-range speakers. That gives you both better full-range sound and more crisp mid-range dialogue, for a better overall sound experience.
Better sound: Optoma CinemaX P2
Optoma CinemaX P2 vs LG HU85LA: Full Reviews
Optoma CinemaX P2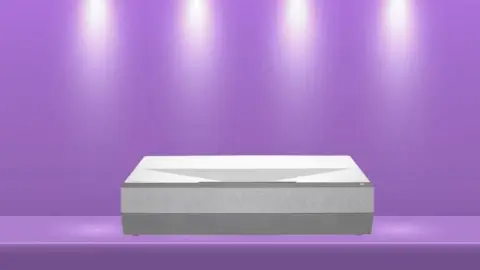 The Optoma CinemaX P2 has the versatility and features to turn any room into a home theater. This starts with its easy, flexible set-up. It gives you a 120" screen with just over 2 feet of distance so you don't need to worry about ceiling mounting or other hassles. The SmartFIT app that pairs with it gives you a one-click way to eliminate warp and align the image to the screen, with automatic focus to keep the picture sharp and crisp.
Smart home owners will appreciate how easy it is to connect the Optoma CinemaX P2 into your system. It comes with Alexa and Google Home compatibility for voice control. In addition, it supports IFTTT, letting you write it into custom recipes and routines.
While these features are handy, the picture quality remains the most impressive aspect of the Optoma CinemaX P2. Its laser light source and 6-segment color wheel produce bright, true-to-life colors with an exceptional level of detail. We were especially impressed by the black levels, which are rich with a lot of depth. The picture keeps its clarity no matter what's happening on the screen, with PureMotion Technology to reduce blur. Whether you'll be using your projector to watch movies, TV, sports, or all 3, it will do justice to your content.
One unique feature of the Optoma CinemaX P2 is that it sounds as good as it looks. It comes with a 40-watt NuForce soundbar that uses two full-range drivers and two woofers for the bass. It's one of the few home theater projectors that can produce legitimately good sound and powerful volume on its own, with clear dialogue and a full bass. You can hook up external speakers if you want, but you don't have to. Read our more detailed review of the Optoma CinemaX P2 here.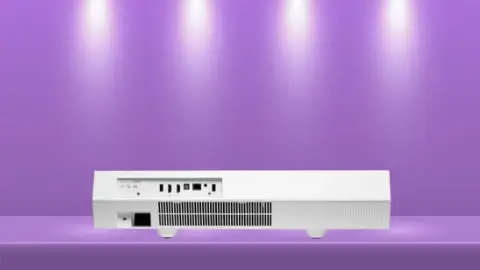 Pros
Accurate, vibrant colors from all content sources
Ultra-short throw distance
High sound quality from built-in soundbar
Easy to set up with SmartFIT app and automatic focus
Compatible with Alexa and Google voice control and IFTTT
Cons
SmartFIT app can have issues with pull-down screens
Can be tricky to synchronize built-in soundbar with external speakers
---
LG HU85LA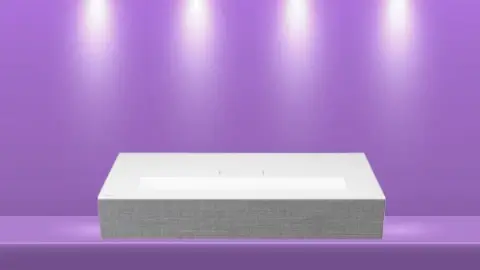 The smart features on the LG HU85LA start with its included WebOS smart TV interface. You can download apps like Netflix and Amazon Prime and stream content directly to the projector. Its ThinQ AI system also lets you use voice commands through Alexa or Google, and it has wireless connectivity through both Wi-Fi and Bluetooth. That means you can connect wireless speakers and other peripherals, or mirror content from your phone or tablet through Miracast.
The 2,700 lumens put out by the lamp of the LG HU85LA could be a concern for lights-on viewing on a projector with a longer throw. Considering this projector only needs about 2 feet of space for a 120" screen, though, the light doesn't have as far to travel and it looks plenty bright, even in a space with some ambient light.
We also appreciate how crisp and vivid the image of the LG HU85LA is. It uses Dynamic Tone Mapping to optimize the colors frame by frame, as well as TruMotion technology that fills in between the frames for more fluid motion. The result is an astounding level of texture, depth, and realism. Since it uses a 3-channel laser for the colors rather than the color wheel, there's no color reflection or rainbow effect—a definite advantage of the HU85LA over the P2 for those sensitive to it.
Maybe the biggest advantage of the LG HU85LA is how easy it is to set up and use. It has a 12-point image adjustment feature to eliminate warping and streamline the process of aligning the image to the screen. The on-board menus are intuitive to navigate, too, making this a great choice if you want professional-level image quality but aren't an A/V expert.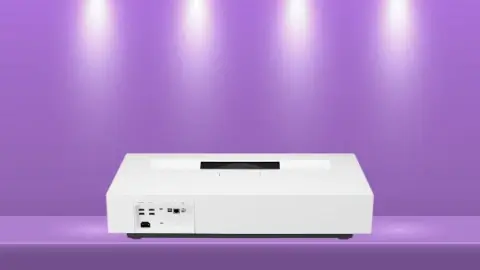 Pros
Smooth, detailed picture with high color accuracy
No rainbow effect
Wireless connectivity through Bluetooth or Wi-Fi
Ultra-short throw distance
Comes with Alexa and Google voice control
Smart TV interface lets you stream content straight to projector
Cons
Low sound quality from built-in speakers
Higher cost
What's the Bottom Line?
If money is no object, the LG HU85LA will be the better projector for most. It has a superior image quality and is more user-friendly, both during the installation and while you're using it. That said, it also costs significantly more than the Optoma P2. Budget-conscious buyers will find the image quality on the CinemaX P2 more than satisfactory and will appreciate getting more bang for their buck. >>> Check the current price on ProjectorScreen
The truth is, either of these projectors will serve you well. We hope the review above has helped you figure out which one belongs in your smart home theater!
REFERENCES AND FURTHER READING: