The Samsung LSP7T and Optoma P2 have a lot in common. Both are smart 4K projectors with a short throw distance and high-quality built-in speakers, a combination of features that makes them a convenient choice for modern home theaters. Comparing the Samsung LSP7T vs Optoma P2, we'd say the P2 is the overall better projector, with slightly broader smart features and a better picture quality (>>> Check the current price on Amazon).
That doesn't mean the Samsung is a bad choice by any means, though, and the performance of these two projectors is pretty closely matched on a lot of key features. Let's take a closer look at those before we jump into the full reviews so you can see how they stack up side-by-side.
Samsung LSP7T vs Optoma P2 Side by Side:
| | Samsung LSP7T | Optoma P2 |
| --- | --- | --- |
| | | |
| Resolution | 3840x2160 | 3840x2160 |
| Brightness (Lumens) | 2,200 ANSI | 3,000 ANSI |
| Contrast Ratio | 1,000:1 | 2,000,000:1 |
| Input lag | No data | 67m |
| Throw Distance | 0.8' - 1.4' | 1.5' - 2.2' |
| Screen size | 90" - 120" | 85" - 120" |
| Speakers | 30 Watts | 20.0 Watts × 2 |
| Price | BHPhotoVideo.com | BHPhotoVideo.com |
Picture Quality
The Samsung LSP7T produces a cinema-quality picture, with true 4K resolution and HDR10+ support. Its dedicated Filmmaker Mode further optimizes the color, resulting in a picture that's realistic and vibrant with smooth on-screen motion.
As good as the picture from the LSP7T is, the Optoma CinemaX P2 goes even further. It has a higher dynamic contrast ratio and a broader color gamut, producing a picture that's sharper with more depth and texture, especially in darker areas of the screen.
Better picture quality: Optoma CinemaX P2
Throw Distance
You'll get an ultra-short throw ratio from either of these projectors. The Optoma P2 will produce a 100" image with about 22" between the lens and screen, but you'll only need about 12" of distance for a 100" image from the Samsung LSP7T, one of the shortest throw ratios you'll find in a projector.
Shorter throw distance: Samsung LSP7T
Brightness
Thanks to that short throw distance, both the Samsung LSP7T and the Optoma CinemaX P2 look brighter than you might expect just looking at the lumen rating. The 2,200 lumens of the Samsung LSP7T would seem too low for lights on viewing, but we found it stands up well to even moderate light levels. Still, the 3,000 lumens of the Optoma P2's lamp make it the better choice for bright spaces or daytime viewing in rooms with lots of windows.
Brighter projector: Optoma CinemaX P2
Smart Features
Both the Samsung LSP7T and the Optoma P2 have a built-in operating system that supports direct streaming from a variety of apps. You can also use voice control with both. In that regard, the LSP7T offers a bit more versatility since it will work with Bixby, Alexa, or Google Assistant, while the P2 only works with Google and Alexa.
The Optoma P2 has one advantage for smart home owners: it supports IFTTT and all the advanced commands and recipes that opens up. It's also smart when you're setting it up, pairing with the SmartFIT app for easier installation.
Better smart features: Optoma CinemaX P2
Speakers
The sound on the Samsung LSP7T is good, especially compared to most projectors. It uses a 2.2-channel system with two woofers and two mid-range drivers, all backed by 30 watts of power. That gives you an output and sound quality on par with what you'd get from most Bluetooth speakers.
The 40-watt NuForce soundbar on the Optoma P2 has two full-range drivers and two dedicated woofers, all set in a ported chamber that further enhances the output.
It's also backed by Dolby Digital support for the audio signal, giving you crisp, clear dialogue and a sound that's well-balanced throughout the frequency range.
Better speakers: Optoma CinemaX P2
---
Samsung LSP7T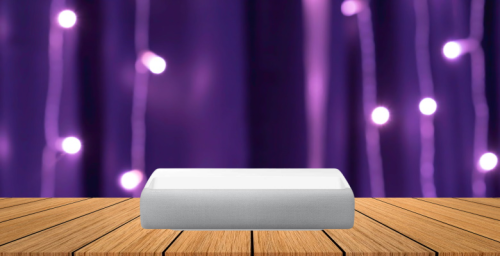 The Samsung LSP7T uses a laser light source and an ultra high definition DLP display with HDR10+ support and Purcolor technology. All of that translates to a detailed picture with vivid, true to life colors.
Movie buffs will particularly appreciate the Filmmaker Mode, which optimizes the image to cinema standards and gives you a true movie theater experience.
The only issue from a picture standpoint is that the contrast is a bit low, something you'll particularly notice in the dark areas of the screen.
Equally impressive is the fact that the Samsung LSP7T will produce the same excellent picture in almost any space. It only needs about 1 foot of distance to produce a 100" picture and has a powerful enough lamp for use in low to moderate light levels. An array of input options, along with wireless connectivity and support for voice control systems, further expand its versatility.
Another perk of the LSP7T from a convenience standpoint is the that it has all-in-one capability. The TIZEN Smart TV interface lets you download streaming apps right to the projector, and the 2.2-channel sound system has a volume output and sound quality on par with most Bluetooth speakers. You can even use it without a screen if you want to, making it one of the best stand-alone projectors out there. Click here if you want to read our full review of the Samsung LSP7T.
Pros
Vibrant true 4K picture
Ultra-short throw for use in almost any space
Variety of wireless and wired inputs
Smart TV system supports direct content streaming
Compatible with Alexa, Google, and Bixby voice control
Good built-in speakers
Cons
Black levels aren't as rich
Fewer smart home integration options
---
Optoma CinemaX P2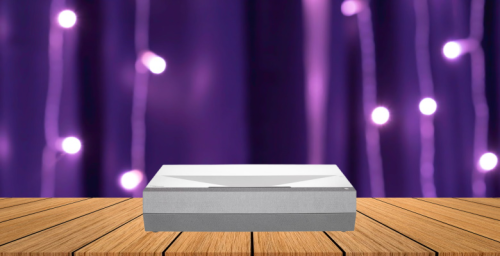 The Optoma CinemaX P2 is an excellent option for those who want a smart home entertainment system. Not only is it compatible with Alexa and Google voice control systems but it also supports IFTTT.
That lets you easily link the Optoma P2 with other smart devices and integrate it into custom recipes. For direct streaming, the Android-based operating system connects to the Optoma Marketplace, where you can download popular apps like Netflix and YouTube.
Another advantage of the Optoma P2 is that it's easier to install. While the throw is slightly longer, it's still short enough to use in any space, producing a 100" screen with less than 2 feet of distance.
Aligning the image is easy, too, thanks to the SmartFIT app, which automatically corrects the geometry. There are also manual horizontal and vertical keystone adjustment options if you need to fine-tune it further.
The all-glass laser light source on the Optoma P2 puts out about 3,000 lumens, plenty to keep the picture vibrant even in well-lit spaces. Its 6-segment color wheel produces all the hues of the DCI-P3 color space, which is about 50% wider than the Rec. 709 spectrum most projectors support. A high dynamic contrast and HDR10 support round out its impressive picture stats. The only thing to keep in mind is that it could cause rainbowing for those sensitive to it since it uses a color wheel. That said, most users will have no complaints about the picture quality. Click here for our more detailed Optoma CinemaX P2 Review
Pros
True 4K resolution with high contrast
Wide color gamut for cinematic color
Easy installation with short throw and SmartFIT app
Supports IFTTT and voice control
Direct streaming through many popular content apps
Superior sound quality and output from NuForce soundbar
Cons
Color wheel may trigger rainbow effect
Doesn't support ceiling-mounted installations
---
What's the Verdict?
The Samsung LSP7T and Optoma P2 have a lot of similar strengths, with the versatility to work in a lot of different environments and a great picture quality. While the Optoma will be the better choice for most users, especially smart home owners (>>> Find on ProjectorScreen),  the Samsung has its advantages. It's not prone to rainbowing, for one, and also usually sells for a bit less, which could make it the better value.
Regardless of which one you buy, these smart 4K projectors put advanced picture technology at your fingertips in a user-friendly and convenient package. We hope this review has helped you decide which one is ideal for your home!
REFERENCES AND FURTHER READING: