By the stats, the Samsung LSP9T and Optoma P2 have a lot in common. In both cases, they promise a high picture quality along with user-friendly features like an ultra-short throw distance and voice control. So how can you tell which one to buy if you're considering the Samsung LSP9T vs. Optoma P2? Read on to see a side-by-side comparison and find out which one meets your home theater needs.
Samsung LSP9T vs Optoma P2 Side by Side:
| | Samsung LSP9T | Optoma P2 |
| --- | --- | --- |
| | | |
| Resolution | 3840x2160 | 3840x2160 |
| Brightness (Lumens) | 2,800 ANSI | 3,000 ANSI |
| Contrast Ratio | 2,000,000:1 | 2,000,000:1 |
| Input lag | No data | 67ms |
| Throw Distance | 0.4' - 0.8' | 1.5' - 2.2' |
| Screen size | 100" - 130" | 85" - 120" |
| Speakers | 10.0 Watts × 4 | 20.0 Watts × 2 |
| Price | BHPhotoVideo.com | BHPhotoVideo.com |
Picture Quality
In a home theater context, it's hard to choose a winner on picture quality between the Optoma P2 and Samsung LSP9T. These projectors have a similar resolution and contrast, and both back this up with a bright lamp and wide color gamut. Where the LSP9T takes a slight edge is that it looks equally good projected straight onto a wall, while the P2 is at its best when used with a screen.
Better picture quality: Samsung LSP9T
Sound Quality
The 40-watt soundbar on the Optoma P2 has two woofers and two full-range speakers, with good output, balance, and clarity throughout the frequency range. Again, though, the Samsung LSP9T edges it out by including Acoustic Beam technology. While it's powered by the same 40 watts, that sound is more immersive, emulating the soundscape produced by a surround sound system.
Better sound quality: Samsung LSP9T
Set-up Ease
The ultra-short throw of the Samsung LSP9T gives it a much easier installation than most projectors, but you'll still need to manually align the image and correct the geometry. The SmartFIT app that comes with the Optoma P2 takes care of those adjustments for you, speeding up the set-up process, especially for first-time projector owners.
Easier set-up: Optoma P2
Smart Features
Voice control and direct streaming come built-in to both of these projectors. The Samsung LSP9T is compatible with Amazon Alexa, Google Assistant, and Bixby voice control, and offers a wide array of apps through its TIZEN smart TV system. Here, it's the Optoma P2 that edges out its competition with the addition of IFTTT support and the option for custom recipes through voice control services.
Better smart features: Optoma P2
---
Samsung LSP9T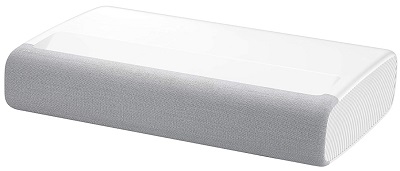 The convenience of the Samsung LSP9T is its main draw for many, especially if you're setting up your first projector-based home theater. Its triple-laser light source and DLP display produce a vivid picture on any flat white surface, avoiding the expense and hassle of installing a screen. For the audio, it has a 40-watt 4.2.2-channel sound system with Acoustic Beam technology that mimics the surround sound experience, so external speakers are optional, too.
The throw distance of the LSP9T is short even compared to other laser projectors, producing a 100" image with about 4 inches of distance. It's also easy to use, with support for Alexa, Google Assistant, and Bixby voice control systems and a TIZEN smart TV interface with a wide range of apps to choose from. Basically it can bring big-screen entertainment to any home, regardless of your existing set-up.
Pros
Sharp, high-contrast picture even without a screen
Exceptional color performance
Ultra-short throw distance
Smart TV system with multiple voice control options
Powerful sound with Acoustic Beam technology
Cons
Not as many smart home integration options
---
Optoma P2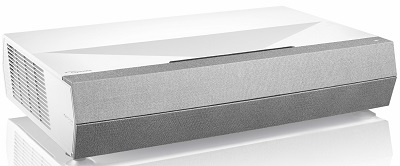 The Optoma P2 is one of the few projectors on the market that comes with IFTTT support. It also allows you to create custom skills through voice control systems like Google Assistant and Amazon Alexa, making it easy to integrate into any smart home set-up. Even the installation process is smart on the Optoma P2, pairing with the SmartFIT app for automatic geometry correction and focus.
The P2 uses a laser phosphor light source with a DLP display and HDR10 compatibility. In layman's terms, that means a bright, high-contrast image with a wide color gamut. The integrated 40-watt soundbar has excellent mid-range clarity and a good amount of bass. While it can't provide an immersive surround-sound experience, it's far superior to the sound from most TVs and projectors. For our more in-depth review of the Optoma CinemaX click here.
Pros
True 4K resolution with HLG and HDR10
Wide cinematic colors (DCI-P3 color space)
40-watt Dolby Digital 2.0 soundbar
SmartFIT app for automatic image alignment
Smart TV system with wide voice control support
Easy smart home integration with IFTTT
Cons
---
What's the Bottom Line?
As you can see, the differences between the Samsung LSP9T and Optoma P2 are subtle. If you're looking for the most immersive viewing experience, the LSP9T is your winner (>>> Check on ProjectorScreen). However, the easy set-up and smart features on the Optoma P2 arguably make it the more user-friendly choice.
REFERENCES AND FURTHER READING: