As technology advances, projectors have become a popular choice for immersive entertainment, transforming any room into a personal cinema. Today, we'll be comparing two heavyweight contenders in this space: the Samsung Premiere LSP9T and the Epson EpiqVision Ultra LS800. Both these ultra-short throw projectors are packed with cutting-edge features, promising impressive performance. However, in our analysis, the Samsung Premiere LSP9T stands out as a more favorable option. Check the Latest Price on Amazon Now! The choice between these two may ultimately come down to specific personal needs, but we'll delve into the key differentiators that tipped the scales in favor of Samsung.
Samsung LSP9T vs. Epson LS800 Specs Comparison:
| | Samsung LSP9T | Epson LS800 |
| --- | --- | --- |
| | | |
| Resolution | 3840x2160 | 3840x2160 |
| Brightness (Lumens) | 2,800 ANSI | 4,000 ANSI |
| Lamp Type | Triple Laser | Single Laser |
| Contrast | 2,000,000:1 Dynamic 1,000:1 Native | 2,500,000:1 Dynamic 2,966:1 Native |
| Throw Ratio | 0.19:1 | 0.16:1 |
| Lens | Fixed focal length , powered focus | Fixed focal length , manual focus, digital zoom |
| Speakers | 10.0 Watts ×4 | 5.0 Watts × 2 |
| Today's Best Price | ProjectorScreen.com | ProjectorScreen.com |
Individual Reviews:
Samsung Premiere LSP9T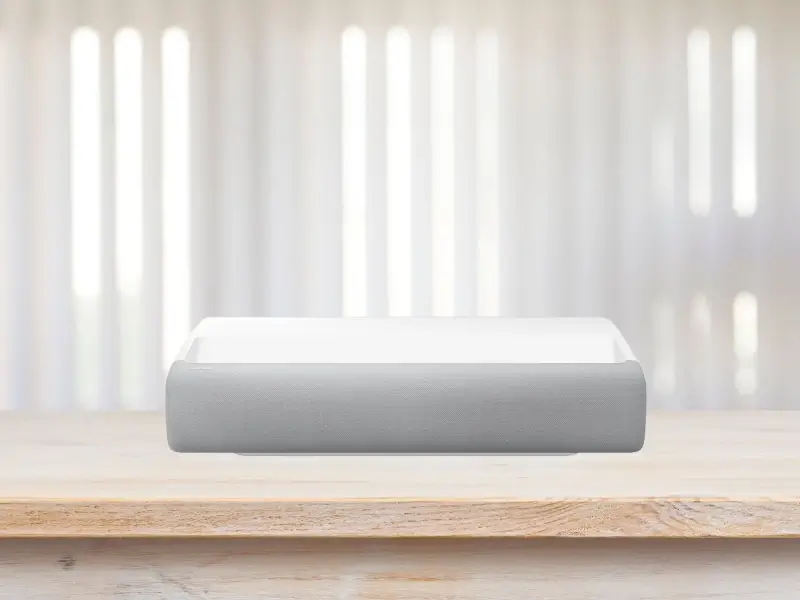 The Samsung Premiere LSP9T projector truly brings the cinema to your home, boasting a stunning 4K HDR 10+ triple-laser projection system that offers vibrant colors and deep blacks. Its built-in smart platform, powered by Tizen, offers seamless access to a wide array of streaming content, ensuring you always have something to watch. Coupled with Acoustic Beam technology, this projector offers an immersive audio experience, essentially negating the need for external speakers. With a high brightness of 2800 ANSI lumens, images are crisp and clear, even in moderately lit rooms.
While this projector impresses on multiple fronts, it isn't without a few drawbacks. The focus issue on the edges of the screen can be distracting, especially given the price point of the device. In addition, the remote control, while innovative, has a hybrid Bluetooth-IR design that doesn't allow integration with universal remotes, causing some inconvenience. However, with excellent customer service and support, these issues become less daunting, making the Samsung Premiere LSP9T a worthy investment. Click here for our more in-depth review of the Samsung Premiere LSP9T.
Pros
Stunning 4K HDR 10+ triple-laser projection.
Acoustic Beam technology offers immersive audio.
Built-in smart platform with Tizen.
High brightness of 2800 ANSI lumens.
Excellent customer service and support.
Cons
Issues with focus on edges.
Hybrid remote control can't integrate with universal remotes.
---
Epson EpiqVision Ultra LS800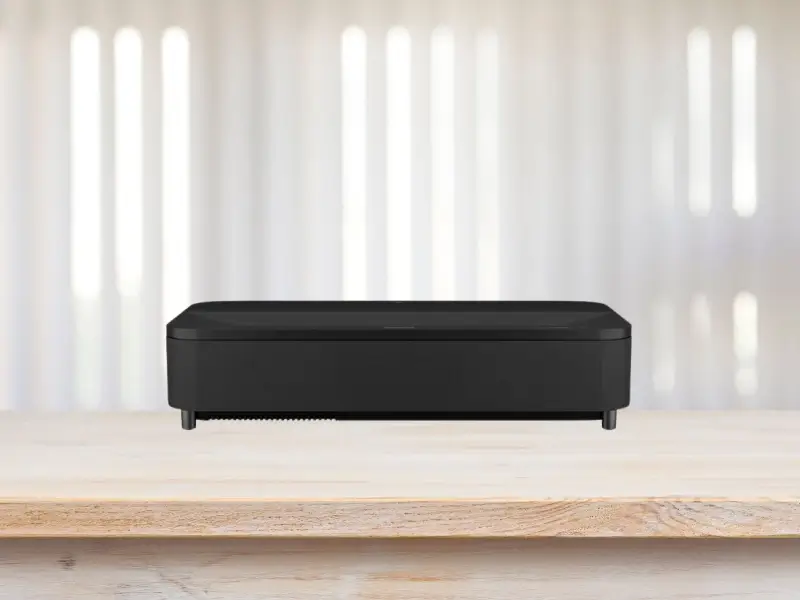 The Epson EpiqVision Ultra LS800 offers a compact and efficient solution for your projection needs. Its 4K image quality, thanks to the 3-chip 3LCD technology, is outstanding and works well even on a normal screen. The projector has an impressively loud built-in speaker that enhances portability and convenience. One of its standout features is the super easy corner keystone setup, a boon for non-experts who can "set it and forget it".
Despite these advantages, the LS800 does have some cons. The built-in Android TV interface, while versatile, feels less refined and can be improved for a smoother user experience. The HDMI-Arc CEC function has been reported to be flaky and Arc doesn't stay linked. However, the image quality and overall performance of the LS800 largely overshadow these flaws, making it a solid choice for those seeking a powerful and easy-to-use home theater projector. Click here for our more in-depth review of the Epson EpiqVision Ultra LS800.
Pros
High-quality 4K picture with 3-chip 3LCD technology.
Compact body with loud, built-in speaker.
Easy corner keystone setup.
Android TV interface offers versatile streaming.
Good visibility even with ambient light.
Cons
Android TV interface is less refined.
Issues with HDMI-Arc CEC function.
Samsung Premiere LSP9T vs. Epson EpiqVision Ultra LS800: Features Comparison
Design and Dimensions
The Samsung LSP9T stands out with its compact, minimal design, and premium Kvadrat fabric, allowing seamless integration into any room. Its ultra-short throw feature enables close wall positioning, saving space, and its dimensions (21.7 x 5.6 x 14.4 inches) and weight (25.4 lbs) make it conveniently compact. The Epson LS800, although bulkier at 27.4 x 13.4 x 6.2 inches and heavier at 27.6 lbs, still maintains a sleek, modern design that fits well within various decors. Its ultra-short throw is equally noteworthy, providing large, crisp images just inches away from the screen. This size and weight, however, might pose an issue for those with space constraints.
Design: Tie
Picture Quality
Starting with the Samsung LSP9T, it boasts an impressive 4K UHD Ultra-Bright Triple Laser, providing impeccable detail with 2800 lumens. It supports HDR10+ and HDR10 & HLG, unveiling shades of color and detail that are typically unattainable on HDTV. Furthermore, it has an excellent contrast ratio and a powerful UHD Processor that optimizes performance with 4K picture quality. Whether we were watching a movie or playing a game, the experience was nothing short of immersive.
The Epson LS800, on the other hand, comes with a full 4,000 lumens of both color and white brightness, with True 3-chip 3LCD technology. It supports 10-bit HDR and utilizes advanced pixel-shifting technology for a sharp 4K experience. The Epson projector offered us bright and vibrant colors, and despite having slightly higher brightness, the lack of a triple laser did somewhat affect the contrast levels.
Better Picture Quality: Samsung LSP9T
Smart Features
Samsung's LSP9T comes packed with Smart TV features powered by Tizen, providing next-gen apps and super-easy control. The multiple built-in voice assistants (Alexa, Google Assistant, and Bixby) added to the convenience. With Universal Guide and TV Plus, our streaming and live TV content was easily organized.
On the other side, the LS800 features an Android OS, Google Assistant, and several streaming apps. The interface was user-friendly, but compared to Samsung's Tizen, we found it slightly less smooth.
Better Smart Features: Samsung LSP9T
Audio
The LSP9T comes with Dolby Digital Plus and a powerful 4.2 channel sound system, delivering 40W of sound. With Samsung Acoustic Beam, the audio was panoramic, giving a sense of being part of the scene.
The Epson LS800 comes with 5.0 Watts x 2 internal speakers, offering a decent audio experience. However, compared to the LSP9T, the audio was less immersive and might need an external sound system for a full cinema experience.
Better sound quality: Samsung LSP9T
Connections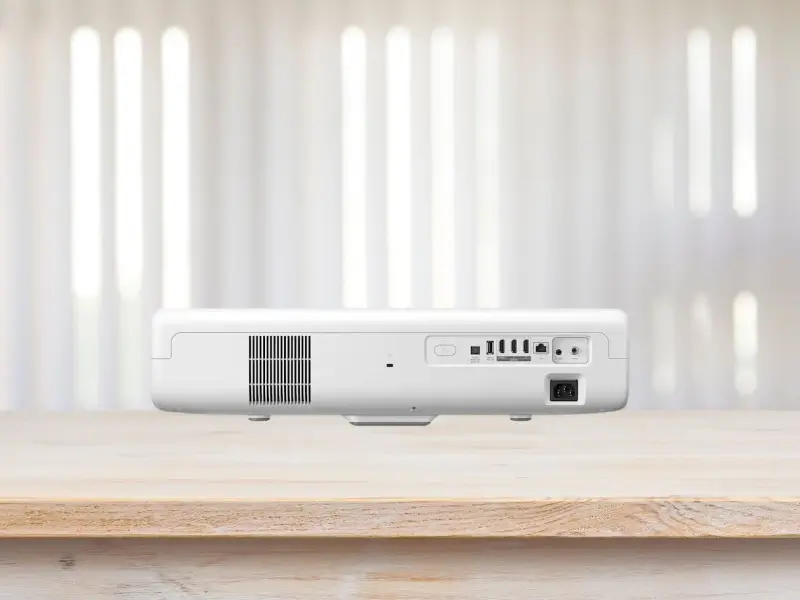 With three HDMI connections, USB, LAN port, built-in Wi-Fi, Bluetooth, and more, the Samsung LSP9T offers extensive connectivity. Additionally, Samsung's OneRemote detects and controls all compatible connected devices, making it very convenient to use.
The LS800 also has a good variety of connection options, including three HDMI ports that are fully compatible with virtually all color formats, depths, and spaces. However, it lacks some of the more advanced features such as OneRemote.
More connectivity options: Samsung LSP9T
Gaming
The LS800 provides an HDMI port that supports 1080p/120 Hz signals. This makes the Epson projector perfectly suitable for most gaming consoles.
The LSP9T offers a Game Enhancer that automatically adjusts settings for smooth gameplay. Gaming on the LSP9T was an absolute pleasure, with the Game Enhancer feature ensuring that there were no motion blurs or lags. Although gaming on the LSP9T was enjoyable, we did notice that the Epson LS800 offered a slightly more responsive experience.
Better gaming performance: Epson LS800
Ease of Set-up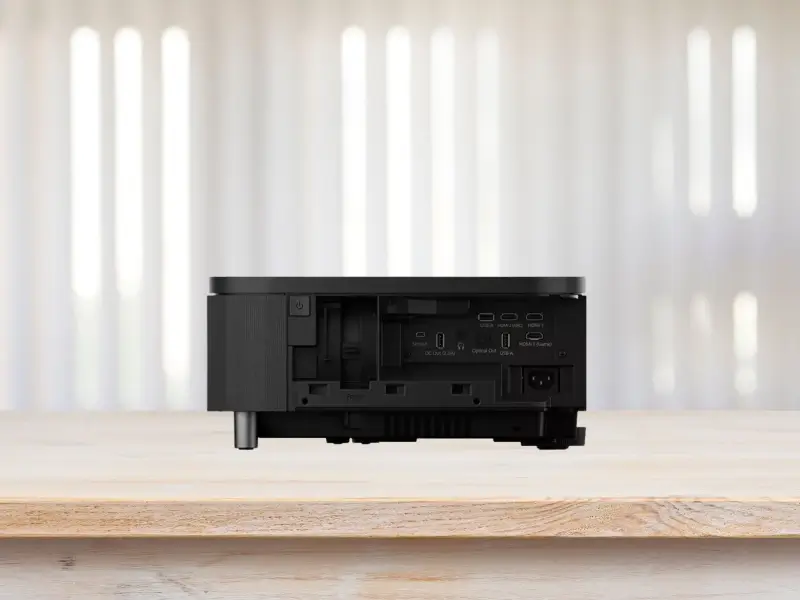 Both projectors were relatively easy to set up. The Samsung LSP9T's Tap View feature lets you mirror your smartphone content to the projector with a different connection method for your Galaxy, which we found very convenient.
The Epson LS800 also offered quick and easy setup with multi-point picture adjustment and individually adaptable feet. While it didn't offer mirroring as the LSP9T did, the set-up process was still fairly straightforward.
Easier to Set Up: Tie
Customer Reviews Summary
Samsung Premiere LSP9T
Most customers are satisfied with the projector's performance, noting its excellent picture quality and useful features, such as built-in tuner for OTA television and a solid app store. They also praised Samsung's customer service. The projector's drawbacks included focus issues around the edges of the picture, which were distracting for some users, and a hybrid remote control that couldn't be integrated with universal remotes.
Despite a few concerns, several users felt that the advantages outweighed the disadvantages and decided to keep the device as their primary entertainment system.
Epson EpiqVision Ultra LS800
Customers appreciate the clear 4K picture quality, compact body with a powerful built-in speaker, easy corner keystone setup, and the overall reliability of Epson's projectors. However, some found Android TV to be less refined and experienced difficulties with picture settings, HDMI-Arc CEC function, and Netflix support.
A few users also found the device to be less user-friendly due to a lack of a default source option and issues during firmware updates. Nevertheless, many felt the device offered good value, and some even found workarounds for certain problems, such as the lack of support for Atmos out of the box.
Conclusion
In conclusion, both the Samsung LSP9T and Epson LS800 are top-tier ultra-short-throw projectors that deliver exceptional viewing experiences. However, after our in-depth comparison, the Samsung LSP9T emerges as our top pick. Get the Best Deal on ProjectorScreen.com Today!
The Samsung LSP9T, with its innovative triple-laser technology, Tizen-powered smart features, and superior audio quality, is an ideal choice for those seeking a comprehensive, high-tech entertainment system.
While the Epson LS800 shines with its true 3-chip 3LCD technology, impressive brightness, and user-friendly Android TV interface, it might appeal more to those who want a straightforward, high-quality projector.
That said, our recommendation goes to the Samsung LSP9T. It offers an immersive and interactive experience that we believe tech-savvy users will appreciate. However, the final decision should align with your individual requirements and preferences.
Related Comparisons and Guides: