If you're in the market for a high-end projector, you may look towards Epson. They've been in the game for a while and have created projectors home theater enthusiasts love. Today, we'll be looking at the Epson LS500 vs LS800. As you can infer from the name, the LS800 is the newer version, and costs significantly more (>>> Check on Amazon). However, is the upgrade worth it? We're here to find out.
Epson LS500 vs LS800 Side by Side:
| | Epson LS500 | Epson LS800 |
| --- | --- | --- |
| | | |
| Resolution | 1920x1080 4K w/pixel shifting | 3840x2160 |
| Contrast | 2,500,000:1 | 2,500,000:1 |
| Brightness (Lumens) | 4,000 ANSI | 4,000 ANSI |
| Input lag | 21.1ms | 16.7ms |
| Throw Ratio | 0.29:1 | 0.16:1 |
| Screen size | 70" - 130" | 80" - 151" |
| Speakers | 10.0 Watts × 2 | 5.0 Watts × 2 |
| Today's Best Price | BHPhotoVideo.com | ProjectorScreen.com |
Video Quality
Both projectors have similar video quality, with both boasting 4K, 4,000 lumens, and 10-bit HDR. As such, we enjoyed both when it came to how gorgeous the video could be. Both give you a sharp picture with colors that pop and are true-to-life.
However, the LS800 improves upon the LS500 via its contrast ratio. It has 2,500,000:1 as opposed to the LS500's 2,000,000:1. While both make the blacks and whites pop, the LS800 does look slightly better. However, we do realize that the average person may not know the difference.
Winner: LS800
Throw Ratio
Both projectors pride themselves with their short throw ratio capabilities. In other words, if you have the projector close to a wall, it will still give you amazing picture quality. This feature works well if you're someone who lives in a small home and doesn't have the luxury of a theater-sized room.
When we tested both, we agreed that it can create some amazing experiences close-up. However, the LS500 was limited, with a throw ratio of 0.28-0.38:1. The LS800 improves the throw ratio, with it able to go to 0.16 to 0.40:1. This makes the LS800 more versatile.
Winner: LS800
Speakers
Ideally, you should have your own speakers separate from the projector, as most projectors have built-in speakers that don't give you the full experience. However, we understand that some people may be in a pinch and need to use them.
The LS800 has 2.1 channel speakers, which create a crisp sound. But, what we do notice and were disappointed with, was the lack of sound quality during high octane events. We did like that the LS800 does create a 3D effect that did impress us. As such, it's a nice addition. Still, get yourself some powerful speakers if you want to get the most out of this projector. Check how it compares to the Samsung Premiere LSP9T.
Winner: LS800
---
Epson LS500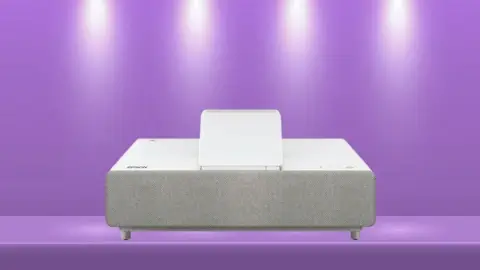 Pros
Stellar picture quality and contrast
4,000 lumens makes it great for all-day use
Short throw ratio
Cons
Built-in speakers and interface lacking
The LS500 is a powerful 4K PRO-UHD projector with 10-bit HDR processing to recreate content as faithfully as possible. It uses 3-chip 3LCD technology and a dynamic contrast ratio of 2,000,000:1 to bring you rich, accurate colors.  It delivers picture quality up to 130", and its ultra short throw means that you don't need to be in large room to have great picture. Bring it close, and it's ready to go.
In addition, the LS500 has 4,000 lumens which is super bright.  You'll be able to see the screen even during the middle of the day. This one also comes with both Google Assistant, and what we like, is Android TV. We tried both and can confirm they work great and offer consistent streaming.
---
Epson LS800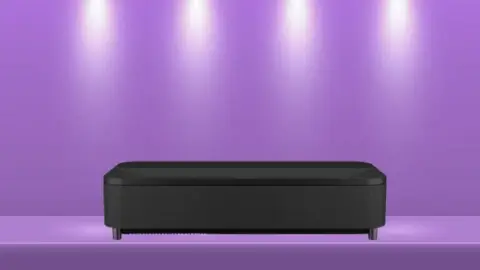 Pros
Amazing picture quality
HDMI port for gaming
Sleek, built-in Google Assistant makes choosing movies simple
Cons
This is the newest LS projector Epson offers.  We noticed at first this is pretty similar to the previous models, but that's not a bad thing.  The projector is considered a short throw, and when we tested it, we got a decent projection up to 150 inches.  The LS800 comes with 4000 lumens, which is super bright. However, we were expecting more, especially since it's a more expensive and newer projector.
Its 3-chip technology and 4K PRO_UHD 10-Bit HDR capabilities make the colors pop and be as close to the original picture as possible.
It comes with three HDMI ports, each with 4K/60Hz capabilities. It also includes a gaming port with 1080p/120 Hz. We love that it comes with Google Assistant built in to use, and a 2.1 ch surround system built in too. We also appreciate the 2-year warranty in case something goes amiss. Read our more in-depth review of the Epson EpiqVision LS800.
---
Epson LS500

vs LS800: Who Wins?
This comparison should be obvious. The later version provides a phenomenal throw distance. We also like the extra goodies and features it provides. But what kind of stinks about this one, is that the LS800 is not a huge leap from the LS500. So, you're not getting as many new features as you'd expect from the much larger price tag (>>> Find on ProjectorScreen).
Download Full Specifications: