The Epson LS800 and the Formovie Theater are strong contenders for the best ultra-short throw projector title. These modern projectors are designed to sit just below your projector screen and offer excellent 4K image quality, brightness, and advanced projection features, all packaged together with a user-friendly interface, making them both must-looks for anyone looking to replace their TV with a vivid, 4K projector that can reach up to 100" in screen size. While both projectors are strong performers, we will review some of the primary differences that set these projectors apart.
Epson LS800 vs. Formovie Specs:
| | Epson LS800 | Formovie Theater |
| --- | --- | --- |
| | | |
| Resolution | 3840x2160 | 3840x2160 |
| Contrast | 2,500,000:1 Dynamic 2,966:1 Native | 3,000:1 Native |
| Brightness (Lumens) | 4,000 ANSI | 2,800 ANSI |
| Input lag | 16.7ms | 34ms - 41.9ms |
| Throw Ratio | 0.16:1 | 0.23:1 |
| Screen size | 80" - 151" | 80" - 150" |
| Speakers | 5.0 Watts × 2 | 15.0 Watts × 2 |
| Today's Best Price | ProjectorScreen.com | ProjectorScreen.com |
Brightness
We found both projectors to boast high brightness ratings, with the Epson LS800 leading the charge at 4,000 lumens compared to the Formovie Theater's 2,800 lumens. This makes the LS800 a great choice for those looking to replace their television, as it can handle glare easily, even in a bright room. In contrast, the Formovie Theater's lower brightness rating means that it's most suitable for darker environments. However, we found that even in rooms with some ambient lighting, the image quality was still enjoyable from the Formovie Theater. However, we needed to calibrate the colors to achieve our ideal results.
Better Brightness: Epson LS800
Contrast
The Epson LS800 and Formovie Theater both offer exceptional contrast ratios. The Epson LS800 has a native contrast ratio of 2966:1. At the same time; the Formovie Theater features a native contrast ratio of 3,333:1. The Formovie Theater can produce deep blacks and bright whites, resulting in a more detailed, as well as realistic, image. We particularly noticed this during darker scenes in movies where the projector can achieve deep black levels.
Both projectors provide great contrast, and we didn't notice too much of a gap between the LS800 and Formovie Theater regarding contrast. However, we must hand it to the Formovie Theater here, as we achieved a better contrast calibration with the built-in 11-Point White Balance Correction feature.
Better Contrast: Formovie Theater
Colors
Both projectors offer wide color gamuts and excellent color accuracy. However, we noticed the Formovie had a significantly superior color gamut thanks in part to the triple laser design, allowing the Formovie a 113% DCI-P3 color gamut compared to the LS800's 77% DCI-P3 color gamut. This is essential for anyone needing highly accurate colors, providing us with better overall cinematic image quality.
Better Color Performance: Formovie Theater
Usability
Both projectors are simple to set up, and both the Epson LS800 and the Formovie Theater feature Android 11 TV smart capabilities. Getting a clear picture with the LS800 will take some minor tweaking with the lens, but you should be ready afterward.
The Formovie Theater also runs on the Android TV 11 platform, and the setup is straightforward and intuitive in the Android TV 11 interface. Formovie has included a simple Android remote allowing us to navigate between streaming apps and Focus and Keystone Settings quickly. In addition to the smart features of the Formovie Theater, this projector features one of the best-integrated soundbars in a projector, with a Bowers & Wilkins soundbar. It would be best if you calibrated the projector, as the out-of-the-box color performance wasn't noticeably off. Still, after calibration, we found the Formovie Theater to give an accurate picture.
Better Usability: Epson LS800
Epson LS800 vs Formovie Theater: Full Product Details
Epson LS800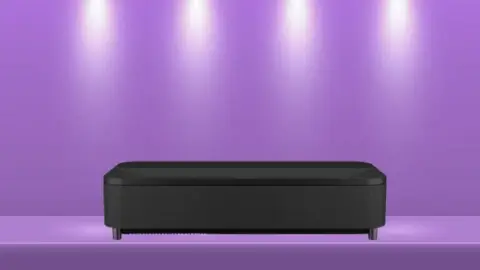 Pros
Easy to setup and use
Video resolution up to 4K at 60 Hz
Dedicated gaming HDMI port delivers input lag reduction for gamers.
Built-in streaming and Smart TV features
Great built-in sound quality
Cons
The Epson LS800 can serve as a substitute for your television with its impressive features. Its powerful 4000-lumen rated laser phosphor light, featuring a lifespan of 20,000 hours of use, guarantees you bright and clear images. In addition, with Epson's 'pixel shifting' technology in the LS800, you can experience a 4K viewing experience by doubling and splitting multiple 1920 x 1080 (Full HD) resolution images into a singular projected 4K image.
Setting up the projector is a breeze, with the back hosting three HDMI ports, one of which is an HDMI 2.1b port dedicated to gaming with reduced input lag. However, we found that focusing and calibrating the image quality took some additional effort, requiring us to fiddle with the controls and lens. The Epson Setting Assistant mobile app can help resize the LS800's image digitally.
Additionally, the LS800's built-in Yama DSP 2.1 stereo soundbar provided us with excellent audio quality, making a secondary sound system not immediately necessary. Check our more in-depth review of the Epson EpiqVision® Ultra LS800 projector.
Formovie Theater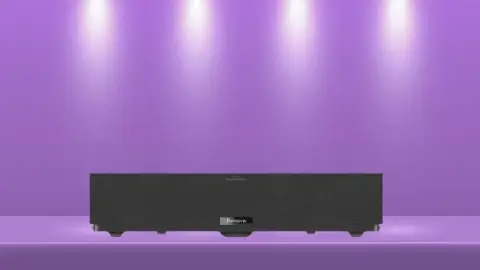 Pros
Affordable Price
Easy to set up and comes with a wide range of calibration features
Great built-in audio with 15W Bowers & Wilkens speakers
Built-in streaming and Smart TV Features
Ethernet port for a high-speed wired network connection
Cons
If you're looking for a projector that can convert your living room into a movie theater, the Formovie Theater ultra-short throw projector is one to keep in mind. It provides a bright 4K image with a laser light source that is rated for 2,800 lumens. In addition, the Formovie Theater features HDR10 support, but we were disappointed to see that while HDR10+ is listed, there didn't seem to be any HDR10+ functionality.
There's a 3,333:1 native contrast ratio coupled with robust calibration features that allow you to control the image size, focus, brightness, and color calibration. Set up is simple on the Formovie Theater thanks to the Android TV 11 platform, and the integrated Bowers & Wilkins deliver 15 watts of power, each with Dolby Atmos support for a 3D soundscape.
If you're looking for an affordable short-throw projector, we think the Formovie Theater is one of the best on the market. The wide color gamut and great contrast providing for deep blacks and bright whites create a cinematic viewing experience that we enjoyed. In addition, the great built-in speakers added an immersive audio experience to the viewing experience. Read our more in-depth review of the Formovie Theater projector.
What's the Bottom Line?
The Epson LS800 and the Formovie Theater are impressive ultra-short throw projectors that deliver excellent picture quality, great integrated speakers, and an all-around wonderful home theater experience. The Epson LS800 is significantly brighter than the Formovie Theater, and if you are looking for a projector to replace a gaming TV, the Epson LS800 is the best choice for you. (Find on Amazon.com) On the other hand, the Formovie Theater is affordable, delivers an incredible 4K image, and has a slew of calibration features that let us dial the projector to our liking. So, suppose you are looking for a projector that doesn't need an external audio system and enables you to have the most control while still providing excellent image quality. In that case, the Formovie Theater may be for you.
Related Comparisons and Guides: