Optoma's GT1080 projectors have all the features a serious gamer needs in a projector. On first glance, the differences between the models in their line seem slight. Once you dig into the specs, though, comparing the Optoma GT1080HDR vs. GT1080Darbee reveals why they sell at different price points.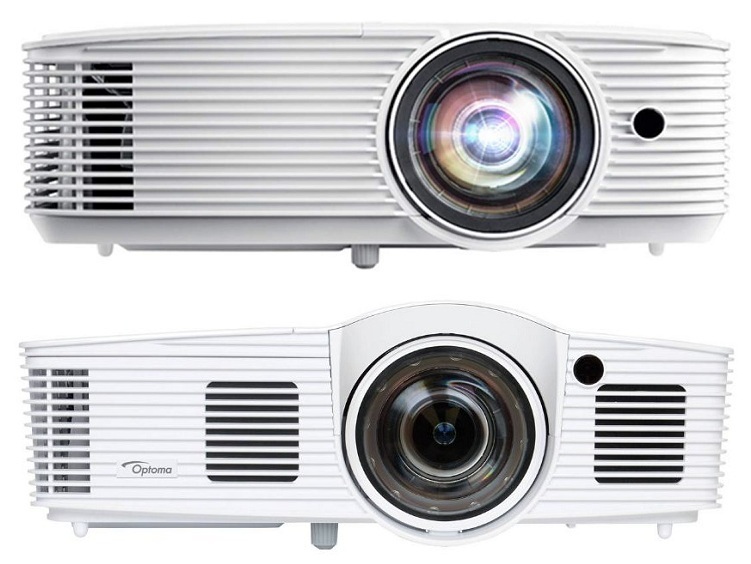 The Optoma GT1080HDR is the better projector, in our opinion. >>> Find price on Amazon Having said that, both projectors have a low input lag and a short-throw ratio. Either one could satisfy a gamer looking to upgrade to a big screen—it just depends on what you're looking for.
Optoma GT1080HDR vs GT1080 Darbee Side by Side:
| | Optoma GT1080HDR | Optoma GT1080Darbee |
| --- | --- | --- |
| | | |
| Resolution | 1080p | 1080p |
| Brightness (Lumens) | 3,800 | 3000 |
| Contrast Ratio | 50,000:1 | 28,000:1 |
| Throw Ratio | .5:1 | .49:1 |
| Screen size | up to 120" | up to 120" |
| Input lag | 8.4ms | 16ms |
| Price | BHPhotoVideo.com | Check on Amazon |
Responsiveness
Projectors naturally have a longer input lag than TVs or monitors. This means there's more delay between your actions and the response on the screen—a minor annoyance for TV and movie watching, but a serious problem for a gamer. No projector eliminates this delay entirely, but modern gaming projectors have reduced the lag to nearly-imperceptible levels.
Both of these projectors exceed the industry standard for input lag, but the GT1080HDR edges out the GT1080 Darbee with an incredible 8.4ms response time. Its gaming mode also features a higher frame refresh rate for smoother on-screen action.
More responsive projector: Optoma GT1080HDR
Brightness
For most home theaters, a lamp brightness between 2,500 and 4,000 lumens is recommended. A lower lamp brightness can work in a dedicated home theater with controlled light. For most people, though, the projector will go in a well-lit room with windows. If you want to game as comfortable in daylight as you can at night, you'll want a projector in the 3,500-4,000 lumens range.
Brighter projector: Optoma GT1080HDR
Color and Contrast
Resolution determines the sharpness of the picture, but for immersive realism and vibrant detail, you need high color accuracy. A high contrast ratio is also important for gamers since it can be a big frustration to lose detail in dark areas of the screen. Controlling the light level will improve the overall picture, including color and contrast. The more light in the room where you use your projector, the more you'll need to worry about a high contrast ratio.
Better color and contrast: Optoma GT1080HDR
Optoma GT1080HDR vs GT1080 Darbee: Full Reviews
Optoma GT1080HDR

The Optoma GT1080HDR is designed with serious gamers in mind. It has one of the shortest input lags on the market, as fast as 8.4ms—that's as close to an instant response as you'll find in a projector. The high refresh rate also reduces lag, so you'll be able to play even graphic-intensive games without frustration.
Whether you're gaming or watching movies, the picture quality is stunning on the Optoma GT1080HDR. There's no washout from ambient light, and the colors are vibrant and true to life. The high contrast ratio is important for both movie watching and gaming, giving you good detail in the darker areas of the image.
The Optoma GT1080HDR has a user-friendly set-up. Vertical keystone correction makes it easier to align the image, and it connects easily to all common media players and gaming systems. (For a list of best gaming projectors with 4k resolution click here). It's also an excellent value given the stats and a versatile projector for any home theater application.
Pros
High brightness for use in all rooms
Perfect for gamers
Excellent contrast ratio
Easy to connect to gaming consoles and media players
Vertical keystone correction allows more installation flexibility
Short throw distance
Durable build with long lamp life
Cons
Color wheel may cause rainbow effect
4K content will play at lower resolution
---
Optoma GT1080 Darbee

The Optoma GT1080 Darbee has a lot in common with the GT1080HDR. They're functionally identical when it comes to the set-up and installation, with comparable throw distances, screen sizes, and connectivity. While the Optoma GT1080 Darbee has a slightly higher input lag, it's still low enough you won't notice any delay—16ms is considered excellent, even by serious gamers.
The picture quality on the Darbee is acceptable, if not exceptional. In a dark room, it has a picture quality comparable to most TVs. The lamp is bright enough colors stay vibrant when ambient light increases, but the image does lose detail quickly in darker areas.
The Optoma GT1080 Darbee is very reasonably priced for a gaming projector. The set-up ease and intuitive navigation make it an easy transition from a TV for first-time projector owners. If you're not a stickler for picture quality, the excellent content support and response speed are very appealing at the price. It's also included among the best projectors for golf simulators.
Pros
Best value for a gaming projector
Vibrant, true-to-life colors
Low input lag for gaming
True 3D support from all sources
Dual HDMI inputs compatible with all content sources
Cons
Lower contrast ratio
Lamp won't last as long, especially for gamers
---
Customer Experience
The initial response to both the GT1080HDR and the GT1080 Darbee is overwhelmingly positive. Users praise the ease of set-up and are impressed by the picture quality. Most people choose to use external sound with their projectors and have no problem connecting it into their existing home theater set-up. >>> Find the current price on Bhphotovideo
Both projectors also perform reasonably well in the long-term. One thing to note with the GT1080 Darbee is that the lamp wears out more quickly. It's rated to last up to 8,000 hours in Eco Mode, but if you're using Gaming Mode you can cut that lifespan in half. Expect to replace the lamp after 2-4 years, depending on how much you play.
The Bottom Line
The Optoma GT1080HDR outperforms the GT1080 Darbee in practically every category—though not by a huge margin. The combined improvements to the picture quality, responsiveness, and durability in the GT1080HDR in our mind are worth the extra cost. If you're on a tight budget, though, the GT1080 Darbee is an incredible value for the 16ms input lag alone.
REFERENCES AND FURTHER READING: