Optoma and Epson are two of the most trusted names in the projector industry, with both companies producing a range of projectors suitable for gamers, movie buffs, and anyone who wants big-screen entertainment.
Comparing the Optoma UHD38 vs Epson 3200, the Optoma will be the better option for most. While both offer dual gaming and home theater performance, the UHD38 is more responsive with a sharper resolution and a brighter lamp (>>> Check on Amazon). The Epson 3200 still has its strengths, however. Let's dive into the details so you can decide which one fits your home the best.
Optoma UHD38 vs Epson 3200 Side by Side:
| | Optoma UHD38 | Epson 3200 |
| --- | --- | --- |
| | | |
| Resolution | 3840x2160 | 1920x1080 4K w/pixel shifting |
| Brightness (Lumens) | 4,000 ANSI | 2,900 ANSI |
| Contrast Ratio | 1,000,000:1 | 40,000:1 |
| Input Lag | 4.2ms | 16.7ms |
| Throw Distance | 4.0' - 32.7' | 6.2' - 28.8' |
| Screen size | 33" - 300" | 40" - 300" |
| Speakers | 10.0 Watts Mono | No |
| Today's Best Price | | BHPhotoVideo.com |
Resolution
Both of these projectors produce a resolution higher than 1080p, though they achieve it through different means. The Epson 3200 starts with a full HD display and uses pixel-shifting technology to double the display pixels.
The Optoma UHD38 has a native resolution of 4K. That means 4 times the pixels of a full HD display, or roughly twice the pixels of the Epson 3200's pixel-shifted display.
Higher resolution: Optoma UHD38
Brightness
The 2,900-lumen lamp of the Epson 3200 allows for some lights-on viewing. Bright overhead lights or natural light through windows may still cause picture wash-out, but it doesn't require a completely dark space.
For brighter viewing areas, the 4,000 lumens of the Optoma UHD38 are a better choice. This level of brightness is high enough to maintain a saturated picture in any indoor light level, even rooms with large windows and other natural light sources.
Brighter lamp: Optoma UHD38
Installation Ease
The picture alignment features on the Optoma UHD38 are somewhat limited. While it does have a wide 2D keystone correction, its zoom is narrow at 1.1x and there are no lens shift or similar features for fine-tuning the image placement. For those using a ceiling mount installation, this means you need to be precise with your installation to avoid headaches during the set-up process.
The Epson 3200 is more flexible in this regard. While its throw distance is slightly longer than the UHD38's, it also has a much wider zoom, up to 1.62x. Along with this, its lens shift (+/-24% horizontal and +/-60% vertical) makes it easier to align the picture perfectly, as well as giving it more versatility in spaces where the projector can't be installed exactly in line with the screen.
Easier to install: Epson 3200
Built-in Sound
There are no speakers built in to the Epson 3200, so you'll need to buy an external sound source to use with it if you don't have one already.
On the Optoma UHD38, there's a 10-watt speaker built in to handle the sound. Its output and sound quality are acceptable, if not exceptional. If you want surround sound or room-shaking bass for movies or games, you'll still want to use a sound system, but many users find they can use the projector without external speakers.
Better built-in sound: Optoma UHD38
Gaming Performance
Gamers need a responsive and smooth display to avoid frustrating lag, blur, and other issues. While all projectors have some kind of input lag, a lag of 30ms or lower will be unnoticeable for most players. For a smooth display, a frame refresh rate of at least 60Hz is recommended.
The Epson 3200 meets these criteria. Its measured input lag ranges from 16.7ms on the low end to around 28.5ms, still under the 30ms threshold, with a 60Hz refresh rate and 12-bit video processing for a smooth display. The Optoma UHD38 is even more responsive, with a lag as low as 4.2ms in full HD and only around 16.7ms when gaming in 4K. Its frame rate is also higher for full HD gaming, either 120Hz or 240Hz depending on your settings. This makes the Optoma the better choice for serious gamers, though both models will support gaming for most players. (Check out this roundup review if you're looking for the best gaming projector)
Better gaming performance: Optoma UHD38
---
Optoma UHD38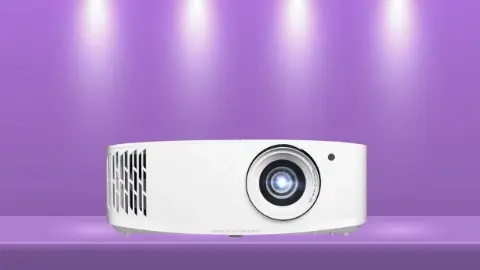 The Optoma UHD38 has the performance and features to work in almost any home entertainment set-up. Its powerful lamp won't be washed out by ambient light, letting you use it in living rooms and other common areas without modifying the space. Its only limitation from a space standpoint is its standard throw distance, which limits its use in smaller rooms.
You can use the UHD38 for a wide range of content, too. The low input lag in Enhanced Gaming Mode lets users play games from the latest generation consoles, and supports competitive or professional online play with no delays or image issues. For movie lovers, the true 4K resolution and full 3D support let you watch your favorite films just like you would in the theater.
The overall picture quality of the Optoma UHD38 is high, as well. It uses Dynamic Black technology to increase the contrast, giving the picture great depth and rich blacks. For color, it uses Optoma's UltraDetail technology, with an 8-segment color wheel for a vibrant and vivid array of hues. The only potential issue with the display is for those sensitive to the rainbow effect, which may be triggered by its use of a color wheel.
Pros
True 4K resolution
High Dynamic Black contrast with HDR and HLG support
Super-low input lag for gaming
Bright lamp works in any light level
Built-in speaker
Cons
Limited image alignment options
Use of color wheel may cause rainbowing
---
Epson 3200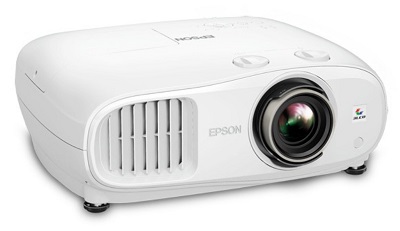 The Epson 3200 is a very user-friendly projector. This starts from its easy setup and installation. While its throw distance is similar to the UHD38's, it allows for more flexibility within that space, with a wide 2D lens shift as well as zoom and keystone correction. You will need external speakers for the 3200 since there are none installed, but it's easy to connect them with a standard audio jack, so this isn't a deal-breaker for most.
Now as we mentioned above, the Epson 3200 is not a true 4K projector. It does accept 4K content, but uses pixel-shifting for the display, resulting in a resolution that's roughly halfway between full HD and 4K. Where the display excels is its color performance. The 3-chip design used by Epson eliminates the risk of rainbowing or brightness hotspots, with support for HLG and HDR10 to ensure the accuracy of the picture.
The Epson 3200 can also be used for gaming. While it's input lag isn't as impressively low as the UHD38's, most players won't notice a difference in their playing experience, and the picture is smooth and free from compression artifacts and other image issues.
Pros
3LCD display for rich color with no rainbowing
Good gaming performance
Ideal brightness for low- to moderately-lit spaces
Cons
Not a true 4K resolution
No built-in speakers
---
Optoma UHD38 vs Epson 3200 In Summary
The Optoma UHD38 and Epson 3200 sell at a similar price point, and provide a similar value to buyers. Most users will prefer the sharper resolution and brighter lamp of the Optoma UHD38 (>>> Find on ProjecorScreen.com). On the other hand, the Epson 3200 is easier to install and has better color performance, so it all comes down to what you want out of your projector.
REFERENCES AND FURTHER READING: