Optoma UHD-series projectors share a lot of strength. They have a reputation for being versatile, user-friendly, and a great value for the money and both the UHD38 and UHD50X live up to this standard. Comparing the Optoma UHD38 vs UHD50X, the UHD38 is the overall better projector for both gaming and home theater.
Having said that, though, the UHD50X is a strong performer, too, and could be the better choice for some homes.
Take a look at this side-by-side comparison of the key differences if you're not sure which one will be better for your needs (>>> Find on Amazon).
Optoma UHD38 vs UHD50X Side by Side:
| | Optoma UHD38 | Optoma UHD50X |
| --- | --- | --- |
| | | |
| Resolution | 3840x2160 | 3840x2160 |
| Brightness (Lumens) | 4,000 ANSI | 3,400 ANSI |
| Contrast Ratio | 1,000,000:1 | 500,000:1 |
| Input lag | 4ms | 25ms |
| Throw Distance | 4.0' - 32.7' | 4.0' - 26.6' |
| Screen size | 33" - 300" | 34" - 303" |
| Speakers | 10.0 Watts Mono | 5.0 Watts Mono |
| Price | BHPhotoVideo.com | ProjectorScreen.com |
Brightness
The amount of ambient light in your viewing area determines the lamp brightness you need in a projector.
For lights-on viewing or daytime use in rooms with windows, a brightness of around 3,000-4,000 lumens is ideal to give a vibrant, saturated image without being so bright it causes eye strain.
The 3,400 lumens of the Optoma UHD50X will be plenty bright enough for most indoor spaces. For rooms with lots of large windows or outdoor use, the brighter Optoma UHD38 puts out 4,000 lumens, and will be a better choice.
Brighter projector: Optoma UHD38
Gaming Performance
Input lag and refresh rate are the key stats of note for gamers. A projector's input lag measures the delay between your input and what you see on the screen.
Anything under about 30ms is fast enough most players won't notice a delay, even when playing fast-paced games.
The best gaming projectors have a refresh rate of 240Hz, which keeps the on-screen action smooth and prevents issues like blur and frame tearing.
Both the Optoma UHD50X and UHD38 have an Enhanced Gaming Mode that makes them suitable for gaming on the latest consoles. For competitive gamers and PC gaming, the Optoma UHD38 has single-digit input lag, as close to instant as you're likely to find in a projector.
Better gaming performance: Optoma UHD38
Installation Ease
The Optoma UHD38 is relatively easy to install. Its 4-direction keystone correction makes it easy to fix warp and align the screen geometry, though it does need a fairly precise installation since its other image adjustment options are limited.
With the Optoma UHD50X, you'll get up to 15% vertical lens shift, manual focus, and a 1.3x manual zoom. That gives it a bit more flexibility when you're mounting the projector, giving it a faster and easier set-up overall.
Easier installation: Optoma UHD50X
3D Support
The Optoma UHD50X is 3D ready. It can play some 3D content right out of the box, but for other formats you'll need to purchase a control box for the shutters.
The full 3D support of the Optoma UHD38 lets it play 3D content from HDMI devices like Blu-ray players without added accessories, with support for 3 formats (top/bottom, side-by-side, and frame packing).
While it may not be compatible with frame sequential 3D content from computers, its expanded support gives it more built-in 3D versatility.
Better 3D support: Optoma UHD38
---
The Optoma UHD38 is a versatile and user-friendly projector. It's an excellent choice for watching movies and TV shows, with true 4K resolution and a high dynamic contrast ratio. This gives a crisp, realistic image, with UltraDetail technology and support for HDR10 and HLG to further optimize the image.
The 8-segment color wheel gives the UHD38 a wide color gamut with high accuracy, though it can cause rainbowing—something to be aware of if you're sensitive to that image issue.
You can play any kind of content on the Optoma UHD38. It has full 3D support, playing multiple 3D formats directly from devices connected through HDMI.
It also has a fast frame refresh rate of 240Hz, keeping on-screen motion smooth even when watching fast-paced action sequences and live sports. That high refresh rate is great for gamers, too, and the Optoma UHD38 is one of the best gaming projectors you'll find. It supports gaming in 4K or full HD, with an input lag as low as 4.2ms.
The high lamp brightness of the Optoma UHD38 gives it good installation flexibility, working even in well-lit rooms without an issue. Its throw distance is on the longer side, needing around 11-12 feet for a 100" screen, so it's better suited to larger rooms than small spaces.
Its keystone correction is broad, with both horizontal and vertical geometry correction. Unfortunately, the zoom is limited and there's no lens shift, so you will need to be pretty precise with your placement during installation.
Pros
Super-low input lag
Full 3D support
Excellent image resolution, color, and contrast
Bright lamp works even in well-lit spaces
Both horizontal and vertical keystone correction
Compact and portable design
Cons
No lens shift function
May cause the rainbow effect
---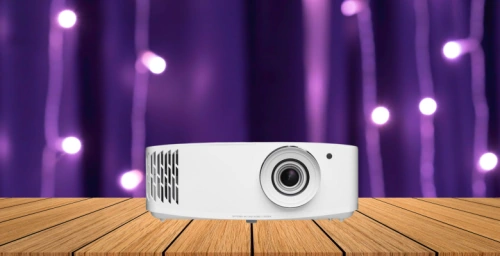 Like the UHD38, the Optoma UHD50X is a great choice for multi-use spaces because it performs equally well for gaming and home theater applications. While its input lag is a bit higher, it's still under the 30ms threshold recommended for reflex-based games, and has the same high 240Hz refresh rate.
Home theater users will be especially impressed by the color performance of the Optoma UHD50X. Its enhanced color wheel supports the DCI-P3 color spectrum, with HDR tone mapping and UltraDetail enhancement, a combination that results in remarkable realism and color depth. Its only potential issue from a home theater perspective is its 3D content support. It's 3D ready but won't play all content from set-top boxes or Blu-ray players right out of the box.
You'll get good installation flexibility from the Optoma UHD50X. Its long-throw distance means most will want to use a ceiling-mount, and like the UHD38 it's not made for small spaces. On the plus side, the 3,400-lumen lamp can compete with the lighting in most indoor spaces. It also has a 5-15% vertical lens shift and a wider 1.3x zoom, in addition to vertical keystone correction, so it's easier to fine-tune the image alignment.
Pros
True 4K with high dynamic contrast
Enhanced color wheel (DCI-P3 color space)
Lamp is bright enough for most indoor spaces
Low input lag and high refresh rate
Easy installation with zoom, lens shift, and keystone correction
3D ready
Cons
May require accessories to play 3D content
Built-in speaker is weak
---
What's the Verdict?
The Optoma UHD38 and UHD50X are similarly-priced, and for most the UHD38 will prove the better value, with a lower input lag and brighter lamp. On the other hand, the UHD50X has better color performance and an easier installation and could be the better option for some homes. It all comes down to your space and how you plan to use it (>>> Check on ProjectorScreen).
REFERENCES AND FURTHER READING: