Optoma makes some of the best home theater projectors you can get on the market. But with so many options in the product lineup, how do you know which one is right for you? If you're looking at the Optoma UHD60 vs UHD65, they look very similar on the surface. The difference really becomes clear, though, when you dig into the details.
In our opinion, the Optoma UHD60 is the better option. >>> Check price on Amazon While the two projectors have a lot of similarities, the UHD60 has a brighter lamp—and typically sells for a bit less money, which makes it a better value. Having said that, if you're looking for straight picture quality, the Optoma UHD65 has the slight edge. Let's break it down on a feature-by-feature level to see how the two projectors compare on each.
Optoma UHD60 vs UHD65 Side by Side Comparison
| | Optoma UHD60 | Optoma UHD65 |
| --- | --- | --- |
| | | |
| Resolution | 4K | 4K |
| Brightness (Lumens) | 3000 | 2200 |
| Contrast Ratio | 1000,000 : 1 | 1,200,000:1 |
| Throw Ratio | 1.39-2.22:1 | 1.39-2.22:1 |
| Max screen size | 300" | 302" |
| Price | Check on Amazon | Check on Amazon |
Brightness
Generally speaking, a brightness in the neighborhood of 2,500-3,500 lumens is ideal for home theater applications. In this range, the lamp is bright enough you don't need to completely darken the room, but not so bright that it hurts your eyes. The Optoma UHD60 is in the middle of this range, while the UHD65 falls just below it.
Brightest projector: Optoma UHD60
Color Accuracy
The HDR10 technology used for color reproduction in the Optoma UHD60 has a wide range of usable colors, allowing for accurate, true-to-life images. The color management system on the UHD65 gives users a bit more control over their image, which is what gives it a slight advantage.
Best projector for color: Optoma UHD65
Sharpness and Contrast
Both these projectors offer native 4K resolution, so you know the picture is going to be pretty sharp (find great 4k projectors options here). The Optoma UHD65 takes it a step further with a high Dynamic Black contrast ratio. It also uses more advanced visual technology to reduce motion blur, making sure the image always looks the way it was intended.
Best projector for sharpness: Optoma UHD65
Full Reviews
Optoma UHD60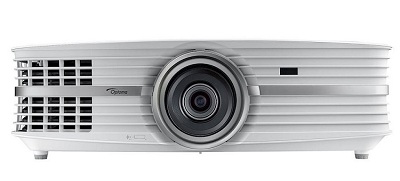 The Optoma UHD60 is a solid projector for any home theater. The picture quality is a big part of this. 4K UHD resolution means you'll get the most detailed image available on the market. Optoma pairs this with a high contrast ratio and ultra-wide color gamut, thanks to HDR10 technology. The lamp has a great brightness level—enough to compete with ambient light in the room, but not so bright it's overwhelming in darker spaces.
That bright lamp also means Optoma UHD60 also works well in lots of different viewing arrangements. It's easy to install, and flexible in its placement. Vertical lens shift and keystone correction allow you to install it on the ceiling or a table, and the 1.6x zoom allows for easy fine-tuning.
One other thing to note about the Optoma UHD60 is that it retails for a few hundred dollars less than the UHD65. Basically, with the Optoma UHD60 you get more bang for your buck. It's an excellent projector for all situations, and at an incredible value.
Pros
Native 4K resolution for a detailed, sharp picture
Lamp is an excellent brightness
Easy to install in a variety of set-ups
Excellent color accuracy and contrast ratio
Lamp life of up to 15,000 hours
Wide range of screen size options
Cons
Doesn't use the PureMotion technology
---
Optoma UHD65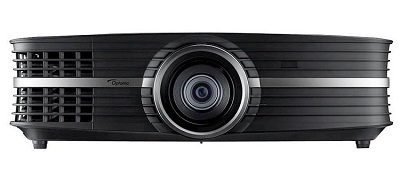 There are a lot of similarities between the Optoma UHD65 and the Optoma UHD60. They're both 4K projectors with a wide color gamut and a high contrast ratio. In terms of picture quality, you'll be just as impressed with what you see from both projectors.
The Optoma UHD65 does take more advantage of technology to improve the picture. It uses a PureMotion system to reduce blur and other impacts of motion on the image. It also has a great Color Management System that allows you to adjust the color to your perfect levels.
Where we felt the Optoma UHD65 was lacking is the lamp brightness. It's definitely bright enough for dim viewing rooms and can compete with some ambient light, but it won't work in a well-lit room. While this is a relatively minor failing, considering it costs more than the UHD60, it's simply not as good of a value.
Pros
Lens shift and zoom make it flexible to install
Life-like color with high contrast
Long-lasting lamp
PureMotion system reduces impact of movement on the image
Color Management System gives you control over the image
Cons
Doesn't work as well in rooms with ambient light
Don't get as much for your money
---
The Bottom Line
Both the Optoma UHD60 and the Optoma UHD65 are easy to install. Both also give you a lot of flexibility in this regard, with a wide throw ratio and a vertical lens shift. >>> Check current price on Amazon The difference between them comes down to picture quality and value. While the picture quality on the UHD65 is slightly higher, we don't feel the improvement is marked enough to justify the hike in price.
In truth, these are both excellent projectors that will give you years of movie watching enjoyment. We hope this comparison review has helped you see the differences between them—and choose the right one for your home.
REFERENCES AND FURTHER READING: