The options for 4K projectors have skyrocketed in the last year or so, with each new model promising an even better, brighter picture than the ones that came before. Optoma and Epson are two projector brands it's worth keeping your eye on, and you'll see why if you compare two of their newer models, like the Optoma UHD60 vs Epson 5040UB
Since 4K projectors still cost a grand or more, you want to make sure you're getting one you'll really get some use out of. We've put together a comparison of these two impressive models. Read on below to find out which one has all the features you need in a projector. >>> Check price on Amazon
Optoma UHD60 vs Epson 5040UB side by side
| | Optoma UHD60 | Epson 5040UB |
| --- | --- | --- |
| | | |
| Resolution | 4K | 4K |
| Brightness (Lumens) | 3000 | 2500 |
| Contrast Ratio | 1000,000 : 1 | 1000,000 : 1 |
| Input Lag | 56ms | 28ms |
| 3D | | |
| Connectivity | USB, Hdmi | USB, Hdmi |
| Lamp life (Hours) | 10,000 | 5000 |
| Built in Speakers | 2 x 4W | |
| Price | Check on Amazon | Check on Amazon |
Optoma UHD60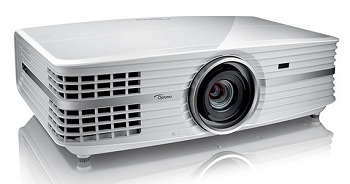 We'll kick things off with this nice little unit from Optoma. The UHD60 is a halogen bulb projector that gives you 4K HD resolution at 3,000 lumens of brightness. This means it has a picture that's as sharp as what you'd get on a top of the line television, along with the lamp power to let you actually see it—and on a screen that can get a lot bigger than your average TV set.
If you want the stats on exactly how sharp and clear the picture is, they're pretty impressive. The contrast ratio is listed as 1,000,000:1, a crazy high ratio that ultimately means you'll have true dynamic, deep blacks. It also uses HDR10 for brighter colors, accurately displaying everything from the REC2020 color palate. This matches the colors used in film production so you know your content will look the way it was intended to.
We also liked how easy this projector is to use. It has a single DLP system, meaning you never have to worry about aligning the image. There's a vertical lens shift and a zoom up to 1.6x to help you get the picture exactly right. It also has a variable throw ratio, making it more versatile across spaces and set-ups. >>> Find top ultra short throw projectors reviews
This is the ideal projector for a home theater. The lag is a bit higher than we'd like due to the higher pixel count, which may get frustrating if you want to use the projector for gaming—it's not enough lag to make it unusable, but it's certainly noticeable. Aside from that minor issue, we've got no qualms recommending this model. It's one of the few high-quality 4K projectors you'll find for less than $2,000 and a great value at its price – find full 4k projectors guide here).
Pros
Great color accuracy and contrast ratio
Native 4K UltraHD resolution
1-chip system doesn't need alignment
Variable throw ratio for a more versatile installation
Bright enough to use in almost any lighting conditions
Excellent value at the price
Cons
4-watt speakers are relatively weak
Lag is a bit high
---
Epson Home Cinema 5040UB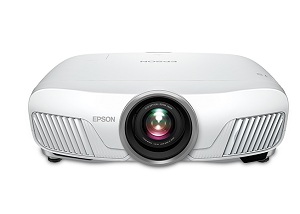 And now we'll look at the competition: the 5040UB from Epson. Like the Optoma above, it has a native 4K UltraHD resolution for a bright, sharp picture across all content styles. It also has the same 1,000,000:1 contrast ratio to guarantee deep, dark blacks. While it uses a different system for the color choices, it's still compatible with HDR10 and offers significantly more colors than the Rec 709 that's the industry standard.
In terms of performance, the biggest difference between this model and the one above is the number and type of chips used. The Epson 5040UB uses a three-chip system, which is what allows it to offer such an impressive range of colors. This also reduces the rainbow effect that plagues many projectors and makes sure the color is smooth and balanced.
The overall brightness of this projector is a bit lower (around 2,500 lumens). On the flip side of this, though, the light is more balanced than you'll get with most projectors. The colors will be as bright as the blank, white areas, making it easier on your eyes and more enjoyable to watch.
The set-up on this projector is a breeze, too. Adjusting the image is intuitive—you'll be up and running in just a few minutes, even if you've never used a projector before. We also love that you can save your settings for the amount of zoom and angle of the lens. With 10 different memory slots, you can save different profiles for different situations, making it easy to re-focus when you move the projector.
Some users have reported power issues developing in their projectors over time. The Epson customer service is top-notch, though, and they'll replace your projector if it fails. All told, there's a lot to love about this model. It's not the cheapest option out there but the usability and quality are worth the investment.
Pros
Great picture quality
Smooth, rich color with no rainbow effect
Equally bright whites and colors
10 pre-set slots to save lens and focus settings
No noticeable lag when playing games
Cons
On the pricier side
Are sometimes known to have power issues
Epson 5040UB 4k enhancement
Side by side: Optoma UHD60 vs. Epson 5040UB
As you can see from the reviews above, these are both high-end projectors that will give you a quality picture and an assortment of modern features. There are definitely some key differences between the two units, though, and they come down to more than just the brand name.
The most significant differences between these two models are:
1) The price. The Optoma UHD60 costs about $600 less than the Epson 5040UB—about 25% less if that puts things in perspective. Considering they offer similar image stats, that definitely makes the Optoma the better value.
2) The internal design. The one-chip system used in the Optoma UHD60 eliminates the need to manually align the picture when you set up your projector. On the other hand, the three-chip system in the Epson 5040UB makes for a smoother picture and more color accuracy.
3) The brightness. The Optoma UHD60 puts out 3,000 lumens, compared to the 2,500 lumens put out by the Epson 5040UB. This makes it brighter overall, and the Optoma is a bit better at maintaining a clear picture even in a relatively well-lit room. Where the Epson excels is the balance of colored pixels and pure white. You may need to turn off an extra light or two when using the Epson 5040UB, but it will also put less strain on your eyes and give you a more consistent brightness.
4) Set-up and picture adjustment. Both these projectors are relatively easy to get up and running. The biggest difference in this regard is that the Epson gives you memory slots to save a variety of lens settings. If you plan to mount your projector and keep it in the same place long-term, you won't get much use out of the memory slots, but this will be very helpful if you plan on using your projector for multiple screen configurations—say you want to use it inside in your home theater and also sometimes take it outside for backyard movie nights.
The verdict of Optoma UHD60 vs Epson 5040UB comparison
These two projectors are similar enough that, for our money, we'd lean toward the Optoma UHD60. >>> Check current price on Amazon The high-quality picture, good brightness, and ease of use make it an exceptional value at the price. Having said that, there are some users who will find the Epson worth the extra expense. If you're sensitive to the rainbow effect, for example, or if you're a serious gamer, you may find it justifies the added investment.
Whichever way you go, both these projectors will give you years of big-screen entertainment. Do you use one of these projectors at home? Let us know your experiences in the comments! We hope this comparison has helped you figure out the perfect projector for your needs.
REFERENCES AND FURTHER READING