Far more projectors offer 4K resolution now than they did this time last year. Most major projector manufacturers use a version of this technology somewhere in their line—and that plethora of options can make it hard to figure out which one's best.
Comparing the Epson 5050UB vs Optoma UHD60, it's clear they're each designed for a different kind of user. Both will give you a sharp picture with high contrast and realistic colors. While the Epson 5050UB has a more flexible throw ratio, the Optoma UHD60 is more versatile across light levels—something that often proves more important when it comes to using the projector easily.
The Epson 5050UB is, in our opinion, the better projector for most consumers. >>> Find price on Amazon Having said that, each of these projectors has its strengths. The Optoma UHD60 is by no means a bad projector, and some buyers will find it a better choice for their viewing space. Let's dig into the most important features to show you what we mean.
| | Epson 5050UB | Optoma UHD60 |
| --- | --- | --- |
| | | |
| Resolution | 4K UltraHD | 4K UltraHD |
| Brightness (Lumens) | 2,600 | 3000 |
| Contrast Ratio | 1,000,000:1 | 1,000,000:1 |
| Throw Ratio | 1.35-2.84:1 | 1.39-2.22:1 |
| Input lag | 27ms | 50ms |
| Screen size | 50"-300" | 26"-300" |
| Price | BHPhotoVideo.com | Check on Amazon |
Brightness
When it comes to picture quality, brightness is one of the most important specs to pay attention to. A more powerful lamp will naturally look sharper and more vibrant, especially if you're using it in a room with a decent amount of ambient light.
The recommended brightness range for home theater projectors is somewhere between 2,500 and 4,000 lumens. At 2,600 lumens, the Epson 5050UB is just inside this range, so you'll need a fairly dark room to get the best possible picture. The brighter lamp on the Optoma UHD60 will be far more versatile in this regard.
Brighter projector: Optoma UHD60
Color Production
Both the Epson5050UB and the Optoma UHD60 have the capability for movie-quality color accuracy. The big difference between them is the way the color is produced. The advanced 3-chip processing of the Epson5050UB displays the full-color information in every frame. This eliminates common projector image issues, like blocking, banding, and the rainbow effect.
Better color production: Epson 5050UB
Image Size
A massive picture is the main thing people are after when they shop for a projector. The Epson 5050UB delivers in a big way, capable of projecting images up to 300" on the diagonal, compared to the 140" image maximum of the Optoma UHD60. While most people won't need an image this large in their home, it does make the Epson 5050UB more versatile for outdoor applications.
Bigger image: Epson5050UB
Input Lag
Input lag isn't too important for movie watching, but If you plan to play games on your projector it's key. A low input lag translates to less delay between what you press on the controller and what you see on the screen, letting you play without frustration.
Lower input lag: Epson5050UB
Epson 5050UB vs Optoma UHD60: Full Reviews
Epson Home Cinema 5050UB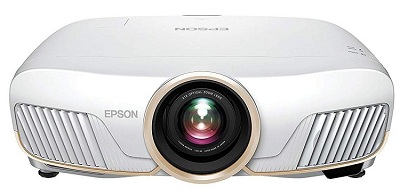 The detail and clarity of the picture is the first thing you'll notice with the Epson 5050UB. It has native 4K resolution, the highest on the current market. The high processing speed provided by the 3 LCD chip design prevents common visual problems so all your content will play smoothly and seamlessly. You'll love the accuracy of the color, too, which uses 10-bit HDR processing for true to life hues.
The only caveat of this picture quality is that you'll need a pretty dark room to enjoy it. The Epson 5050UB can only produce about 2,600 lumens. If your room has windows (or even bright lamps), you'll need to take additional measures to prevent the picture from looking washed out.
When it comes to set-up and connectivity, the Epson 5050UB is standard for its price-point. It has dual HDMI ports for hooking up cable boxes, streaming sticks, or gaming systems. Speaking of gaming systems, the Epson 5050UB has a super-low input lag. This means no noticeable delay between your input and what you see, so you can game on this projector just like it's a TV. (The 5050UB is selected among the best 4k projectors for gaming). A more detailed review of the Eptoma 5050UB can be found here.
Pros
3-chip processor enhances detail of 4K resolution
Smoother frame transitions eliminate blocking and banding
Low input lag for gaming
Full HDR-10 color processing with no rainbow effect
High dynamic contrast ratio
Supports 3D content
Solid and durable build
Cons
Relatively low brightness will require light control
Won't play content through the USB port
---
Optoma UHD60

The Optoma UHD60 is a flexible projector designed to work well in the real-world. The brighter lamp is key, here. The 3,000 lumens you'll get from the Optoma UHD60 is enough to compete with the ambient light in most living rooms, letting this projector drop right into the spot vacated by your TV, no light control measures necessary.
The picture on the Optoma UHD60 looks amazing. This starts with a sharp, true 4K resolution. The high contrast ratio ensures equal detail in darker areas of the screen. While the colors are accurate, giving you the whole gamut of REC2020 color space, it does use a color wheel. Viewers sensitive to the rainbow effect may find this frustrating, although we noticed no issues with the picture.
The Optoma UHD60 uses the user-friendly menu system you'll find on all the company's high-end projectors. The 1.6x zoom and 15% vertical lens shift help you get up and running more easily. Even better, you don't need to worry about image alignment. The 1-chip system ensures it's always ready to go, no adjustment needed. You might be also interested in Optoma UHD60 vs UHD65 comparison.
Pros
Native 4K resolution for a sharp, detailed picture
Lamp is bright enough for use in moderate lighting
Excellent color accuracy and contrast
Image adjustment options make it easy to install
Wider range of connectivity options
Cons
Use of a color wheel may produce some visual inconsistencies
Longer throw distance for comparable screen size
---
So What's the Verdict?
When it comes to stats like image quality and set-up flexibility, the Epson 5050UB and Optoma UHD60 are relatively evenly matched. There's one other major factor in most buyers' decision that we haven't brought up yet: the price. The Optoma UHD60 costs about a grand less than the Epson 5050UB. That makes it the unarguably better value, considering their similarities across other categories.
As you can see, though, the Epson 5050UB will still be the more appealing projector for gamers especially >>> Find the current price on ProjectorScreen. The question you'll have to ask yourself is which is more important: getting a low lag time or getting the best bang for your buck. Hopefully, this review has helped you decide which one is the best for your home theater!
REFERENCES AND FURTHER READING: