Epson projectors use advanced imaging technology to provide a clear, vibrant image from all content sources. Given their similarities, though, it can be hard to figure out which one better meets your needs. Comparing the Epson 3800 vs 5050UB, you'll see they have unique strengths and limitations despite their similarities.
Overall, the Epson 3800 is the better value and the better choice for most users >>> Check price on Amazon. It has a higher brightness, a lower input lag, and a higher price. That being said, the exceptional picture quality of the Epson 5050UB outperforms the 3800 on all fronts. Let's break the differences down in more detail before we get into the full reviews to show you what we mean.
Epson 3800 vs 5050UB Side by Side:
| | Epson 3800 | Epson 5050UB |
| --- | --- | --- |
| | | |
| Resolution | 1080p (4K with pixel shifting) | 1080p (4K with pixel shifting) |
| Brightness (Lumens) | 3000 | 2,600 |
| Contrast Ratio | 100,000:1 | 1,000,000:1 |
| Throw Distance | 6.2' – 28.8' | 10.3' – 29.4' |
| Input lag | 16.7ms | 27ms |
| Screen size | 40" – 300" | 78" – 220" |
| Price | ProjectorScreen.com | ProjectorScreen.com |
Brightness
The Epson 5050UB has a brightness of 2,600 lumens, which is sufficient for most indoor media rooms and home theaters. You may experience lower picture quality in the daytime if your room has a lot of windows, it won't be affected by most indoor lighting.
The lamp on the Epson 3800 puts out 3,000 lumens of brightness. This might not seem like a big difference, but it's enough to prevent washout from even most natural light sources.
Brightest projector: Epson 3800
Color and Contrast
Both these projectors support HDR10 and use a 3LCD-chip design for true-to-life color. The biggest difference here is that the Epson 5050UB allows for user adjustment of the color, with a 16-step curve adjustment for fine-tuning. The contrast of the 5050UB is better, too. Its contrast ratio is about 10 times higher than the 3800. It also includes Epson's Ultra Black technology to ensure equal detail and quality in dark areas of the screen.
Best color and contrast: Epson 5050UB
Input Lag
This is the most important stat for gamers, though it's less important for home theater use. For serious gaming, you want an input lag of 30ms or lower, and both the 3800 and the 5050UB fit this criteria. However, the Epson 3800 is better for gamers, with a lower input lag and a faster frame refresh rate. If you need the best 4k projector for gaming check this buyer's guide.
Best projector for gamers: Epson 3800
Image Size and Throw Distance
The ability to change the image size to meet your needs is one big advantage of projectors over traditional TVs. The Epson 3800 gives you more options in this regard. You can get a screen as small as 40" or as big as 300" without losing picture quality. It also has a shorter throw distance than the 5050UB, so you can get a bigger image in a smaller space. Find our short throw projectors picks here.
Best for larger screens: Epson 3800
Epson 3800 vs 5050UB: Full Reviews
Epson 3800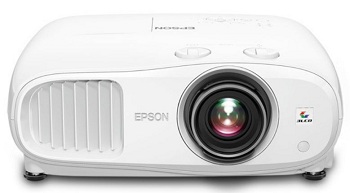 The Epson 3800 is first and foremost a fantastic gaming projector. This starts with a near-instant input lag of only 16.7ms. It also has a fast refresh rate, with a full 60 frames per second. You can play even fast-paced, multi-player games on this projector without frustrating delays.
The picture quality of the Epson 3800 is high, too. While its native resolution is standard HD (1080p), it supports 4K content and can mimic a higher resolution through pixel shifting. The end user result is a detailed, sharp picture. Added to this is the 3-chip technology used for the color. This ensures a high color accuracy and also eliminates the dreaded rainbow effect. The use of 12-bit real-time video processing also smooths the transition between frames, so there's no blocking or banding.
We love the versatility of the Epson 3800. It has a bright 3,000 lumen lamp that keeps the image bright even through moderate ambient light. With a wide range of image sizes, it's a good option for both indoor home theaters and backyard movie nights. Though it's a bit hefty (nearly 20 pounds), it's still durable and portable enough to move around with ease. (Click here for a more detailed review of Epson 3800)
Pros
3LCD chip technology for high-quality color and no rainbow effect
Ultra-low input lag with 60 frames per second
Digital video processing eliminates banding and blocking
Higher lamp brightness
Pixel shifting elevates resolution to 4K levels
Dual HDMI inputs and dual USB inputs
More affordable option
Cons
Lower contrast ratio
Focus with zoom and lens shift is more difficult
Fan is too loud for some users
---
Epson 5050UB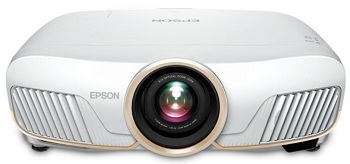 The Epson 5050UB shares a lot of characteristics with the 3800 above. It also uses a 3LCD chip display and a native HD resolution that can pixel shift into 4K. With full HDR10 support, the colors are as vibrant and accurate as what you'll see in the cinema. It also uses the same real-time 12-bit processing for smooth on-screen action with no compression or blocking.
Having said that, the overall picture quality of the Epson 5050UB is higher. This is mostly thanks to its exceptional contrast ratio and the use of Epson's Ultra Black technology. Images are sharp and detailed throughout the picture, not just in the bright areas. It also supports real-time HDR adjustment, something the Epson 3800 doesn't offer. There are 16 steps of curve adjustment so you can fine-tune the color performance to your tastes.
Unlike the Epson 3800, the Epson 5050UB is an indoor-only projector in our minds. Its lower brightness, longer throw distance, and more limited image size options make it a less appealing choice for taking outdoors. Not to mention the higher price; at over $2,500, this is an investment you'll want to protect.
While the input lag is a bit higher than the Epson 3800, it's still under 30ms—plenty low enough for all levels of gaming. Setting up the projector and focusing the image is also a bit easier than on other Epson models. If you want the best possible playing and viewing experience, this is the projector for you. Click here for Epson 5050UB review.
Pros
Enhanced 4K resolution with pixel shifting technology
Input lag is low enough for gaming
Easy to set up and adjust the image
Real time 12-bit video processing gives smooth on-screen action
Advanced 3LCD chip technology gives more accurate frame-by-frame color
HDR curve adjustment lets you fine tune the picture
High contrast ratio with Ultra Black technology
Inputs include dual HDMI and USB
Cons
Higher cost
More limited range of screen sizes with a longer throw distance
Lower brightness
---
The Verdict
The Epson 3800 and 5050UB are both great projectors, but they're built with different end users in mind. It really comes down to picture quality versus versatility. While neither one is priced in the budget range, the Epson 3800 sells for about a grand less, making it the better overall value >>> Check the current price on ProjectorScreen. If money isn't a factor and you'll be using the projector in a dedicated media room, the Epson 5050UB provides a better viewer experience.
Hopefully, this breakdown has helped you see the difference between these models. Use the specs and reviews above to figure out which one belongs in your home!
REFERENCES AND FURTHER READING: