Epson projectors give you a high picture quality at an affordable price. Many of them accomplish this by using a new, innovative approach to 4K resolution. By adding pixel shifting to a native 1080p resolution, they provide an ultra HD picture at a very reasonable price.
That sharp resolution isn't the only strength of Epson projectors. If you're comparing the Epson 3800 vs 4010, you'll see both have some very impressive features when it comes to brightness, color accuracy, and overall performance. In fact, it's very difficult to pick a clear overall winner between them (>>> Check price on Amazon).
So what's the difference between them? Let's take a more in-depth look at their specs to help answer that question.
Epson 3800 vs 4010 Side by Side:
| | Epson 3800 | Epson 4010 |
| --- | --- | --- |
| | | |
| Resolution | 1080p (4K with pixel shifting) | 1080p (4K with pixel shifting) |
| Brightness (Lumens) | 3000 | 2,400 |
| Contrast Ratio | 100,000:1 | 200,000:1 |
| Throw Distance | 6.2' – 28.8' | 6.2' – 29.4' |
| Input lag | 16.7ms | 28.4ms |
| Screen size | 40" – 300" | 30" – 300" |
| Price | | |
Set-up Ease
The lens on the Epson 4010 is more flexible and easier to adjust than the one on the 3800. It's motorized and allows shifting in all directions—up to 47% on the horizontal axis, and up to 96% on the vertical. The 4010 also gives you 10 memory slots to save settings, saving you the hassle of re-focusing the lens when you move it from one room to another.
Easier set-up: Epson 4010
Brightness
The general rule of thumb is you need a brightness of at least 2,500 lumens in rooms with ambient light. The Epson 4010 doesn't quite meet that standard, but the Epson 3800 exceeds it. The 3,000 lumens from the 3800 mean you'll get the same vibrant colors and image quality, day or night, in basically any space.
Brighter lamp: Epson 3800
 Color and Contrast
Both these projectors use a 3LCD chip design for color production, as well as 10-bit HDR color processing. That offers about 50% more color options than Rec. 709 projectors, so you'll get the same color accuracy you'd see in a commercial theater. Having said that, the Epson 4010 edges out the 3800 on the basis of contrast ratio. When it comes to blacks and darker images, the 4010 has a clearer, more detailed, and more accurate picture.
Best color and contrast: Epson 4010
 Which One's Better for Gamers?
Input lag is the most important spec for gamers. Both the Epson 3800 and the 4100 perform well in this regard for casual gamers. However, the 3800 is impressively low at 16.7ms. That's fast enough even for serious gamers, with no delay in online multi-player or high-speed FPS and racing games.
Adding to this, it supports a full 60 frames per second, with 18 Gbps support through HDMI. Basically, you can play any game in any format and not worry about lag.
Better projector for gamers: Epson 3800
---
Epson 3800 vs 4010: Full Reviews
Epson 3800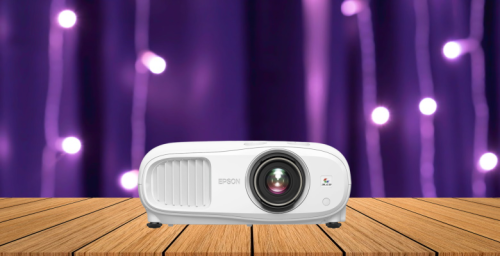 The Epson 3800 is a versatile projector, equally suitable for gaming as it is for home theater applications. The low input lag and fast frame processing give you a functionally instant on-screen response to your input, and it uses real-time 12-bit video processing. This isn't just great for gamers, either. It also reduces motion blur between frames, keeping the image smooth when watching sports or action movies.
The 3,000 lumens of brightness put out by the Epson 3800 is perfect for those who don't have a dedicated home theater. You won't see any washout from typical light levels in your living room, even if you have a lot of windows. The colors are bright and accurate, too, and the 3LCD chip technology eliminates annoying problems like the rainbow effect.
The Epson 3800 is a bit trickier to set up and focus. It has robust connectivity options, which helpful for multi-purpose set-ups. The image adjustment options aren't as good, though, and some users report difficulty focusing the lens at mid-range screen sizes.
This is our only complaint with this projector, though, and it's more an annoyance than a problem. All told, we'd still recommend the Epson 3800 as the best mid-range projector for gamers. >>>Check it's comparison vs Epson 5050UB
Pros
Low input lag with high frame rate for gaming
High color accuracy with no rainbow effect or blocking
Bright lamp
Full HDR10 color with 3LCD color processing
Offers both dual HDMI and dual USB inputs
Bluetooth connectivity
More affordable option
Cons
Using zoom to focus lens can be tricky
Fan is loud in higher performance modes
---
Epson 4010
The Epson 4010 shares a lot of strengths with the 3800. They have similar color processing and resolution, and the Epson 4010 also uses 12-bit real-time processing for frame transitions. The main advantage of the 4010 from a picture quality perspective is its higher contrast ratio. Dark areas of the image are noticeably sharper with better depth.
Setting up the Epson 4010 is a breeze, too. The motorized 3-axis lens allows both vertical and horizontal shifting. Once you have the lens where you want it, you can save the settings easily. With 10 user-programmable memory presets, you can also save a variety of settings for different circumstances. That's super helpful if you'll be using your projector in a variety of settings and screen sizes.
The main thing that's lacking on the Epson 4010 is the brightness of the lamp. At 2,400 lumens, it's bright enough to be seen in dark or mostly dark rooms. That's not a problem if you have a dedicated home theater.
It is more susceptible to washout, though. You'll need to take light control measures if your viewing area has a lot of windows, and to use it outside you'll need to wait until full dark. Click here for our more in-depth Epson 4010 review.
Pros
3 axis lens with both horizontal and vertical lens shift
3LCD technology with full HDR10 processing
Pixel shifting provides 4K viewing experience
12-bit video processing eliminates banding and blocking
10 user-programmable lens memory settings
High contrast ratio
Full HD resolution in 3D
Wireless connectivity through USB
Cons
Lower lamp brightness
Higher cost
---
The Verdict
The Epson 3800 and 4010 are very similar in both price and specifications. When you're trying to decide between the two, it really comes down to the small details. If you have a brighter view area, or if you want to use the projector for gaming, we'd hands-down recommend the Epson 3800 (>>> Check the current price on Amazon). On the other hand, the Epson 4010 is easier to set up, which makes it better for multi-room or outdoor use.
Honestly, you'll get a great picture and high performance from either the 3800 or the 4010. Think about where and how you'll be using it, and let that guide your decision. We hope the information included here has helped you decide which projector belongs in your home!
REFERENCES AND FURTHER READING: