Not all 4K projectors are created equal. While all 4K projectors will give you a sharper resolution than full HD devices, the number of on-screen pixels that includes will vary depending on the technology used to produce it. That's the main difference you'll see comparing the Optoma UHD50X vs Epson 5050UB. On the whole, the true 4K Optoma UHD50X is the better projector for both home theater use and gaming (>>> Find on Amazon), though the Epson 5050UB also has its strengths, particularly from an image quality standpoint.
If you're trying to decide which projector is right for you, this side-by-side comparison will answer all your questions. Let's look at the key places they differ before we get into the full reviews.
Optoma UHD50X vs Epson 5050UB Side by Side:
| | Optoma UHD50X | Epson 5050UB |
| --- | --- | --- |
| | | |
| Resolution | 3840x2160 | 1920x1080 |
| Brightness (Lumens) | 3,400 ANSI | 2,600 ANSI |
| Contrast Ratio | 500,000:1 | 1,000,000:1 |
| Input Lag | 25ms | 29ms |
| Included Lens | 1.3x manual zoom | 2.1x Powered zoom |
| Throw Distance | 4.0' - 26.6' | 10.3' - 29.4' |
| Screen size | 34" - 303" | 50" - 300" |
| Speakers | 5.0 Watts Mono | No |
| Price | ProjectorScreen.com | BHPhotoVideo.com |
Resolution
The Epson 5050UB uses pixel-shifting technology to improve the resolution past full HD. This means the 3LCD chips are moved in parallel to roughly double the on-screen pixels for a sharper, more realistic image.
As sharp as the Epson 5050UB looks, it doesn't quite reach the true 4K resolution of the Optoma UHD50X. The 8.3 million discrete on-screen pixels of the Optoma UHD50X is roughly double what you'll get with the pixel-shifted 4K of the Epson 5050UB, adding detail and clarity to the image.
Sharpest resolution: Optoma UHD50X
Brightness
The 2,600 lumens produced by the Epson 5050UB's lamp is strong enough to avoid washout in low light levels. You'll still want to invest in black-out curtains for daytime viewing, but you can keep some lamps on in your viewing area if you want to.
For moderate to high ambient light levels, you'll want a more powerful lamp like the one on the Optoma UHD50X. It produces an impressive 3,400 lumens, plenty to maintain the image integrity in any room.
Brightest lamp: Optoma UHD50X
Color Production
The color production of the Optoma UHD50X is pretty strong. It supports image technologies like HDR10 and HLG for a more authentic color production, UltraDetail image optimization, and HDR tone mapping. This further enhances the wide color gamut produced by the 8-segment color wheel, which covers most of the DCI-P3 color space.
As impressive as this performance is, the Epson 5050UB exceeds it. This starts with its 3LCD chip color production, eliminating the risk of image issues like rainbowing. Thanks to this, it can produce the entire DCI-P3 spectrum, and has the same 10-bit HDR and HLG support for authenticity.
Better color: Epson 5050UB
Gaming Performance
Either of these projectors will give you a low input lag that's under the 30ms threshold for serious gamers and modern reflex-based games. The Epson 5050UB has an input lag as low as 25ms along with real-time 12-bit video processing. This smooths frame transition and eliminates compression artifacts and banding, making sure you can focus on your game without frustration.
The Enhanced Gaming Mode of the Optoma UHD50X drops its input lag as low as 16ms. Its high 240Hz refresh rate at full HD resolutions ensures the same smooth on-screen action you'll get from the Epson 5050UB, but with a better image quality thanks to its higher resolution. Activating Enhanced Gaming Mode also optimizes the picture for gaming, giving players the sharp contrast and detail they need.
Better gaming performance: Optoma UHD50X
Optoma UHD50X vs Epson 5050UB: Full Reviews
Optoma UHD50X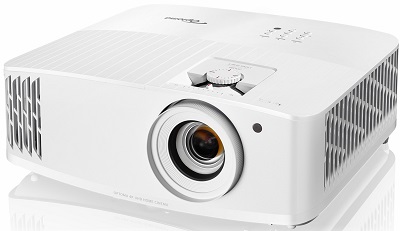 The Optoma UHD50X is one of the best values you'll find in a true 4K projector. Whether you're watching movies or playing games, the picture is remarkably crisp and lifelike, with rich black levels thanks to the Dynamic Black contrast. With a high frame rate and wide color gamut, you can count on the picture to be smooth and authentic—basically, you'll see movies just like you would in the theater.
The Optoma UHD50X is a versatile projector, too. It's equally effective for gaming and home theater use, making it a great choice in media rooms and other multi-use spaces. The high lamp brightness adds to its versatility, letting you use it even in rooms with big windows and other bright light sources.
The only unfortunate thing about the Optoma UHD50X from a set up perspective is its long throw distance. You'll need a lot of space to get a big screen (9-11 feet for a 100" image) and it can be tricky to align the image perfectly. There are a good number of adjustment tools to help, including a wide 40° keystone correction and a 5-15% lens shift.
Once you have the Optoma UHD50X set up, using it is easy. It has a robust input panel and works with a wide range of modern gaming consoles, streaming sticks, and other content sources. Changing settings and navigating menus is intuitive, making it an excellent choice for general use in any home.
Pros
True 4K resolution
Enhanced Gaming Mode has a super-low input lag
High contrast with a wide color gamut
Bright enough for lights-on viewing
Smooth, blur-free action
Compatible with all the latest generation consoles
Cons
Use of a color wheel may cause rainbowing
Long throw distance
---
Epson 5050UB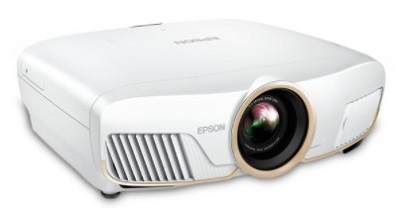 Those shopping for a dedicated home theater projector will be impressed by the picture quality of the Epson 5050UB. Its color production is exceptional, faithfully reproducing 100% of the HDR source information with coverage for the entire DCI-P3 spectrum. Dark areas have the same depth and detail as whites and colors thanks to the Epson Ultra Black technology.
The pixel-shifted 4K of the Epson 5050UB is noticeably sharper than images with a full HD resolution. While it's not quite as detailed as true 4K, it still gives you a sharp picture with incredible realism, whether you're playing games or watching movies. Those who like customizing the image will love the precision HDR adjustment, allowing you to fine-tune the picture with 16 steps of control.
The Epson 5050UB has a low input lag and high frame rate, and is a great projector to use for all levels and types of gaming. The only thing limiting its versatility is its relatively low lamp brightness. Most people will need to employ some light control measure, especially when using it in the daytime. It also has a similarly long throw to the Optoma UHD50X so it's not a projector you'll want to use in small spaces.
In the right kind of room, however, the Epson 5050UB is a convenient choice. It has both horizontal and vertical keystone correction, along with a wide zoom and keystone correction, so it's flexible when it comes to the installation. Even advanced settings are easy to access and change, and it's overall a very user-friendly projector. Click here for our more in-depth review of this projector
Pros
Sharp, high-contrast picture
Full coverage for DCI-P3 color space
Excellent gaming performance
Smooth frame motion and tonal transitions
Precision HDR adjustment
Cons
May get washed out in bright ambient light
Not a true 4K projector
---
The Bottom Line
For most, the brighter lamp and higher resolution of the Optoma UHD50X make it the better overall option. (>>> Check current price on ProjectorScreen)The color production of the Epson 5050UB is a definite strength, however, and both projectors are a great choice for gamers.
Consider your viewing area and how you plan to use the projector. Either of these projectors will deliver smooth and sharp images with wide connectivity and a user-friendly installation, so you really can't go wrong whichever one you buy.
REFERENCES AND FURTHER READING: