Today's buyers have more options that ever before for getting big-screen entertainment in their home theater. While that makes it more likely you'll find your ideal projector, it can also be overwhelming trying to find the best option as a home theater beginner. Optoma and Epson are two of the top names in home theater projectors today, and a great place to start for any first-time projector owner. Comparing the Optoma UHZ50 vs Epson 5050UB, the Optoma is the better choice for most, with a higher resolution, better connectivity, and more versatility for different spaces (>>> Find on Amazon). The Epson has its strengths too, however. Let's take a closer look at the differences between these models.
Optoma UHZ50 vs Epson 5050UB Side by Side:
| | Optoma UHZ50 | Epson 5050UB |
| --- | --- | --- |
| | | |
| Resolution | 3840x2160 | 1920x1080 4K w/pixel shifting |
| Contrast | 2,500,000:1 | 1,000,000:1 |
| Brightness (Lumens) | 3,000 ANSI | 2,600 ANSI |
| Input lag | 4ms-16.7ms | 22.5ms-28ms |
| Throw Distance | 4.0' - 26.6' | 10.3' - 29.4' |
| Screen size | 34" - 303" | 50" - 300" |
| Speakers | 10.0 Watts × 2 | No |
| Today's Best Price | BHPhotoVideo.com | BHPhotoVideo.com |
Resolution
Both of these projectors accept 4K content but it won't look the same played on both. The Optoma UHZ50 produces a true 4K resolution, with roughly 8.3 million pixels on the screen. The Epson 5050UB has a native 1080p resolution, doubling that through pixel shifting to produce around 4 million pixels. That's still sharper than a full HD projector but doesn't match the detail of a true 4K display.
Better resolution: Optoma UHZ50
Color
What the Epson 5050UB lacks in resolution it makes up for in color. Its 3-chip display has dedicated RGB color signals and full 10-bit HDR color processing. This allows it to faithfully reproduce life-like colors without the flickering, hotspots, and other issues that can plague 1-chip displays. It also produces more colors, covering the full DCI-P3 color gamut. Comparatively, the 1-chip UHZ50 only covers the smaller Rec.709 spectrum.
Better color: Epson 5050UB
Gaming Performance
For gamers, an input lag of 30ms or lower is recommended. You also want a fairly high frame refresh rate, at least 60Hz and ideally 120Hz or higher, to ensure you're seeing every on-screen movement as it happens.
The Epson 5050UB meets these minimum qualifications for gaming. Its measured input lag comes in just under 30ms and it has a 60Hz refresh rate for both full HD and 4K content. This will be fine for casual players, but may not be fast enough for serious or competitive gamers. For the best gaming performance the Optoma UHZ50 is the winner, with a single-digit input lag and a 240Hz refresh rate for 1080p content. Check the related comparison vs. Epson LS1200.
Better for gaming: Optoma UHZ50
All-In-One Capability
There's no getting around it: you'll need external speakers and content sources to use the Epson 5050UB. On the other hand, the Optoma UHZ50 is a self-contained entertainment machine, with built-in stereo speakers and wireless connectivity that supports streaming apps. Obviously, you can still connect devices like speakers, soundbars, streaming sticks, or other devices, but you don't need these accessories to use the UHZ50.
Better all-in-one capability: Optoma UHZ50
---
Optoma UHZ50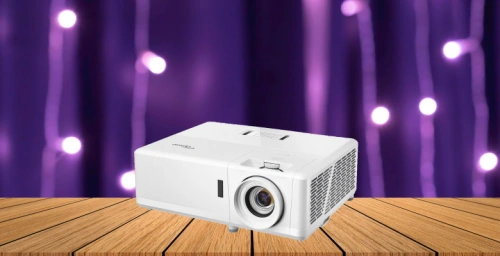 The DLP technology and airtight IP6X optical engine in the Optoma UHZ50 are the base of its incredible picture quality. It produces a true 4K resolution with a high dynamic contrast ratio. The multiple ISF image modes make it easy to adjust the image and projector brightness to suit the needs of your space and content.
The Optoma UHZ50 does more than play movies, too. It has a 240Hz refresh rate with a measured input lag as low as 4ms for full HD content (4K/60Hz, 16.7ms), which means a smooth display and no added lag that can be frustrating for video games or 3D movies. The built-in 20-watt stereo speakers sound as good (and as loud) as many Bluetooth soundbars, so it can handle the audio as well as the video.
At 3,000 lumens, the UHZ50 is bright enough to use in most indoor spaces without light control measures. While it does have a standard throw distance, needing around 10 feet for a 100-inch image, it also has a 10% vertical lens shift, 1.3x zoom, and 4-corner correction for fine-tuning the image placement.
The robust connectivity of the Optoma UHZ50 adds to its installation flexibility. Its rear panel includes 3 HDMI ports, one with eARC and Enhanced Game Mode capability, as well as USB and network inputs. Wi-Fi connectivity gives it access to the Optoma Marketplace for downloading streaming apps and it supports hands-free control through Alexa or Google voice control, along with additional automation through IFTTT. For our full review of this projector, follow the links: http://projectortop.com/optoma-uhz50-review/
Pros
True 4K image with exceptional color and contrast
Ideal lamp brightness for moderate ambient light
Excellent choice for gaming
Voice control and IFTTT support
Flexible installation
Can be used without external speakers
Supports 3D content from most sources
Cons
Higher cost
May trigger the rainbow effect
---
Epson 5050UB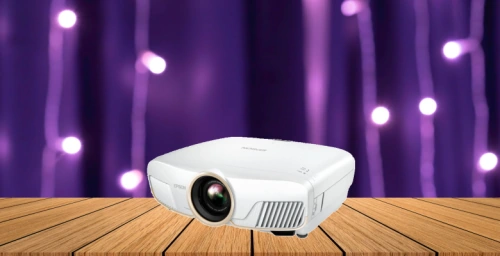 The Epson 5050UB uses a 3LCD chip display, and this has both pros and cons from an image quality perspective. On the plus side, it produces phenomenal colors, producing the full color signal for every frame without the risk of brightness hotspots or rainbowing. The black levels are rich, too, thanks to its UltraBlack technology. The downside is that the resolution is pixel-shifted, not true 4K, so you'll only get about half the on-screen pxiels that are produced by the Optoma above.
In terms of space, the Epson 5050UB is at its best in relatively large, dim rooms. Its throw distance is fairly long, needing as much as 13 feet for a 100-inch image. Its brightness of 2,600 lumens is enough to maintain a vibrant picture in low ambient light, but it can't compete with bright environments or much natural light. As long as you have the right space, though, its wide 2.1x powered zoom and lens shift options (+/- 47% horizontal and +/- 96% vertical) give it good flexibility within that space.
Something else to keep in mind is that you will need some outside accessories to use the Epson 5050UB. There are no speakers built-in, first of all. It also lacks Wi-Fi connectivity needed for streaming apps, so you'll need to use the two HDMI ports to get content to the projector. That lack of wireless also means no voice control or home automation support, so it's not the best choice for smart home entertainment systems. Click here, for our more in-depth review of the Epson 5050UB.
Pros
Pixel-shifted Ultra HD resolution
3-chip color with UltraBlack contrast
Bright enough for some lights on viewing
Wide zoom and 2D lens shift
Responsive enough for casual gaming
Cons
Not a true 4K resolution
No built-in streaming or speakers
---
The Verdict
The Optoma UHZ50 is brighter, sharper, and more responsive than the Epson 5050UB, and that makes it the better option for most buyers (>>> Find on Bhphotovideo.com). Its built-in speakers and streaming are also a nice value add for a modern home theater space. That said, its MSRP is also about twice that of the Epson 5050UB, which makes the Epson the better value for budget-conscious buyers. It's up to you which one will be the better fit for your entertainment needs.