Laser projectors bring big screen entertainment into any size or shape of home. Not only do most offer the clarity of 4K resolution, they also have a remarkably short throw distance, giving you a massive picture with just inches of distance from the screen. All of these strong qualities can make it hard to tell which to buy, especially when comparing two high-end models like the VAVA 4K vs Wemax A300.
The picture quality on both of these projectors is exquisite, with sharp, cinema-quality detail and true-to-life color. If pressed to pick a winner, the VAVA 4K edges out (>>> Check on ProjectorScreen.com) the Wemax A300 slightly thanks to its easy installation and smart features.  That said, the choice really comes down to what else you need from your projector. Let's take a closer look at the key features so you can see how they compare on each.
VAVA 4K vs Wemax A300 Side by Side:
| | VAVA 4K | Wemax A300 |
| --- | --- | --- |
| | | |
| Resolution | 4K | 4K |
| Brightness (Lumens) | 6000; 2,500 ANSI | 9000 |
| Contrast Ratio | 3,000:1; 1,500,000:1 dynamic | 4,000:1 |
| Throw Distance | 1.4' - 2.5' | 5" – 1'7" |
| Screen size | 8"-150" | 80"-150" |
| Speakers | 60W Harman Kardon | 30W stereo |
| Price | ProjectorScreen.com | Check on Amazon |
Brightness
A brightness of around 3,000 is the recommended minimum for projectors in spaces with ambient light. At 2,500 lumens, the VAVA 4K is on the dimmer side. The short throw helps it make the most of that illumination but you'll still need heavy shades over your windows for daytime viewing.
The Wemax A300 is almost 4 times brighter than the VAVA 4K in terms of the lamp's potential output. This lets it produce the same vibrant, clear picture in any light level.
Brighter projector: Wemax A300
Built-in Sound
The 30-watt stereo speakers on the Wemax A300 are better than what you'll find on 90% of home theater projectors. They still have their limitations, though, especially when it comes to the low end of the sound spectrum.
On the VAVA 4K, you'll get a built-in 60-watt soundbar made by Harman Kardon, one of the most respected companies in the home theater audio industry. The stereo sound mimics surround sound and expands the frequency range for better overall sound and more volume potential.
Better sound: VAVA 4K
Installation and Throw Distance
The throw distance on the Wemax A300 is shorter than that of the VAVA 4K, but neither one is long enough that you'll need to ceiling-mount it. Of more concern to most users are the image adjustment features for fine-tuning the alignment with the screen. The 8-point keystone correction on the VAVA 4K gives it an advantage in this regard, making it easier to quickly match the projector's image to the screen.
Easier to install: VAVA 4K
Full Reviews: VAVA 4K vs Wemax A300
VAVA 4K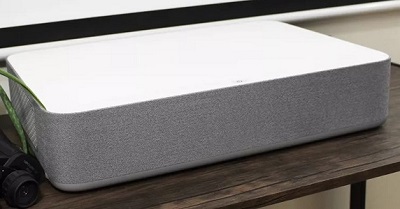 The VAVA 4K is a complete home entertainment package. The smart Android system lets you access content straight through the projector and is reminiscent of Apple interfaces in its streamlined design. If you'd rather use your own streaming stick or gaming system, it has 9 input ports, including 3 HDMI ports and a USB connection, as well as Bluetooth for wireless content streaming.
You also probably won't need to add external speakers with the VAVA 4K. The Harman Kardon soundbar has stereo surround speakers and Dolby Audio support to maximize output and minimize distortion. The mid-range clarity is perfect for dialogue but it has enough bass power for more intense scenes in movies in and TV shows.
The short throw distance on the VAVA 4K already makes installation easier. It also has 8-point keystone correction and an electronically-controlled focus for fine-tuning the image. You'll be up and running in minutes once you get the VAVA 4K out of the box even if you're a complete home theater novice. For a more detailed Vava 4k projector review click here.
Pros
Sharp resolution with vibrant colors
Powerful built-in sound
Smart Android-based navigation system
Bluetooth compatible with 9 wired inputs
Cons
Lamp may be too dim for use in well-lit spaces
On-board navigation system doesn't have all streaming apps
---
Wemax A300
The best thing about the Wemax A300 is its versatility. You can get a short throw distance from lots of laser projectors, but few are as short as the A300, which gives you a 150" screen with less than 2 feet of distance. Paired with this is a 9,000-lumen lamp, bright enough to compete with even full daytime sun. Basically you can use this projector in any space.
Setting up and navigating the Wemax A300 is simple, too. Though it doesn't have the smart features of the VAVA 4K above, the Android-based user interface is intuitively laid-out. You don't need to be an A/V expert to navigate the menus or change the settings, and that short throw distance spares you the need for ceiling-mounts and other hassles.
The Wemax A300 has built-in 30-watt stereo speakers. They give you better sound than most projector speakers and are good enough for TV dialogue. That said, they're weak in the low end and can't quite do justice to music or sound effects, so you'll want to add external speakers if you want sound as immersive as the picture.
Pros
Bright lamp won't get washed out in any light
Vivid colors with sharp, rich detail
Easy to use Android 6.0 navigation system
Full 3D support
Ultra-short throw distance
Cons
Sound quality from speakers isn't as high
No smart features
---
What's the Bottom Line?
High picture quality is a given when you're comparing projectors at this level. With a super-bright lamp and a short throw distance, the Wemax A300 gives you the same great picture in any space, and that's its main advantage. The VAVA 4K, on the other hand, is a better overall projector, with a smart navigation system, high-quality sound, and better features for setting up the image. (>>> Find the current price on ProjectorScreen.com)
When you boil it down, it's a matter of versatility versus convenience. If you still can't make up your mind, cost might be a factor, too. The VAVA 4K costs a few hundred dollars less, so if you don't need the Wemax A300's super-bright lamp, it's a better value. The good news is you'll get a fantastic projector whichever way you go. When it comes to picture quality, both these projectors are in the top of their class.
REFERENCES AND FURTHER READING: