Laser projectors can provide an incredible level of detail and color, and they have other advantages over traditional lamps, too. Most of them last longer, with usable lifespans of 20,000 hours or more. They also don't need as much space to give you a big picture, sparing you the hassle of ceiling-mounted installations. Optoma and Wemax are two brands that offer 4K laser projectors. Comparing the Optoma P1 vs Wemax A300, it's clear to see both give you great picture quality.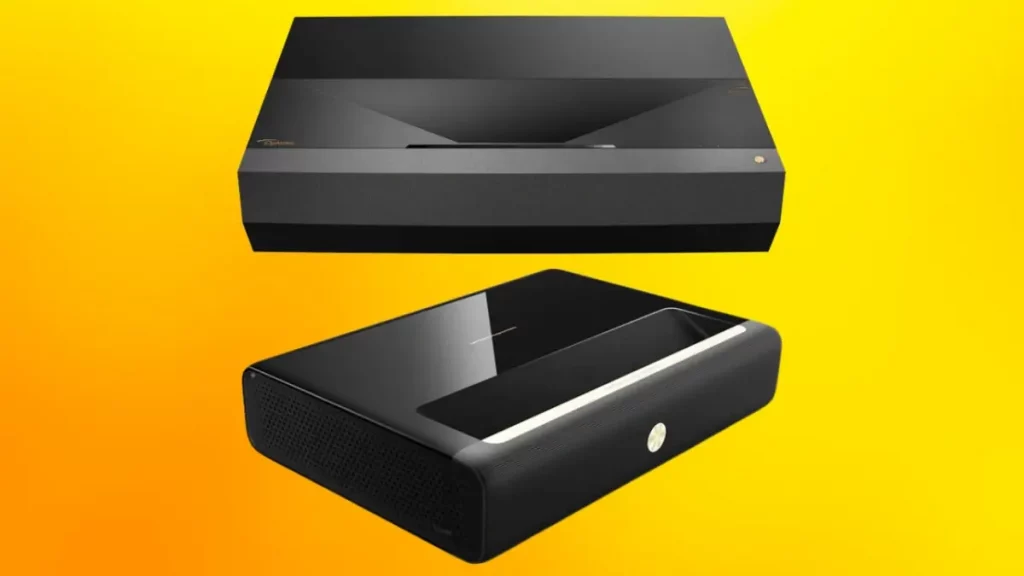 We'd say the Optoma P1 is the better choice for most users based on its other stats (>>> Find how much it cost on Amazon). Having said that, the Wemax A300 has its strengths, too, and there are some situations where it's the better choice. Let's check out the key features to show you what we mean.
Optoma P1 vs Wemax A300 Side by Side:
| | Optoma P1 | Wemax A300 |
| --- | --- | --- |
| | | |
| Resolution | 4K | 4K |
| Brightness (Lumens) | 3000 | 9000 |
| Contrast Ratio | 1,500,000:1 | 4,000:1 |
| Throw Distance | 1.5' - 2.2' | 5" – 1'7" |
| Screen size | 85"-120" | 80"-150" |
| Price | Check on Amazon | Check on Amazon |
Ease of Use
The Wemax A300 has an intuitive interface with well-designed menus that will be relatively easy for most people to figure out, even without consulting the manual. It's somewhat lacking in other usability features, though, especially where the installation is concerned. While adjusting the image with a short-throw projector is easier, the lack of adjustment options can still make things a bit tricky.
The Optoma P1, on the other hand, has robust adjustment options. The SmartFIT app automatically provides 4-corner adjustment, and it also has an auto-focus feature, in addition to manual settings. We also found the internal menus and content easier to navigate on the whole with the P1 than with the A300.
More user-friendly projector: Optoma P1
Brightness
The lamp on the Optoma P1 is bright enough for most applications. Its 3,000 lumens will provide a vibrant picture even in a room where there are a few lights on. It won't necessarily be able to compete with direct daylight or bright interior lights, though. The lamp on the Wemax A300 is three times brighter than the one on the Optoma P1, giving it the power to create a clear, bright picture at any light level.
Brightest projector: Wemax A300
Screen Size and Throw Distance
Both of these projectors boast an ultra-short throw ratio that allows them to fit into any space. That said, the throw distance on the Wemax A300 is a smidge shorter, and it can also produce a wider range of screen sizes. At its maximum, the Wemax A300 gives you a 150" image at about 19" away. The Optoma P1 can only generate images up to 120" and needs 26" of distance to do so.
Shorter throw distance: Wemax A300
Smart Features
The Wemax A300 does offer the option of wireless screen mirroring for content, but that's about as smart as it gets. With the Optoma P1, you get built-in compatibility with major voice control systems as well as the option to use it in IFTTT recipes. This array of smart options makes it the clear best choice for smart home theater owners.
Smartest projector: Optoma P1
---
Optoma P1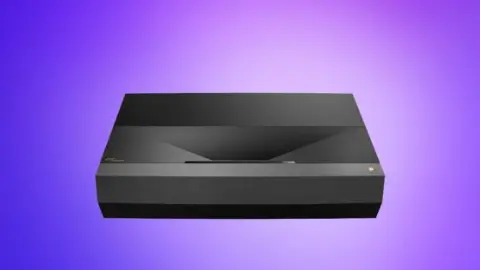 The advanced display technology at play in the Optoma P1 produces a picture quality you have to see to believe. It has a wide color gamut with support for HDR10, as well as a high contrast ratio for deeper blacks. No matter what you're watching, the colors pop off the screen, giving you a fully immersive experience. The built-in soundbar helps with this, too, giving a sound output and quality superior to most projector speakers.
The Optoma P1 is also one of the smartest projectors on the market. It comes with voice control support built in and can also be used with IFTTT. That gives you a huge range of options for integrating it into a smart home set-up.
When it comes to installation, the Optoma P1 is one of the most user-friendly projectors you'll find. This starts with the ultra-short throw distance. You can get a 120" image from just over 2 feet away, eliminating the need for complicated ceiling mounts.
That makes the Optoma P1 pretty flexible, too. It's not the best choice for use outdoors, mainly because it doesn't give you a wide range of screen sizes, but it's bright enough for most indoor applications and can fit into even small spaces with ease.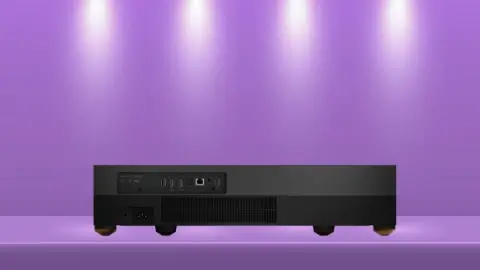 Pros
Laser light source provides vibrant, crisp picture
SmartFIT app and auto-focus for fast, easy image alignment
Ultra-short throw gives you more placement flexibility
Compatible with Amazon Alexa and Google Assistant
Works with IFTTT for smart home integration
Powerful NuForce soundbar built in
Long lamp lifespan
Cons
Not ideal for well-lit environments
Narrow range of screen size options
---
Wemax A300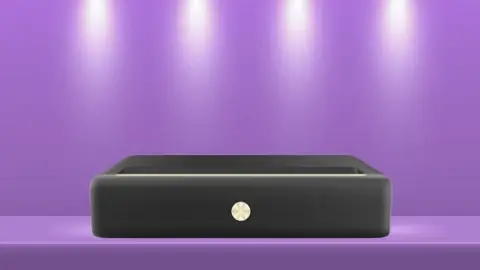 You're not likely to find a home theater projector capable of matching the Xiaomi Wemax A300's light power capability. The laser lamp in this projector can reach an incredible 9,000 lumens, so you can enjoy your content at any light level, even outdoors.
Another category where the Wemax A300 leads the industry is throw distance. With less than 2 feet of distance, you can produce an image that's up to 150" on the diagonal. Both front and rear projection arrangements are easy to set up thanks to this incredibly short throw distance. Combined with the high lamp brightness, this is a projector that can truly be used in any space.
The Wemax A300 gives you a cinema-quality picture with fantastic color accuracy. While the black levels aren't quite as rich as what you'll get from the P1 above, its performance in bright, colorful scenes is absolutely stunning.
You will need to use external speakers with the Wemax A300. It does have stereo speakers but they're fairly weak for anything except TV viewing. Hooking up sound and content sources is a breeze, though, as is navigating the menus and content using its Android-based user interface. For convenience and versatility, the Wemax A300 is hard to beat.
Pros
High picture quality and color accuracy
Ultra-bright lamp gives clear picture in any light level
Supports wireless screen mirroring for content
3D compatible
Android-based system is easy to navigate
Cons
Speakers don't have great volume or sound quality
No smart features
---
The Verdict
The Optoma P1 and Wemax A300 are comparable in terms of price and picture quality. The convenience, smart features, and easy set-up of the Optoma P1 make it the best choice in most situations (>>> Find on Amazon), but the brightness of the Wemax A300 is a definite point in its favor. Whichever projector you choose, both the P1 and A300 are low-maintenance, high-quality projectors that can bring big-screen entertainment into even the smallest of spaces.
REFERENCES AND FURTHER READING: