Are you looking for a smart portable projector? Xgimi's Horizon line has several options that will meet these needs. Comparing the Xgimi Horizon vs Horizon Pro, the decision ultimately comes down to picture quality vs affordability. While the Horizon Pro produces a sharper, clearer image, the Horizon only costs about half as much while delivering a lot of the same features as the Pro (>>> Check on Amazon). Let's take a closer look at where these two projectors differ.
Xgimi Horizon vs Horizon Pro Side by Side:
| | Xgimi Horizon | Xgimi Horizon Pro |
| --- | --- | --- |
| | | |
| Resolution | 1920x1080 | 3840x2160 |
| Brightness (Lumens) | 2,200 ANSI | 2,200 ANSI |
| Input lag | 18.2ms | 34.6ms |
| Throw Distance | 2.6' - 26.2' | 2.6' - 26.2' |
| Screen size | 30" - 300" | 30" - 300" |
| Speakers | 8.0 Watts × 2 | 8.0 Watts × 2 |
| Today's Best Price | | ProjectorScreen.com |
Resolution
The Xgimi Horizon is a full HD projector. It can accept 4K content but it will be downscaled to a 1080p resolution. The Xgimi Horizon Pro produces a true 4K resolution, backed by a strong image contrast and blur-reduction technology that ensures you'll see every detail.
Higher resolution: Xgimi Horizon Pro
Gaming Performance
The Xgimi Horizon Pro is a fine choice for casual gaming, with an input lag just over 30ms in Game Mode. Even so, more serious or competitive players may notice a slight delay. For these players, the Xgimi Horizon is a better choice, with an input lag as low as 18.2ms.
Better for gaming: Xgimi Horizon
Value
The MSRP of the Horizon Pro is around $1,900. That's reasonable for a 4K projector, especially one with the portability and other features this projector offers. However, you can get the Xgimi Horizon for much less, at an MSRP of around $1,100 and a street price that's often a few hundred dollars lower. Considering the only thing you'll sacrifice is 4K resolution, that makes the Horizon a very appealing choice for budget-conscious consumers.
Better value: Xgimi Horizon
---
Xgimi Horizon
The Xgimi Hirozon is one of the best portable projectors you'll find. This starts with its unique design, with a compact cube shape that fits easily into a backpack or other gear for traveling. It also has all-in-one capability. Dual Harman Kardon speakers deliver room-filling sound. For content, there's Android TV interface that has access to the more than 5,000 apps on the Google Play store, or you can wirelessly cast from Apple or Android devices through Chromecast.
We also appreciate how fast and easy it is to set up the Xgimi Horizon. It has automatic keystone correction and focus, taking the hassle and guesswork out of squaring the image. The intelligent alignment and obstacle avoidance ensure the image matches your screen and isn't interrupted by anything between them. It's also easy to control, with support for Google Assistant voice control as well as the included remote, which is simple and intuitive to navigate.
As to the picture quality, the Horizon produces a clear and crisp full HD image. The X-VUE image engine uses MEMC motion compensation to prevent blur, with support for HDR10 and HLG to ensure accurate colors and a strong image contrast. The only potential issue here is its comparatively low lamp brightness, which can't compete with much ambient light before the image is affected.
Pros
Full HD image with good color and contrast
Low input lag for gaming
Fast and flexible installation
Good sound from built in speakers
Android streaming interface with Google Assistant voice control
Lightweight and portable
Cons
No 4K resolution
Lamp isn't suitable for bright spaces
---
Xgimi Horizon Pro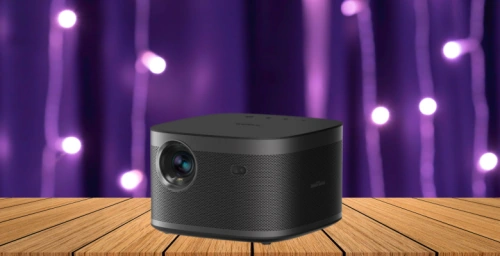 From the outside, the Xgimi Horizon Pro looks nearly identical to the Horizon, and they do share some key traits. Both are super-portable with all-in-one capability, and the Horizon Pro has the same impressive Harman Kardon speakers and Android TV interface with Google Assistant voice control and Chromecast. The Pro also has the same automatic keystone correction and intelligent screen alignment that give it a fast setup.
Where the Xgimi Horizon Pro sets itself apart is its image quality. Its optical engine produces the full 8.3 million pixels of a true 4K resolution, effectively doubling the sharpness of the Xgimi Horizon. Add in the HDR10 and HLG support and MEMC blur reduction, and the Horizon Pro produces one of the best pictures you'll find from a portable projector.
Having said that, the Horizon Pro does still have some limitations. Its input lag is on the high side for reflex-based gaming, though it will function perfectly well for more casual gaming or slower-paced games like RPGs. It also shares the Horizon's LED light source and only puts out about 2,200 lumens. That's perfect for a dim space but can't compete with lots of ambient light.
Pros
True 4K resolution
Automatic alignment and keystone correction
Good sound quality and output from built-in speakers
Portable with all-in-one capability
Built-in streaming with voice control
Responsive enough for casual gaming
Cons
Lag is on the high side for serious gamers
Higher cost
---
The Verdict
If you want a 4K resolution, the Xgimi Horizon Pro is your top choice. On the other hand, you'll get the same flexible setup, voice control, and built-in speakers and streaming from the Xgimi Horizon for a significantly lower price (>>> Find on Projectorscreen). Whichever one you go with, you'll get an entertainment machine that can go wherever you are.