You'd be hard pressed to find a more portable projector than the MoGo Pro Plus. Not only is it small enough to fit in your hand, its built-in battery and all-in-one operation truly let you enjoy big-screen entertainment anytime, anywhere. We'll break down the full features in this XGIMI MoGo Pro Plus review so you can decide if it's the right option for you. (>>> Check on Amazon).
XGIMI MoGo Pro Plus Review of Main Specs:
| | XGIMI MoGo Pro Plus |
| --- | --- |
| | |
| Resolution | 1920x1080 |
| Brightness (Lumens) | 300 ANSI |
| Throw Distance | 2'7" – 17'4" |
| Screen size | 30" – 200" |
| Speakers | 3.0 Watts × 2 |
| Price | Check on Amazon |
Build and Design
The XGIMI MoGo Pro Plus is remarkably compact, even by portable projector standards. It weighs right around 2 pounds and is small enough to carry around in one hand, or throw in your backpack when you're packing for a trip.
You also don't need access to a wall outlet to use the MoGo Pro. It has a built-in 44.6 watt hour battery, capable of playing up to 4 hours of content on a single charge. That's enough to turn backyard movie nights into a double feature, and makes the MoGo Pro a great option for camping, RVs, road trips, and other on the go uses.
The MoGo Pro uses an LED light source rather than a lamp, giving it a longer usable life. The light source will last up to 30,000 hours before needing to be replaced, and won't wane in brightness or quality over time. The lens is recessed and covered, too, preventing damage during transportation and use and adding to the longevity of the projector.
Installation
With a standard throw distance, the MoGo Pro will produce a 100" image with about 8-9 feet between the screen and lens. One thing to keep in mind is that it's not designed for ceiling-mounted installations and needs to be placed on a stand or table. This can make it tricky to prevent objects and people from interrupting the light beam, though it also gives the projector a fast, straightforward installation, with no tools required.
The proprietary Eagle Eye Perception System on the MoGo Pro is its most impressive feature from an installation standpoint. Thanks to this, it automatically adjusts the focus and on-screen geometry to ensure the picture is clear and square, without any input from the user. This doesn't only apply to the initial set-up, either. If the projector gets bumped mid-movie, it'll automatically readjust to keep the picture centered and focused.
Pros
Full HD resolution with HDR10+ support
Lightweight and portable
Low maintenance with a long lamp lifespan
Automatic focus and keystone correction
Android 9.0 streaming interface
Built-in battery with up to 4 hours of power
Cons
Low lamp brightness
Limited wired inputs
Connectivity and Streaming
The wired inputs on the XGIMI MoGo Pro are limited, with a single HDMI input for content and a USB 2.0 port for devices. That said, you may not need to use the input at all. It connects wirelessly through both Bluetooth and Wi-Fi for casting content and direct streaming. It also has a 16GB memory capable of storing up to 10 movies at once, letting you watch content even when you're out of Wi-Fi range.
For direct streaming, the MoGo Pro uses an Android 9.0 TV interface that gives you access to all the apps in the Google Play store, including most movie, TV, and music streaming services. The notable exception is Netflix, which isn't supported by Android TV. On the plus side, this also gives the MoGo Pro voice search capability through Google Assistant.
Picture Quality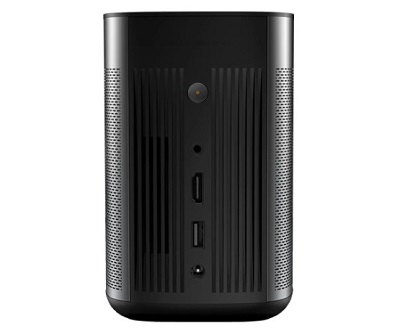 The DLP display of the MoGo Pro Plus produces a picture on par with typical flat-screen TVs. This includes full HD resolution, with HDR technology for the contrast and 10-bit color processing to keep hues vibrant and accurate to the source.
Our only issue with the MoGo Pro from a picture quality standpoint is that you'll need some serious light control measures in place to get this high-quality image. Its lamp only puts out about 300 lumens and starts to look washed out in even dim light levels. For outdoor uses, you'll need to wait until full dark to start watching, and it's not the best choice for lights-on viewing indoors.
The Bottom Line: XGIMI MoGo Pro Plus Review
The MoGo Pro Plus is impressive for the size and price, but no projector is perfect, and it does make some sacrifices to get its compact build. The most significant issue is the low brightness, which could make the projector unusable in higher light levels. The lack of inputs is less of a concern, considering its combination of wireless streaming options and built-in memory. As long as you're able to adjust your set-up to these limitations, though, the MoGo Pro Plus is an excellent go-anywhere, all-in-one projector. (>>> Check the current price on Amazon)