The landscape of home entertainment is vast and diverse, making it a challenge to identify products that truly stand out. Our Hisense PX2-PRO Review aims to shed light on one such offering in the projector segment. Through hands-on testing and thorough analysis, we've delved deep into what this Laser TV promises versus its delivery in real-world scenarios. This article provides an objective perspective, highlighting the PX2-PRO's specifications, features, and overall performance. Whether you're on the fence or merely curious about this product, our insights into the Hisense PX2-PRO will offer clarity on its place in the home entertainment hierarchy.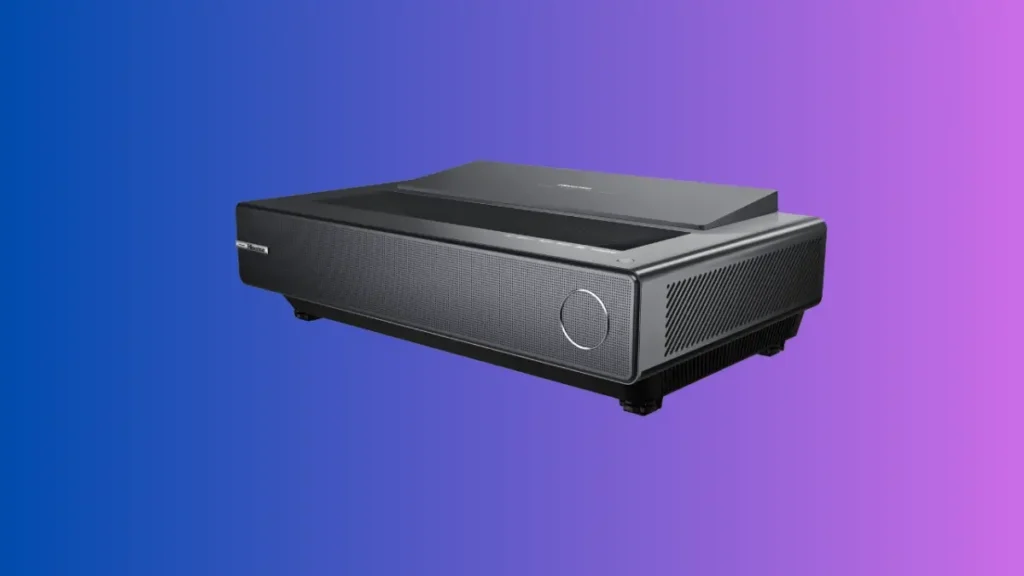 In This Review:
Hisense PX2-PRO Review of Specifications:
| | Hisense PX2-PRO |
| --- | --- |
| | |
| Resolution | 3840x2160 |
| Contrast | 2,000,000:1 (dynamic) |
| Brightness (Lumens) | 2,400 ANSI |
| Input lag | ~40ms |
| Lens | Fixed focal length, powered focus |
| Throw Ratio | 0.25:1 |
| Screen size | 90" - 130" |
| Speakers | 15 Watts x 2 |
| Today's Best Price | ProjectorScreen.com |
In-Depth Review:
Unboxing the Hisense PX2-PRO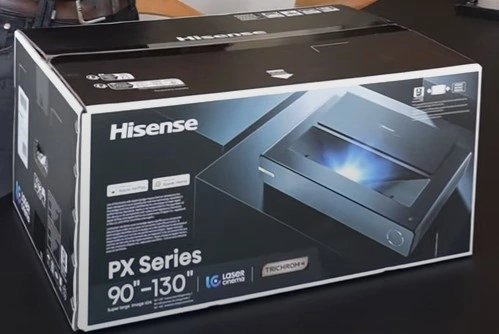 Upon receiving the Hisense PX2-PRO, the first impression is influenced by its well-thought-out packaging. The box is sturdy, ensuring the safety of the device during transit. Opening it up, one is immediately greeted by the Laser TV Console, comfortably nestled and protected by high-quality foam inserts.
Included in the package are the essential accessories, notably the voice remote with a backlight feature—a convenient touch for those dim movie nights. There's also a Quick Start Guide for those eager to get started, while a more detailed user manual is available online. An addition that deserves mention is the cleaning kit, indicating Hisense's attention to maintaining the longevity and performance of the projector. The unboxing experience, in all, sets a promising tone for the device's capabilities.
Design and Build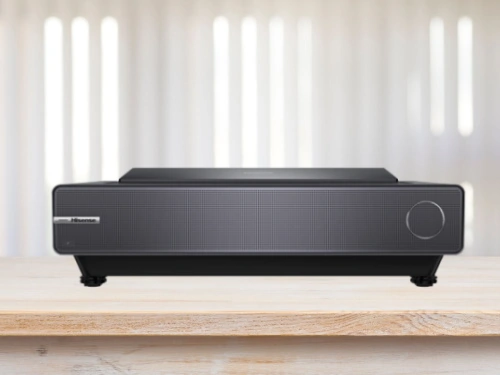 The design of the Hisense PX2-PRO exudes a modern and minimalist aesthetic. With dimensions of 20.5″ x 12.8″ x 6.3″, the Laser TV Console is compact enough to fit seamlessly into most living spaces without being obtrusive. The sleek form factor combined with its muted color palette ensures that it will complement a variety of interior décors, from the contemporary to the more traditional.
Its weight, clocking in at 20.3 lbs, lends a sense of robustness to the unit. While it's not exactly lightweight, this heft underscores the quality of materials and technology packed inside the projector. The build quality feels premium to the touch, promising durability. In the realm of design, the PX2-PRO is a testament to Hisense's commitment to merging functionality with elegance.
Installation and Connections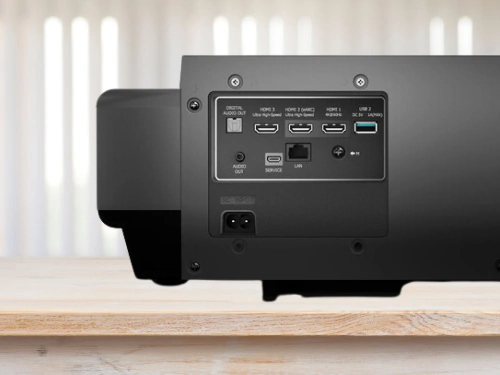 Setting up the Hisense PX2-PRO was a relatively straightforward affair. When we embarked on the installation process, the Digital Lens Focus caught our attention. This feature facilitated the projector's flexibility, allowing us to project images ranging from 90 to 130 inches with precise focus. Whether positioning it for a cozy living room or a more expansive media room, the PX2-PRO adapted commendably. The throw ratio of 0.25:1 meant that even in tighter spaces, we achieved sizable projections without compromising clarity.
Diving into the connectivity options, the projector boasts a comprehensive suite of ports, catering to both modern and slightly older devices. The three HDMI ports, including two HDMI 2.1 with ALLM, ensured lag-free connections, a feature we found particularly beneficial during our gaming sessions. The inclusion of both USB 3.0 and USB 2.0 ports, Ethernet, and a digital audio output further enhances its versatility. Wireless connectivity through built-in Wi-Fi and Bluetooth proved stable during our testing, with quick pairing and reliable signals. Overall, the Hisense PX2-PRO provides a hassle-free setup experience coupled with a myriad of connection possibilities.
Image Quality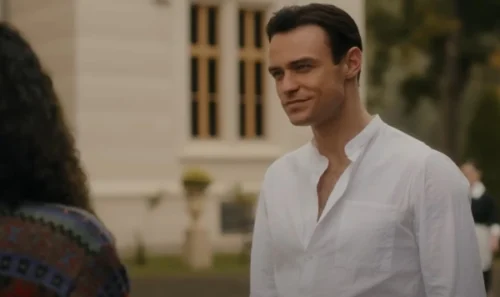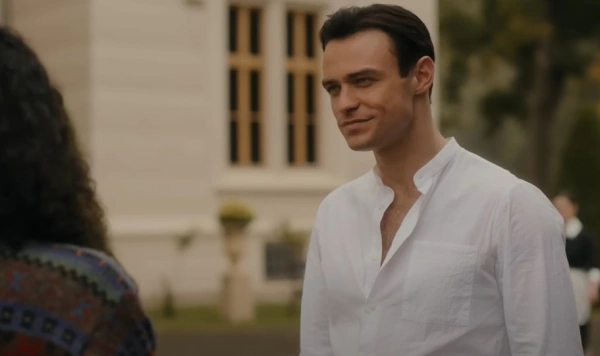 Upon firing up the Hisense PX2-PRO, the first thing we observed was the astounding clarity brought forth by its 4K Ultra HD resolution. Testing it with a variety of content, from high-action films to nature documentaries, we consistently witnessed over 8 million pixels working in tandem to produce images with impeccable detail. This clarity was most evident in scenes with intricate patterns and textures, where individual details that could easily be lost on lesser devices stood out vividly on the PX2-PRO.
Check the Latest Price on Amazon Now!
The dynamic contrast ratio of 2,000,000:1 played a significant role in delivering deep blacks and brilliant whites. Scenes with challenging lighting conditions, such as twilight moments or shadowy interiors, were rendered with a depth and nuance that was genuinely captivating. Combined with a brightness level of 2400 Lumens, the PX2-PRO confidently handled a range of ambient lighting situations. In our tests, even in moderately lit rooms, the projector displayed vibrant images without any discernible washout. The promise of achieving 107% of the BT.2020 color space with its 3 Pure Color Lasers was not just marketing speak. We were treated to a palette of colors that felt richer and more diverse than what's typically encountered. Overall, the image quality of the Hisense PX2-PRO truly stands as a testament to its advanced projection technology.
Gaming Experience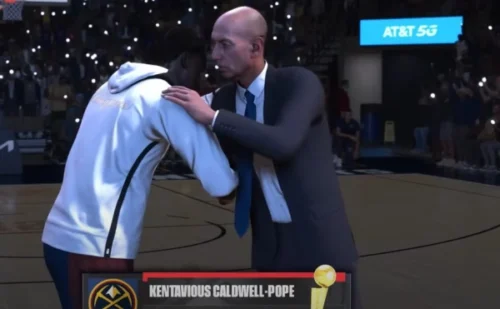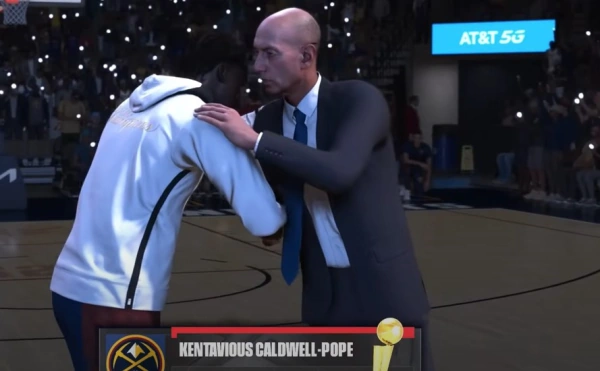 Venturing into the realm of gaming with the Hisense PX2-PRO was an exhilarating experience. The true test for any projector catering to gamers is its input lag, as even the slightest delay can dramatically impact gameplay. Armed with our testing tools, we set out to determine how the PX2-PRO fared. To our satisfaction, the measurements revealed an input lag of around 40ms in 4K/60Hz mode. While not in the ultra-low territory, it's more than adequate for most casual gaming sessions and even some competitive gaming scenarios.
Smart Features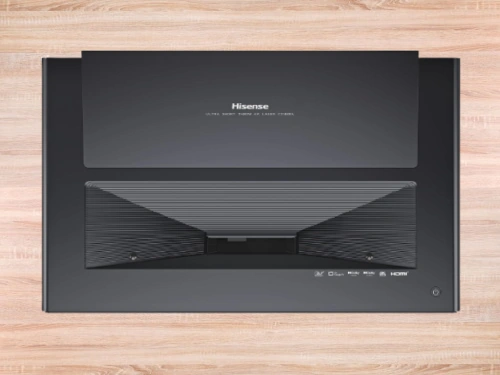 One of the standout features of the Hisense PX2-PRO is its integration with Google TV, which we found added a dimension of smart convenience to the projector. With Google TV, navigating through a plethora of content became a breeze. It effortlessly aggregates movies, shows, and more from various apps and subscriptions, presenting them in a cohesive, organized manner. The recommendations feature, tailored based on viewing habits and interests, consistently provided us with fresh content options, minimizing the often-daunting task of deciding what to watch next. See how the Hisense PX2-PRO performs compared to its predecessor, the PX1-PRO.
Furthermore, the built-in Google Assistant provided voice command capabilities, significantly enhancing ease of use. Whether it was to quickly search for a title, control playback, or even manage other connected smart home devices, the voice command functioned smoothly and accurately. Compatibility with Alexa further expanded voice control options. The inclusion of popular apps like Netflix, Disney+, Hulu, and more, right out of the box, made the PX2-PRO a genuine entertainment hub. The App Store access ensures that the system can be further customized with a user's preferred apps.
Buy Now with One-Click on ProjectorScreen.net
Sound Quality
The auditory experience delivered by the Hisense PX2-PRO is substantial for its built-in audio system. Boasting a 30W stereo output, the sound profile was crisp and clear, managing to fill a medium-sized room comfortably. The real gem, however, was the integration of Dolby Atmos and Dolby Digital, which brought a depth and dimension to the audio landscape. During our testing, soundtracks felt immersive, dialogues were distinct, and the subtle nuances in ambient sounds were noticeable. While serious audiophiles might still lean towards an external sound system for a truly enveloping experience, the PX2-PRO's built-in sound capabilities are more than adequate for casual viewing and definitely surpass the average projector audio offerings.
Pros & Cons of the Hisense PX2-PRO
Pros
Exceptional 4K image clarity with over 8 million vibrant pixels.
Comprehensive connectivity options including HDMI 2.1, USB, and wireless features.
Rich and dynamic sound quality enhanced by Dolby Atmos integration.
Advanced smart features with Google TV and voice command capabilities.
Impressive 107% BT.2020 color range using Trichrome Laser technology.
Cons
Input lag of 40ms might be limiting for competitive gamers.
At 20.3 lbs, not the most portable projector option.
Hisense PX2-PRO Review Summary
The Hisense PX2-PRO emerges as a compelling choice for those seeking a blend of top-tier image quality and advanced smart features. >>> Check the Latest Price on Amazon Now! Its exceptional 4K clarity, combined with a rich color palette achieved by Trichrome Laser technology, ensures a cinematic viewing experience. The projector excels in terms of connectivity and boasts dynamic sound quality, further enhanced by Dolby Atmos. Google TV integration simplifies content navigation, making it an authentic entertainment hub. However, competitive gamers might find the 40ms input lag slightly limiting, and its weight suggests a more stationary setup.