Do you want to upgrade your home movie set-up? In this OMMC 4K UHD Laser TV review, we'll check out a model that's a strong contender for the title of most user-friendly 4K projector. With its short throw, integrated Android interface, and versatile connectivity, it's a versatile choice for a variety of home theater set-ups. Let's take a closer look so you can decide if it's the right fit for yours. (>>> Check the current price on Amazon)
OMMC 4K UHD Laser TV Review of Main Specs:
| | OMMC 4K UHD Laser TV |
| --- | --- |
| | |
| Resolution | 3840x2160 |
| Brightness (Lumens) | 2,500 ANSI |
| Contrast Ratio | 1,000,000:1 |
| Input lag | No data |
| Throw Distance | 1'2" - 2'3" |
| Screen size | 80" - 150" |
| Speakers | 20.0 Watts |
| Price | Check on Amazon |
Set-up and Installation
The OMMC 4K UHD Laser TV has a quick setup out of the box. Its short throw distance helps. Since you only need 1-2 feet of distance to produce a huge screen, most people can just put it on their entertainment center and plug it in, no need for complicated alignment or mounting. It does have both front and rear-mounted settings if you'd rather, so it has the versatility to work in any kind of space.
One thing to note is that the calibration system of this OMMC projector won't work correctly if the projection surface isn't completely flat. This can cause issues if you're projecting straight onto a wall, and it's best to use this model with a screen.
The all-in-one capability of the OMMC home theater projector is another point in its favor from a usability standpoint. It has an integrated smart Android TV system for streaming content straight to the projector. For sound, it uses 2 10-watt speakers with Dolby Audio support, and has an output and audio quality on par with many standalone Bluetooth soundbars.
Connectivity
Many projectors today only have HDMI inputs for content. That's fine for streaming-based setups but doesn't accommodate more complex home theaters. The OMMC home theater projector has VGA and coaxial inputs, along with dual HDMI ports, expanding your options for getting content to the projector. It also supports dual-band Wi-Fi networks (2.4 or 5) and supports Bluetooth for pairing with wireless remotes, headphones, speakers, and other devices.
Pros
True 4K display with upscaling for lower resolutions
Excellent color and contrast
Android 8.0 system with 3GB memory
Ultra-short throw distance
Built-in speakers have a good sound quality
Good variety of wired inputs
Wireless connectivity (Wi-Fi or Bluetooth)
Cons
Some users have issues with the remote
Not a good choice for screen-less setups
Picture Quality
The native 4K resolution of this OMMC projector doesn't only come into play when you're watching 4K content. It also upscales lower-resolution content and increases the frame rate for smoother movement in fast action scenes. Whatever you're watching, you can count on seeing every detail.
The Dynamic Black technology used on the OMMC 4K UHD Laser TV gives it a sharp contrast to match its high resolution. The 4-segment color wheel exceeds the Rec. 709 spectrum, expanding the available color palate for a more nuanced and realistic picture.
Lamp Brightness and Lifespan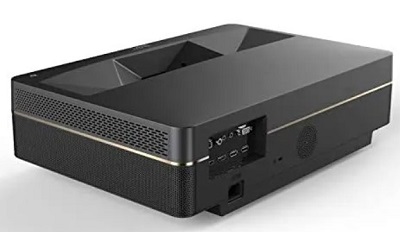 The laser light source on this OMMC projector has a longer lifespan than the typical projector lamp bulb. Depending on the brightness settings, it lasts 20,000-25,000 hours on average, which for most users equates to the life of the projector.
As far as brightness, it puts out around 2,500 ANSI lumens, which is enough to keep the picture fully saturated in most ambient light conditions. Keep the short throw distance in mind here, too. Since the light doesn't have to travel as far, it's not as prone to interruption and light pollution, and most people won't need to worry about limiting light in their viewing area.
The Bottom Line: OMMC 4K UHD Laser TV Review
While the OMMC 4K UHD Laser TV isn't exactly cheap, it is an excellent value. Its combination of picture quality, sound quality, and short throw distance makes it a great first-time projector for those upgrading TV-based setups, with the flexibility to fit in nearly any home. (>>> Check on Amazon)
REFERENCES AND FURTHER READING:
Check these similar laser projetor (TV) options: Epson LS300 & Epson LS500