Do you want a versatile home theater projector at a great value? The Optoma HD28HDR could well be your answer. This full HD projector checks all the boxes for both home theater use and gamers, with a high picture quality, bright lamp, and low lag—a combination of features that's especially impressive for the price. Of course, no projector is perfect. While this is an excellent overall choice, it does have some limitations. In this Optoma HD28HDR review, we'll highlight the strengths and point out the weaknesses so you know what to expect before you buy. (>>> Check current price on Amazon)
Optoma HD28HDR Review of Main Specs:
| | Optoma HD28HDR |
| --- | --- |
| | |
| Resolution | 1920x1080 |
| Brightness (Lumens) | 3,600 ANSI |
| Contrast Ratio | 50,000:1 |
| Input Lag | 8ms |
| Throw Distance | 3.3' - 32.2' |
| Screen size | 28" - 301" |
| Speakers | 3.0 Watts Mono |
| Price | BHPhotoVideo.com |
Installation and Connectivity
The throw distance of the Optoma HD28HDR is on the longer side. For a 100" image, there needs to be 10-12 feet between the lens and screen. For most users, this will mean mounting the projector, and you'll need to be fairly precise with your placement when you do so. The image adjustment features are relatively limited, with just vertical keystone correction and a 1.1x zoom.
Something else worth noting is that most people will want to use external speakers with the Optoma HD28HDR. It has a single 3-watt speaker built in, which have an output and sound quality on par with laptop speakers—fine for TV watching, but lacking in the bass power and mid-range clarity you want for an immersive home theater experience.
Connecting speakers and content sources to the Optoma HD28HDR is straightforward and intuitive. It has dual HDMI ports along with a USB input for content, in addition to the 3.5mm audio out.
Picture Quality
The Optoma HD28HDR offers full HD resolution for all content, including games and 3D movies. (Click here if you want to find more 3D projector options)  It can play 4K content, too, though it will downgrade it to full HD resolution. Along with this, it uses Dynamic Iris and HDR10 technology, resulting in a crisp, detailed picture with excellent black levels and contrast.
We're equally impressed by the color production of the Optoma HD28HDR. Its 6-segment color wheel covers the full Rec. 709 color gamut, factory-calibrated to ensure accuracy. Colors stay vibrant even when you're using it with the lights on thanks to the powerful 3,600 lumen lamp, and at all screen sizes. That makes it a versatile choice since you don't need a dedicated home theater space to get a good picture.
Pros
6-segment color wheel covers entire Rec. 709 spectrum
High contrast with Dynamic Black technology
Bright lamp ideal for lights-on viewing
Low lag and high refresh rate in Enhanced Gaming Mode
Supports 4K input
Plays 3D content in Full HD
Cons
Built-in speaker is weak
Long throw distance
Gaming Performance
This is where the Optoma HD28HDR is most impressive. The Enhanced Gaming Mode on this projector drops the input lag down to a super low 8.4ms. Even high-end gaming projectors can't beat that responsiveness, which is as close to instantaneous as you'll get, guaranteeing a frustration-free playing experience.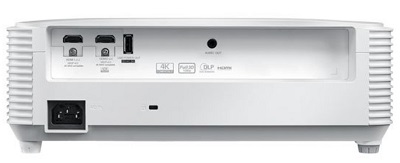 Along with this low lag, the Optoma HD28HDR has a high 120Hz refresh rate at Full HD. This keeps the on-screen motion smooth, without motion blur or other visual issues—good news for watching sports and 3D performance, too. Add in the high contrast and flexible connectivity for modern gaming systems and the HD28HDR is one of the best values in gaming projectors you'll find from any brand.
The Verdict: Optoma HD28HDR Review
There's a lot to love about the Optoma HD28HDR. Having said that, it's not the most user-friendly projector and can be tricky to install, especially for those who don't have a lot of A/V experience. It's also lacking in all-in-one features like streaming interfaces and built-in theater quality sound. If you don't already have external speakers or content sources, that's something you'll want to plan for in your budget.
Really, it comes down to what you need from your projector. The streamlined design of the Optoma HD28HDR is why it sells for such an affordable price. It's an especially smart choice for gamers, who would be hard-pressed to find a better bang for their buck. (>>> Check on Bhphotovideo)