Not sure which projector to buy for your home theater? Optoma is an excellent brand for both performance and value, and even their older-generation models stand the test of time.
Comparing the Optoma UHD60 vs. UHD50X, the more recent 50X is superior in nearly every respect—as it should be, really (>>> Check on Amazon); a company is in trouble if their newer products are worse than their older ones. Let's look at the main places the UHD50X has improved over its predecessor.
Optoma UHD60 vs UHD50X Side by Side:
| | Optoma UHD60 | Optoma UHD50X |
| --- | --- | --- |
| | | |
| Resolution | 3840x2160 | 3840x2160 |
| Brightness (Lumens) | 3,000 ANSI | 3,400 ANSI |
| Contrast Ratio | 1,000,000:1 | 500,000:1 |
| Input Lag | 56ms | 25ms |
| Throw Distance | 4.3' - 30.5' | 4.0' - 26.6' |
| Screen size | 26" - 302" | 34" - 303" |
| Speakers | 4.0 Watts × 2 | 5.0 Watts Mono |
| Price | Check on Amazon | ProjectorScreen.com |
Brightness
A projector needs a brightness of at least 2,000-2,500 lumens to be used in spaces with ambient lighting and maintain a clear, saturated picture. Both the UHD60 and the UHD50X have the power to compete with indoor lighting, but you'll get more lumens out of the 50X (3,400 compared to 3,000) with a shorter throw distance that maximizes that brightness. This is helpful in spaces with lots of windows or bright lights.
Brighter projector: Optoma UHD50X
Installation Ease
That shorter throw distance mentioned above is a factor here, too. The Optoma UHD50X can produce a 100" image from 8-9 feet away, while the same size image from the UHD60 will need at least 10 feet of distance, and as much as 16 feet depending on your other settings.
The Optoma UHD50X also adds digital keystone correction to the zoom and lens shift functions offered on the UHD60. While the Optoma UHD60 has a wider lens shift and is better for use without external speakers, the UHD50X still has the faster and easier installation overall.
Easier to install: Optoma UHD50X
Picture Quality
The Optoma UHD60 and UHD50X use a lot of the same image technology. Both use a Texas Instruments DLP chipset for true 4K resolution, backed by support for HDR10 and UltraDetail enhancement.
Optoma improved this technology in the 3 years between these projectors' release dates, and users of the UHD50X can benefit from these improvements. Its 8-segment Enhanced Color Wheel supports the full DCI-P3 color spectrum, bringing more nuance and realism to its tone mapping. A higher frame rate also allows for smoother motion with no motion blur and it's 3D ready, so you'll get the same high image quality for all types of content.
Better picture quality: Optoma UHD50X
Gaming Performance
The choice between these projectors is obvious for gamers. Along with its 240Hz refresh rate, the Enhanced Gaming Mode of the Optoma UHD50X drops the input lag as low as 16ms for full HD gaming, and keeps it under the 30ms threshold for serious gamers even in 4K.
The Optoma UHD50X also has the connectivity gamers need, with dual HDMI inputs for modern consoles and a VGA connection for PC gamers. You'll still get that connectivity on the UHD60, but with double the input lag and a much slower frame rate.
Better for gamers: Optoma UHD50X
---
Optoma UHD60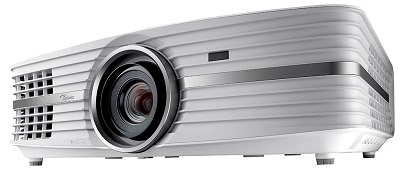 The Optoma UHD60 was near the top of the home theater market when it was first released in 2017, and today's users can still get a lot out of it. Its 4K resolution is as sharp as what you'll get from projectors released today, with Dynamic Black and PureMotion technology that ensure rich black levels, sharp details, and immersive picture depth, no matter what's happening on screen. Its 6-segment color wheel covers most of the DCI-P3 color spectrum, for realistic color that's authentic to the source material.
With a 3,000-lumen lamp, the Optoma UHD60 doesn't need a completely dark room. You can leave the lights on without ruining the picture, though you still may need to cover windows for daytime viewing. While the throw distance is on the longer side, features like a digital zoom and vertical lens shift give it a good amount of installation flexibility.
One thing the UHD60 does better than the UHD50X is its built-in sound. The dual 4-watt speakers aren't incredibly loud, but they have a decent amount of mid-range clarity for TV watching, enough to be used on their own in most spaces if you don't have external speakers.
Pros
Sharp 4K resolution with high Dynamic Black contrast
Extensive coverage of DCI-P3 color spectrum
Bright enough lamp for lights-on viewing
Easy to install and align image
Acceptable lag for casual gaming
Built-in speakers have decent sound and output
Cons
Long throw distance
Input lag is high for serious gamers
---
Optoma UHD50X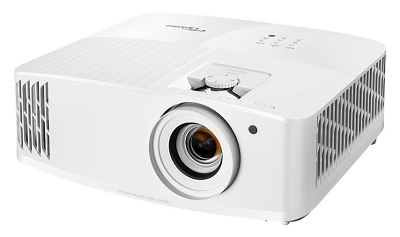 The Optoma UHD50X is an upgraded version of the UHD60 and it shows in its performance. This starts with its picture quality, which uses more advanced and sophisticated versions of the technology in the UHD60. The result is a wider color gamut with more clarity and detail.
Gamers especially will love the performance of the UHD50X. Its lower lag and higher refresh rate make it suitable for 4K gaming, online multi-player, and reflex-based games from the latest generation platforms. The same blur reduction technology that keeps action sequences smooth in movies does the same for games, so if you can't beat your opponents you can't blame it on the projector.
You will want to use external speakers with the UHD50X—the single 5-watt speaker that comes built in to the projector sounds similar to laptop speakers, not ideal for watching movies and TV shows. This isn't unusual for a home theater projector, though, and it has good flexibility in other respects, with a bright lamp, reasonable throw distance, and easy-to-use alignment functions like lens shift and keystone correction. Click here for our more in-depth Optoma UHD50x review.
Pros
4K resolution with support for HDR10 and HLG
Wide color gamut with Rec.2020 tone mapping
Bright lamp suitable for any indoor light level
Low enough lag for all styles of gamer
Shorter throw distance
More flexible image alignment features
Cons
Built-in speakers are weak
Narrower lens shift
---
The Verdict: Optoma UHD60 vs. UHD50X
When it comes to the important stats for a home theater projector, the Optoma UHD50X is the clear winner (>>> Find on ProjectorScreen). It requires less space, has a brighter lamp, and is better for both gaming and watching movies. It also sold for a lower MSRP at full price, though buyers on a budget may be able to find great sales on the UHD60 since it's recently been discontinued and stores may be clearing out their inventory. This scenario aside, the Optoma UHD50X is both the better projector and the better value.