Laser projectors offer a higher brightness and more durability than traditional lamps, and that's great news for consumers who want to get the most out of their home theater equipment. In the case of the Optoma ZH406, you get an image bright enough to see in any space, along with a hassle-free installation and a long average lifespan.
While the Optoma ZH406 isn't perfect by any metric, its performance is impressive for a projector in the mid-range price point (>>> Check it's pricing on Amazon) Let's take a deeper look at just what this projector is capable of to help you decide if it's the right fit for your home theater or media room.
Optoma ZH406 Review of Features
| | Optoma ZH406 |
| --- | --- |
| | |
| Resolution | 1920x1080 |
| Brightness (Lumens) | 4,500 ANSI |
| Contrast Ratio | 300,000:1 |
| Throw Distance | 5.2' - 30.6' |
| Screen size | 30" -300" |
| Measurements | 4.80" x 13.26" x 10.50" |
| Internal Speakers | YES, 2 x 15.0 Watts |
| Price | BHPhotoVideo.com |
Installation
The short throw distance of the Optoma ZH406 gives it more flexibility than other projectors in terms of its placement. With less than 5 feet of distance, you can get a 100" image. This is especially important for small spaces but can be helpful in any installation, often sparing you the need for a ceiling mount.
The image adjustment options included on this projector are helpful for getting a quick set-up, as well. There's a 2x zoom for fine-tuning the screen dimensions, along with a 4-corner correction to get rid of distortion. There are also a range of input options, including HDMI, VGA, and composite connections, so you can easily connect it to any content source.
Picture Quality
The resolution of the Optoma ZH406 is on-par with what you'd get from an HD television. It can still play content that's in 4K, you'll just see it at a lower resolution. While it's not as sharp as 4K projectors, the picture has a good amount of detail and clarity and maintains that clarity at all screen sizes. It also has a high contrast ratio so you'll get that same level of detail in dark areas of the screen.
The brightness definitely helps with this. At 4,500 lumens, the Optoma ZH406 is bright enough to compete with ambient light from windows or lamps in the room. The HDR-compatible color is accurate and life-like, as well, with a good consistent brightness across the picture. It's even suitable for outdoor movie theaters.
Pros
Bright lamp can be used in any light level
Durable, long-lasting lamp
Short throw distance for more installation flexibility
Accepts 4K input
Easy to align the image to the screen
Excellent color and contrast
Cons
4K content plays at lower resolution
Build and Durability
High brightness isn't the only reason we love the lamp on the Optoma ZH406. The DuraCore laser light source used on this projector lasts a long time without needing any maintenance. It has a high dust resistance so you don't need to worry about changing filters. You can get up to 30,000 hours of use out of the Optoma ZH406 without failure, enough for years of use for most people. Check a review of its successor, the Optoma ZH406STx.
This is also a well-built projector that you won't have to worry about moving around your house. It only weighs about 10 pounds, light enough to be easily portable. The casing is solid, with protections built-in around the lens that prevent damage from jostling. You'll want to be careful with it while moving it, of course, but it's not likely to fail on you from regular wear and tear.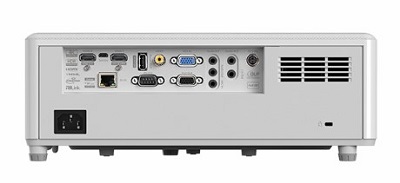 Sound
There are two 10-watt speakers integrated into the Optoma ZH406. These speakers put out enough volume for basic TV and movie watching, though they're lacking bass power and are better for dialogue than movie effects. There's an audio out to connect external speakers if you do want to connect the projector to a surround sound system or subwoofer.
What's the Verdict?
Those who want the ultimate 4K HD experience will be disappointed by the resolution on the Optoma ZH406. (Check the list of top 4K projectors here) This certainly isn't to say the picture quality is poor, though. The high contrast ratio, brightness, and color accuracy still provide a fantastic viewing experience.
The long-term durability of the Optoma ZH406 is a point in its favor, too. Since it supports 4K input, it's not at risk of becoming outdated. You'll be able to use it for many years to come and never worry about changing filters or replacing the lamp. Add in the flexible, easy installation and you have a very appealing projector for the price. (>>> Check it's pricing on ProjectorScreen)
REFERENCES AND FURTHER READING: