If you're searching for a mid-range projector, look at the Optoma ZH406STx. A little under $2,000, this projector combines value with more advanced features. But is it worth the price?
In this Optoma ZH406STx review, we'll help you decide if this projector suits your situation and if this is the correct projector that not only suits your needs, but also if it warrants the price tag for the job (>>> Check on Amazon).
Optoma ZH406STx Review of Main Specs:
| | Optoma ZH406STx |
| --- | --- |
| | |
| Resolution | 1920x1080 |
| Brightness (Lumens) | 4,200 ANSI |
| Contrast | 300,000:1 |
| Throw Distance | 1.3' - 10.9' |
| Screen size | 37" - 300" |
| Speakers | 10.0 Watts × 2 |
| Today's Best Price | BHPhotoVideo.com |
Setup
This projector has two HDMI ports, two audio inputs, and several other plugins on the backside. In addition, it has 4K HDR input, so you can easily plug your 4K devices into it.
Its vertical keystone is also simple to move, letting you adjust the picture however you see fit. Also, it's designed for smaller rooms, meaning you can see a complete picture from only 4 feet, 4 inches away. However, setting up in a bigger room is also simple.
Image Quality
This projector boasts a 300,000:1 contrast ratio, meaning that colors will pop, and you can make out minute details you would have never noticed. In addition, its 4,200 lumens do work for it. So you can place this projector in a brightly-lit room and still make out all the details.
With its zoom and image correction, the picture always looks its best, regardless of the room you put it in. Another way you can customize this experience is through its 360 projection mode, allowing you to cover an entire room with stunning pictures.
One downside is that, despite its price, this projector only has 1080p output. While 4K video still looks fantastic thanks to its HDR10 and HLG technologies, the price may turn some people away who want a 4K projector for that much money. On the other hand, some may love its vibrant color output and think a lack of 4K output is a small sacrifice.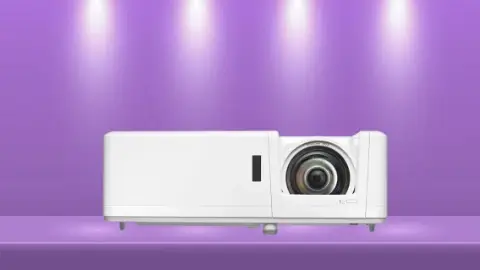 Pros
Easy to set up and works well for small-to-medium-sized rooms
HDR and high contrast ratio create eye-popping colors
Manufactured with durability in mind. You don't need to worry about the projector burning out or getting dusty any time soon
360 projection for the most immersive experience
Cons
Some may not want 1080p at this price tag
Durability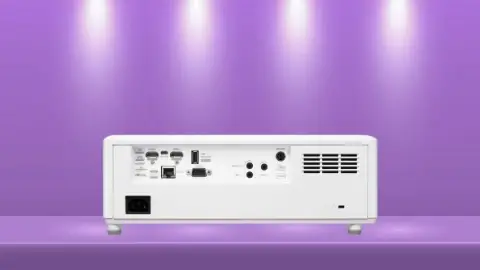 This projector has two good things going for it. First, it has up to 30,000 hours of lamp and filter life.
You won't have to worry about replacing either for years. In addition, it has IP6X dustproof construction. So if you're someone who forgets to dust their electronics, you don't have much to worry about here.
Optoma ZH406STx Review: The Bottom Line
Overall, this powerful projector has many unique features waiting for you to discover. We enjoyed how stunning this projector could look, and we loved how versatile it was.
So whether you want to watch a movie in a dark living room or have a presentation in a small, bright office space, this projector delivers.
That said, it may not be the best projector for the job. Again, it is not 4K, meaning true moviegoers may want to look elsewhere.
In addition, this projector has few customer reviews as of this article, meaning that you may want to look for something with more of a consensus. But considering Amazon has an easy return policy, try it out and see if it's for you (>>> Find the current price on Bhphotovideo).