Our exploration into the world of digital projectors led us to the Optoma ZH406STx – a potent laser projector offering a blend of superior performance and advanced features. This hands-on review of the Optoma ZH406STx provides an exhaustive evaluation of the projector as we took it for a spin, analyzing specifications, exploring features, and sharing our user experience.  (>>> Check on Amazon)
Optoma ZH406STx Review of Main Specs:
| | Optoma ZH406STx |
| --- | --- |
| | |
| Resolution | 1920x1080 |
| Brightness (Lumens) | 4,200 ANSI |
| Contrast | 300,000:1 |
| Throw Distance | 1.3' - 10.9' |
| Screen size | 37" - 300" |
| Speakers | 10.0 Watts × 2 |
| Today's Best Price | BHPhotoVideo.com |
Initial Feel: Unboxing the Optoma ZH406STx
Our first encounter with the Optoma ZH406STx began with unboxing the projector. The package contained the projector itself, an AC power cord, a backlit ProAV remote control with two AAA batteries, and a user-friendly basic manual for guidance in setting up and operating the device.
The projector's sleek, compact design immediately caught our attention. Weighing around 10.03 lbs, it was surprisingly light, making handling and adjusting it quite effortless. Its dimensions, 13.27″ x 10.43″ x 4.82″, underline the ease of placement, and the compact design is an appealing aspect, considering the high-performance features it offers.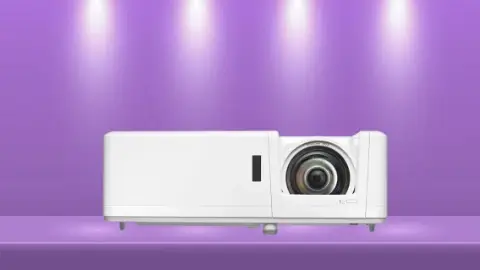 Pros
Easy to set up and works well for small-to-medium-sized rooms
HDR and high contrast ratio create eye-popping colors
Manufactured with durability in mind. You don't need to worry about the projector burning out or getting dusty any time soon
360 projection for the most immersive experience
Cons
Some may not want 1080p at this price tag
Not so good for the brightest rooms
Experience with Display: Vibrant and Detailed
Switching on the Optoma ZH406STx was like unveiling a vibrant painting. Its 4,200 lumens of brightness produced vivid and distinct visuals, and the full HD 1920×1080 resolution delivered sharp, highly detailed images, significantly enhancing the viewing experience.
With a contrast ratio of 300,000:1, the projector ensured deeper black levels and brighter whites, creating a balanced, rich visual landscape. The DLP technology allowed for an impressive 1073.4 million displayable colors. Its versatile screen size range (36.4″ ~ 300.5″ diagonal display) amplified the immersive experience, making the projector ideal for diverse settings, including home theaters, classrooms, or conference rooms.
Durability Test: The Reliable Laser Light Source
One of the standout features of the Optoma ZH406STx is its robust DuraCore laser light source. This technology significantly simplified maintenance by eliminating the need for lamp and filter replacements for up to 30,000 hours of operation. It's a cost-effective feature that ensures readiness for use, greatly reducing maintenance-induced downtime. Check out the roundup review of the best laser projectors by Projectortop.com.
Furthermore, with an IP6X dust resistance rating, the projector proved highly resistant to dust, protecting the projector's core from potential dust-related damage over time.
Technical Assessment: Short Throw Lens and Image Correction
The Optoma ZH406STx's short-throw lens was a standout feature during our hands-on experience. It projected a large 120″ image from only 4′ 4″ away, simplifying setup in smaller spaces and increasing the projector's versatility.
The projector also features a 0.8 – 2.0x digital zoom, providing greater flexibility in adjusting screen size. The four-corner correction was particularly helpful in maintaining a square image even when the projector wasn't perfectly perpendicular to the screen.
Viewing Quality: 4K HDR Input and Full 3D Compatibility
In our tests, the Optoma ZH406STx exhibited good image quality with its support for 4K HDR input. With HDR10 and HLG technologies, the projector enabled brighter whites and deeper black levels, enhancing our viewing experience, whether we were watching a movie, delivering a presentation, or gaming.
Furthermore, the projector's full 3D compatibility meant that with the right glasses, we could enjoy immersive 3D movies or games – a bonus for movie enthusiasts and gamers alike. Find the roundup review of the best 3D projectors by Projectortop.com.
Connectivity Test: A Broad Range of Connections and Control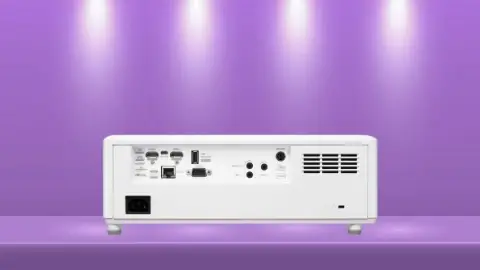 The Optoma ZH406STx offers various connectivity options, including HDMI 2.0, HDMI 1.4a with 3D support, and a 3.5mm mic input. We found it easy to connect different devices such as gaming consoles, laptops, or external speakers.
The projector also provided control options, including RS232 and RJ45, making it highly adaptable and user-friendly. The additional 12V trigger enabled control of motorized screens, curtains, or other devices, adding convenience. Check a review, of its predecessor, the Optoma ZH406.
User Experience and Feedback
Our experience with the Optoma ZH406STx was impressive. It ensured a quiet operation, with a maximum noise level of 32dB, preventing any interference with the viewing or listening experience. The built-in speaker system, though not exceptional, provided decent sound quality, with 10W per speaker.
Other users we interacted with noted the projector's effectiveness in different indoor settings. One user mentioned its suitability for a golf simulator setup, though they pointed out that the brightness was slightly inadequate during the day. This suggests that for optimal performance in brightly lit environments, it might be necessary to use shades or blinds to reduce ambient light. Check out the roundup review of the best projectors for bright spaces by Projectortop.com.
Final Thoughts: A Compelling Blend of Performance and Features
After our comprehensive hands-on analysis and evaluation, the Optoma ZH406STx emerges as a strong contender in the realm of short-throw projectors. Its impressive image quality, reliable laser light source, short-throw capabilities, and wide range of features make it a dependable choice for various uses.
However, while it boasts 4,200 lumens of brightness, its performance in daylight conditions might require some adjustments, like reducing ambient light for optimal viewing. Despite this slight drawback, the Optoma ZH406STx presents a compelling mix of features and performance, making it an excellent choice for anyone seeking a high-quality, reliable, and versatile short-throw projector. (>>> Find on Amazon)