Some high-end home theater projectors can weigh as much as 50 pounds—not something you want to carry with you on the go. A portable projector puts big entertainment in a small package and is a much better way to watch on the go. Comparing the WeMax Dice vs. XGIMI Halo, both are super-compact and have convenient all-in-one capability, and there's not an obvious winner between them.
Let's take a closer look at how they compare side by side on the key features.
WeMax Dice vs XGIMI Halo Side by Side:
| | WeMax Dice | XGIMI Halo |
| --- | --- | --- |
| | | |
| Resolution | 1920x1080 | 1920x1080 |
| Brightness (Lumens) | 700 ANSI | 800 ANSI |
| Contrast Ratio | 1,000:1 | No data |
| Throw Distance | 3'6" – 10'5" | 2.6' - 26.2' |
| Screen size | 48" – 120" | 30" – 300" |
| Speakers | 10w | 10w |
| Price | Check on Amazon | Check on Amazon |
Portability
The WeMax Dice weighs less than 5 pounds, and is compact enough to fit easily in a backpack or suitcase. The carrying handle on the top is a nice touch if you need to carry it around by hand. The built-in battery makes it even more portable, perfect for RV and camping trips.
The XGIMI Halo is just as lightweight. While it's a bit taller, it still has a very small footprint, with a durable exterior casing and recessed lens to keep it safe during transportation. Where it edges out the Dice is its battery—it runs about 50% longer on average, long enough to turn backyard movie night into a double feature.
More Portable: XGIMI Halo
Set-up
Both the Dice and the Halo have an automatic focus adjustment and vertical keystone alignment. The responsiveness of these adjustments on the Halo is nice—if you bump the projector mid-show, it'll correct the screen to compensate.
Here it's the WeMax Dice that takes the slight edge. Its 4-corner correction is easier to use and gives you more flexibility than the adjustments on the Halo. The Dice also has a lower center of gravity, and is less likely to topple over if you can't place it on completely level ground.
Easier set-up: WeMax Dice
Picture Quality
The WeMax Dice has full HD resolution, with full coverage of the Rec. 709 color gamut and a Texas Instruments DLP display. This translates to a crisp and vibrant picture, and it will play all kinds of home theater content, including 4K content (though downgraded to 1080p resolution). The XGIMI's full HD display has similar levels of detail, but the colors aren't as vibrant, with a lower image contrast than the WeMax Dice.
Better picture quality: WeMax Dice
Sound Quality
By the stats, both these projectors have 10-watt speakers. While this gives them a similar volume output, the same can't be said for the sound quality. The speakers on the Dice have a decent mid-range clarity for dialogue, and are functional for watching movies and shows. The Harman Kardon speakers that are built into the Halo have Dolby Audio support, providing a fuller bass response and more realistic overall sound.
Better sound quality: XGIMI Halo
Smart Features
The Android 9.0 interface on the WeMax Dice has access to the entire Google Play store, and supports popular streaming apps like Hulu, Disney+, Prime Video, and many more. It also supports Google Assistant for hands-free control and supports screen mirroring through Chromecast, so it has robust wireless connectivity for content.
The GXIMI Halo matches these features of the Dice and takes them a step further. Along with all the apps in the Google Play store, it supports Netflix (the only major omission of the Dice). It also works with AirPlay as well as Chromecast, giving it screen mirroring capability from both Apple and Android devices.
Better smart features: XGIMI Halo
---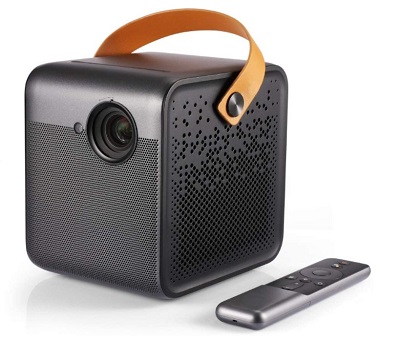 The WeMax Dice is a truly plug-and-play portable projector. Its Android interface and automatic image alignment features make it a quick and easy process to get the projector set up and cue up your favorite show or movie. We also appreciate its distinctive cube design. This gives it a good balance for outdoor uses while keeping it compact enough for easy transportation, and it's road worthy enough to take on road trips without a worry.
The main limitation of the Dice is the power of its lamp. It only puts out about 700 ANSI lumens—enough for a good picture in complete darkness, but prone to washout if there's any ambient light. As long as the light conditions are right, though, its full HD picture is crisp with good color and contrast, and maintains that quality for images as large as 120".
Pros
Sharp and vibrant full HD image
Runs on battery for 2-3 hours
Automatic focus and 4-point keystone correction
Built-in wireless connectivity and Chromecast support
Android streaming interface with voice search
Cons
Lamp is too dim for lights-on viewing
Built-in sound is weak
---
XGIMI Halo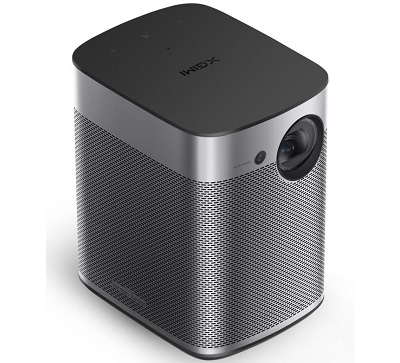 A portable projector needs to be durable enough to stand up to frequent travel, and the XGIMI Halo lives up to this standard. Along with a rugged outer housing, its laser light source lasts up to 30,000 hours before needing to be replaced. Its battery also has excellent long-term longevity, with the per-charge capacity to play up to 4 hours of video. That makes it a worry-free way to watch movies wherever you are.
The column design of the XGIMI Halo certainly gives it a different look from the WeMax Dice. Unfortunately, this can also make it less stable—you'll want to put it on a flat surface like a table. Its brightness is also a limitation, and on-par with what you'll get from the Dice, so it's best used in a completely dark environment.
These limitations aside, the Halo's picture and sound quality make it an excellent choice for backyard movies and road trips. It's easy to set-up and intuitive to navigate, with supports for more apps and mirrored devices than you'll get with the Dice.
Pros
Full HD resolution
Supports 3D and 4K content
Automatic focus and image adjustment
Android TV interface with wide app support
Screen mirroring through AirPlay or Chromecast
Battery operation (2-4 hours of video per charge)
Harman Kardon speaker with Dolby Audio support
Cons
Only suitable for nighttime viewing
Tall design can make it unstable
---
The Bottom Line
Choosing between the WeMax Dice and XGIMI Halo comes down to what you need from your projector. The Dice's compact cube design and high picture quality are points in its favor, while the Halo has more streaming and device versatility and a slightly brighter lamp (>>> Find on Amazon). Whichever one you go with, you'll get a full HD picture from an impressively lightweight and portable projector.