The size of a projector aren't terribly important if it'll be installed permanently in a home theater space. It's a different story if you plan to use it for road trips, backyard movies, and business presentations. In these traveling contexts, a compact and lightweight projector is a more convenient choice. Of course, even if you need portability size isn't the only factor to consider when you're buying a projector. We'll go through all the details in this WeMax Dice review so you can decide if it has the features you need. (>>> Check on Amazon)
WeMax Dice Review of Main Specs:
| | WeMax Dice |
| --- | --- |
| | |
| Resolution | 1920x1080 |
| Brightness (Lumens) | 700 ANSI |
| Contrast Ratio | 1,000:1 |
| Throw Distance | 3'6" – 10'5" |
| Screen size | 48" – 120" |
| Speakers | 10w |
| Price | Check on Amazon |
Portability
The WeMax Dice is one of the smallest projectors out there. It only weighs about 5 pounds and is about 6 inches on a side, so it fits easily in backpacks and suitcases and won't add much in the way of bulk or weight when you're traveling. The handle on the top is a nice touch, too, letting users just pick it up and go.
Most portable projectors still need a power source to operate. The WeMax Dice has the option of wall outlet or battery power. The battery isn't huge but will run for about 2-3 hours on a charge, long enough for a movie or business presentation. It can even function as a portable power pack if you're in a pinch, letting you recharge your phone or laptop from the projector's battery.
Once you get where you're going, setting up the WeMax Dice is easy. It automatically adjusts the focus to keep the image sharp and has a 4-point keystone correction to keep the picture square and centered even when the projector is set up at an angle.
Pros
Sharp full HD resolution
Super-portable and lightweight
Built-in battery with 2+ hour run-time
Android TV interface with access to Google Play store
Wi-Fi and Bluetooth connectivity
Automatic focus with 4-point keystone correction
Cons
Dim lamp is prone to wash-out if there's ambient light
Built-in speaker is weak
Image Quality
There are definitely pros and cons to the WeMax Dice from an image quality standpoint. On the pro side, it has a sharp full HD display resolution and maintains that clarity and detail at any screen size. The color is bright and accurate, with a 4-channel LED color spectrum that has a relatively wide gamut of hues.
The main drawback here is the lamp brightness. It only puts out around 700 lumens. That's sufficient if you're in a fully-dark area but can't stand up to even a small amount of ambient light. During daytime or lights-on viewing, the picture quickly starts to look a bit faded and washed-out. The relatively low image contrast compounds this issue. Basically, you'll need some way to control the light level if you want to get the best performance from the WeMax Dice.
Wireless Connectivity and Streaming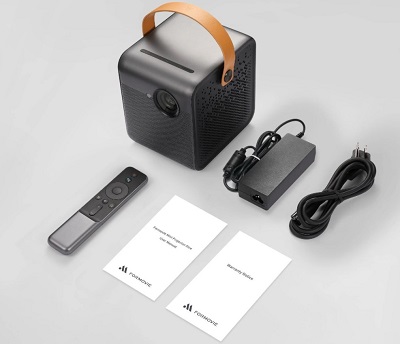 The Android 9.0 TV interface integrated into the WeMax Dice has full access to the more than 5,000 apps in the Google Play store, with 16GB of storage space for downloading them. Along with streaming content right through the projector, it supports Chromecast for wirelessly mirroring content from a phone or other device. For many users, this means you won't need to plug a streaming stick or other content source into the projector at all.
The WeMax Dice does need to be connected to a Wi-Fi network to use its built-in streaming. It also has Bluetooth connectivity, however, so it still has some wireless capabilities when it's not in range of a network. Smart home users will also appreciate that it has Google Assistant built right in for voice searches.
WeMax Dice Review: The Bottom Line
The low brightness of the lamp on the WeMax Dice may be a concern and is the main thing that limits its effectiveness in business presentation contexts. This isn't necessarily a deal-breaker for watching shows and movies, however, especially if you'll mostly be using it at night or in dark spaces. Its user-friendly design and impressive portability still make it well worth considering if you need big-screen projection on the go. (>>> Check the current price on Amazon)
REFERENCES AND FURTHER READING: