WEMAX projectors are known among home theater enthusiasts for their convenient, easy-to-use design. In this WEMAX Vogue Pro review, we'll dive into a model that can function as an all-in-one entertainment hub, with a compact housing and intuitive setup that let you use it in the house or while you're traveling. Let's take a closer look! (>>> Check on Amazon)
WEMAX Vogue Pro Review of Main Specs:
| | WEMAX Vogue Pro |
| --- | --- |
| | |
| Resolution | 1920x1080 |
| Contrast | 400:1 |
| Brightness (Lumens) | 1,600 ANSI |
| Throw Distance | 47.9' - 95.9' |
| Screen size | 60" - 120" |
| Speakers | 10.0 Watts × 2 |
| Today's Best Price | Check on Amazon |
Design and Installation
The cube shape and metal housing of the WEMAX Vogue Pro are perfect for travelers, compact enough to fit in your gear and durable enough it won't take damage along the way. The lens is well-protected, as well, and it uses an LED lightsource that's made to last the entire life of the projector.
The Vogue Pro is also a very easy projector to set up. It has a relatively short throw distance, producing a 100" image with 7-8 feet between the lens and screen. The automatic 4-point keystone correction makes it a breeze to square the image, with intelligent screen alignment and automatic focus thanks to its built-in sensor. All of this gives it a fast and easy installation in just about any space. Its only limitation in this regard is that its brightness is relatively low, at 1,600 lumens. That's enough for a dark space but will be prone to picture washout even in moderate light conditions.
Image Quality
The WEMAX Vogue Pro has a native resolution of 1080p. It can accept content up to 8K resolutions, but these will be downscaled to full HD, so you'll lose some detail compared to an Ultra HD display. The contrast ratio is also on the low side compared to other home theater projectors, further limiting the sharpness of the image.
On the plus side, the color performance of the WEMAX Vogue Pro is strong. It produces a color gamut beyond the Rec.709 spectrum that's the current broadcast standard. This means realistic and vibrant images for all types of content.
Pros
Vibrant colors (exceeds Rec.709 spectrum)
Compact and portable design
Reasonable throw distance
Automatic keystone correction and intelligent screen alignment
Direct streaming with smart operating system
High-quality built-in speakers
Cons
Maximum resolution of full HD
Low lamp brightness
Built-in Speakers
The two 10-watt speakers integrated into the Vogue Pro have a sound quality and output equal to most standalone Bluetooth speakers, far superior to the sound you'll get with most projector or TV speakers. They also support both Doby and DTS decoding, maintaining the integrity of the audio signal.
Now the built-in speakers won't give you immersive surround sound, so you'll still need to use an external sound system if you want that kind of experience. Luckily, it's very easy to connect external speakers if you want to via either a mini jack or Bluetooth connection.
Connectivity and Streaming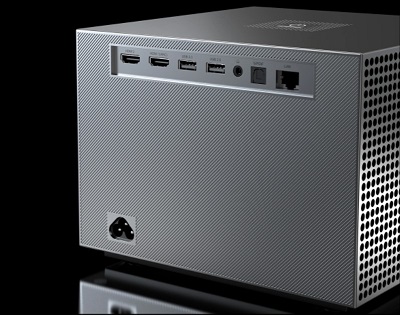 For wired inputs, the Vogue Pro offers dual HDMI as well as an RCA connection. It also has full wireless connectivity, including 2.4 or 5GHz Wi-Fi connections and Bluetooth. The smart operating system has access to thousands of apps, with 32GB of storage so you'll have plenty of space to download your favorites. The only major streaming platform that's not natively available is Netflix, which you'll need a streaming stick or other connected device to watch on the Vogue Pro.
WEMAX Vogue Pro Review In Summary
Convenience is the greatest strength of the WEMAX Vogue Pro. It's small, easy to set up, and has built-in sound and content streaming so you don't need any extra gear to use it. That said, it's not perfect. The brightness is on the low side, limiting its use in brighter spaces, and the picture isn't as sharp and detailed as what you'll get from high-end Ultra HD projectors. Still, it's an excellent option for those who want a portable, user-friendly projector (>>> Find on Amazon).
REFERENCES AND FURTHER READING: