If you're looking for a high-quality gaming projector on a budget, BenQ is an excellent company to check out. Their projectors bring advanced visual technology to users at a very reasonable price, with several options in the under-$1,000 price point that have the low lag and sharp big-screen picture gamers look for.
Looking at the BenQ HT2050A vs. TH585, both have a full HD resolution and low 16ms input lag, and you'll find them selling for a similar price. While the BenQ TH585 will be the better option for most buyers (>>> Check on Amazon), it ultimately comes down to your viewing area. Let's take a closer look at the differences so you can see what we mean.
BenQ HT2050A vs TH585 Side by Side:
| | BenQ HT2050A | BenQ TH585 |
| --- | --- | --- |
| | | |
| Resolution | 1920x1080 | 1920x1080 |
| Brightness (Lumens) | 2,200 ANSI | 3,500 ANSI |
| Contrast Ratio | 15,000:1 | 10,000:1 |
| Input Lag | 16ms | 16ms |
| Throw Distance | 4.4' - 25.1' | 3.6' - 32.7' |
| Screen size | 40" - 300" | 30" - 300" |
| Speakers | 10.0 Watts Mono | 10.0 Watts Mono |
| Today's Best Price | BHPhotoVideo.com | BHPhotoVideo.com |
Lamp Lifespan
The BenQ HT2050A uses a Metal Halide bulb as its light source. While these lamps are more affordable than other styles to replace, they also don't last as long. Even in Eco Mode, the maximum lifespan is around 7,000 hours, and it may fail after as little as 3,500 hours in higher performance modes.
The UHP bulb used in the BenQ TH585 is more durable in the long-term. While its minimum life expectancy isn't much higher (around 4,000 hours), it has more than double the lifespan of the HT2050A in Eco Mode, making it a better value in the long-term.
Longer lamp lifespan: BenQ TH585
Brightness
Another advantage of the BenQ TH585's UHP bulb is its overall output. It can produce a consistent 3,500 lumens, powerful enough to compete with ambient light so you can play or watch with the lights on. The 2,200 lumens put out by the HT2050A will only look its best in a dimmer space, and can't compete with natural light from any windows in your viewing area.
Brighter projector: BenQ TH585
Throw Distance
The size of a projector image changes depending on how far it is from the screen. Both the HT2050A and TH585 are in the general category of standard-throw projectors, which means you'll need at least a few feet of distance for a clear picture—the larger your screen, the more space you'll need.
For the BenQ TH585, you'll need a minimum of 3.5 feet for a 30" screen, and about 12 feet to produce a standard 100" image. The BenQ HT2050A saves you a bit of space in this department, producing a 100" image from as little as 8.5 feet away.
Shorter throw distance: BenQ HT2050A
Set-up Ease
Throw distance is just one factor in how easy it is to set up a projector. The options you get to adjust and align the image can make a big difference, especially in spaces where you can't install the projector head-on to the screen.
The BenQ HT2050A has a fairly wide array of alignment options, with both horizontal and vertical keystone correction along with a 10% vertical lens shift and 1.3x manual zoom. The BenQ TH585 expands on this with a 20% vertical lens shift and automatic vertical keystone correction.
Easier set-up: BenQ TH585
Connectivity
HDMI is the input standard for modern home theaters, and you'll get dual HDMI inputs from either of these models. This isn't the only way to connect home entertainment equipment, though. For more diverse set-ups, the option of composite, component, and VGA inputs on the BenQ HT2050A gives users more options. The BenQ TH585 does have a VGA input for PC gamers, but is more limited overall in its input options.
Better connectivity: BenQ HT2050A
---
BenQ HT2050A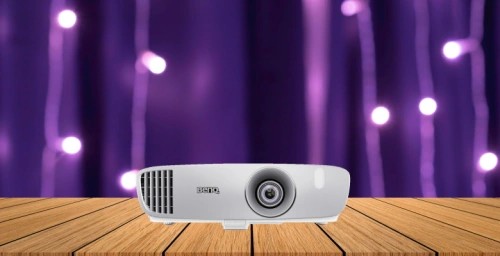 The Advanced Game Mode of the BenQ HT2050A gives it exceptionally smooth on-screen play, with no frame tearing, blurring, lag, or other issues that could interrupt your play. It has the visual technology to do justice to games from the latest consoles, with full HD resolution, a high dynamic contrast, and a wide color gamut covering about 96% of the Rec. 709 spectrum. This is good news for home theater uses, too, and it maintains a clear, detailed image for all types of content and at all screen sizes.
While it has good functional versatility, the BenQ HT2050A is a bit more limited in terms of your viewing area. The lamp puts out about 2,200 lumens—bright enough you can leave a few lights on, but you'll likely need light control measures in well-lit spaces. While its throw distance is on the shorter side for a standard-throw projector, you'll still need a good-sized space.
These limitations aside, the HT2050A has a relatively straightforward installation. Its 2D keystone correction and vertical lens shift combine with the wide 1.3x zoom for good flexibility during set-up. The extensive connection options on the rear panel are helpful here, too, with composite, component, and VGA inputs along with the standard HDMI. Click here for our more in-depth Benq HT2050a review.
Pros
Full HD image with vibrant, accurate colors
Low input lag for gamers
Easy installation with wide zoom and lens shift
Good connection versatility
CinemaMaster Audio+ improves sound quality
Cons
Lamp may be too dim for brighter viewing areas
Short lamp lifespan, even in Eco Mode
---
BenQ TH585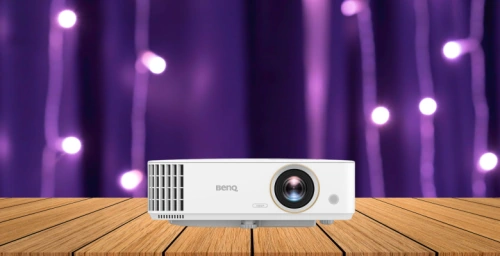 From a picture quality standpoint, the BenQ TH585 has very similar specifications to the HT2050A above. Its 6-segment color wheel covers about 95% of the Rec. 709 spectrum for accurate and fully-saturated hues, with a sharp image contrast and details thanks to the full HD resolution. Gamers will especially appreciate the Game Picture Mode, which enhances detail in shadows and dark areas so you won't miss any action. Relevant guide – BenQ TH575 review
The BenQ TH585 has a slightly longer throw distance than the HT2050A, requiring around 11-12 feet for a 100" screen. However, its more expansive image adjustment features give it a faster and more flexible setup. This includes a 20% lens shift and automatic vertical keystone correction along with manual zoom and lens shift controls.
Another strength of the BenQ TH585 is its lamp. It's both brighter and lasts longer, with a lifespan of up to 15,000 hours and a maximum brightness of 3,500 lumens. That's plenty for most indoor environments without the need to cover windows or turn off the lights. Click here for our more in-depth BenQ TH585 review.
Pros
Full HD resolution with wide color gamut
Responsive with a low lag
Bright enough lamp for any indoor light environment
Vertical lens shift and keystone correction
Low maintenance with good long-term durability
Cons
Needs more space to operate
No composite or component inputs
---
The Verdict: BenQ HT2050A vs TH585
Either the BenQ HT2050A or the TH585 can be an affordable way to bring big-screen entertainment to your home theater. Choosing the right one comes down to your space and home entertainment set-up. For bright spaces, the more powerful lamp of the TH585 is a better choice (>>> Find on Bhphotovideo), and it's also more user-friendly from a set-up and maintenance standpoint. That said, the shorter throw and broader connectivity of the HT2050A could make it the better choice for some. We hope this comparison has helped you decide which one is right for you!