In a saturated projector market teeming with options, the JmGO N1 Pro distinguishes itself, showcasing that innovation and quality can break the monotony. As part of our commitment to delivering insightful product evaluations, our team embarked on an exhaustive JmGO N1 Pro review. We rigorously tested the N1 Pro, delving deep into each of its features, ensuring that potential buyers receive a comprehensive, hands-on understanding of what this machine offers. So, without further ado, let's dive into the intricacies of this portable laser projector. View Today's Top Amazon Deals Now!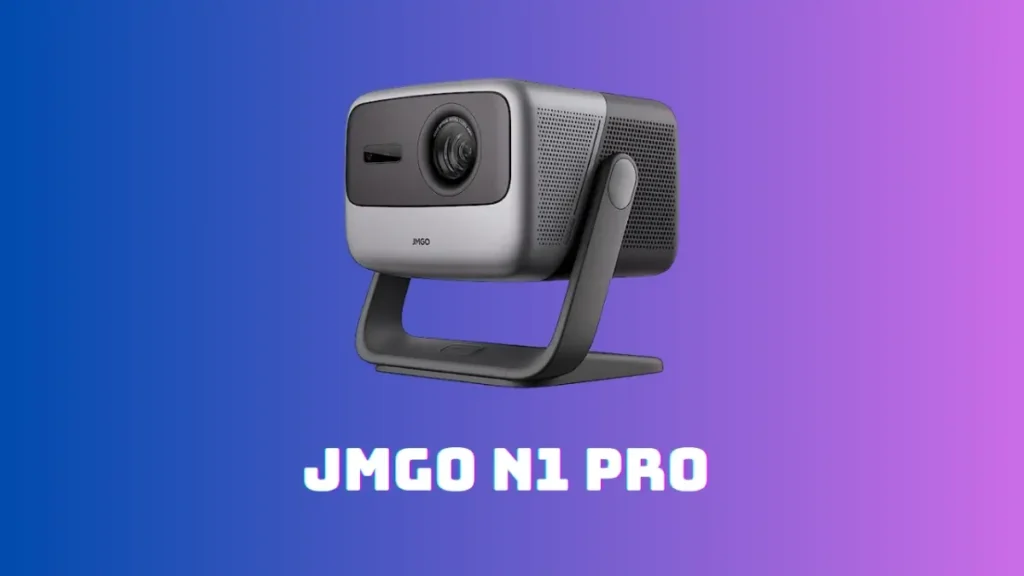 JmGO N1 Pro Specs:
| | JmGO N1 Pro |
| --- | --- |
| | |
| Resolution | 1920x1080 |
| Contrast | 1,600:1 |
| Brightness (Lumens) | 3,200 ANSI |
| Color Processing | 10-bit |
| Lens | Fixed focal length, powered focus |
| Throw Ratio | 1.2:1 |
| Screen size | 60" - 180" |
| Speakers | 10 Watts x 2 |
| Today's Best Price | |
JmGO N1 Pro Review of Performance
Portability and Design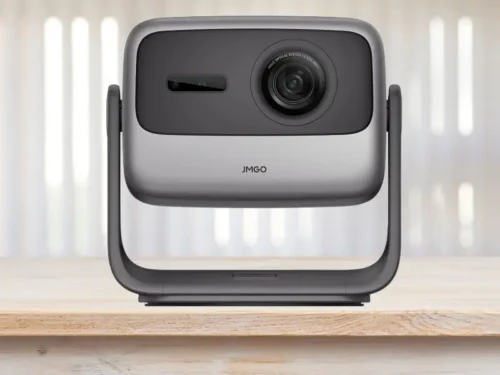 The N1 Pro strikes a balance between portability and performance. Tipping the scales at 9.9 lbs and boasting dimensions of 7.99″ x 9.44″ x 9.29″, it's designed for mobility without compromising functionality. The matte finish, coupled with sleek lines, gives it a contemporary aesthetic appeal that would complement any modern living or office space.
Pros
Good picture quality for a portable projector
The innovative integrated gimbal design brings a whole new level of projection customization, allowing for creative setups.
The Multi Adaptive System is a revelation, ensuring instant and precise image calibrations, simplifying the user experience.
Audio gets a major uplift with the Dynaudio HiFi system, making movie nights exponentially better.
Android TV 11.0 acts as a gateway to over 5000+ apps, ensuring you're never short of entertainment options.
Cons
The absence of a lens shift feature means users have to be a bit more precise in placement.
While it's portable, its 9.9 lbs weight might be cumbersome for frequent travelers.
Brightness and Color Reproduction
When we powered on the JmGO N1 Pro, its 3,200 ANSI lumens brightness was noticeable. However, in conditions with ambient daylight filtering into the room, the projector delivered average visuals. While it boasts a 110% BT.2020 gamut coverage, HDR 10 capabilities, and a 1,600:1 contrast ratio, its performance in bright daylight seemed a tad subdued. It's best suited for dimly lit settings to truly capture that cinema-grade experience. Related comparison: JmGO N1 Pro vs N1 Ultra.
Resolution and Display
The 1920×1080 resolution, while standard, takes on a new dimension in the N1 Pro, especially when considering its portability. Coupled with 10-bit color processing, the results were impressive for a portable projector. Each pixel was vibrant, and every scene was rendered with clarity. Whether it was a fast-paced action movie or a detailed business presentation, the N1 Pro performed commendably given its compact form factor.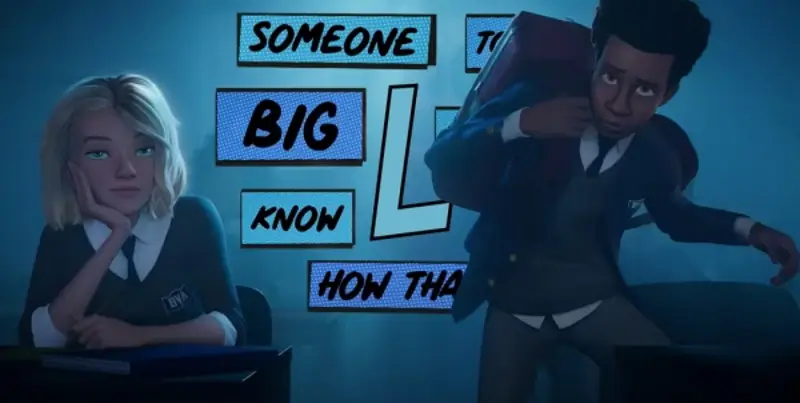 Projection Size and Distance
The N1 Pro laser projector is remarkably versatile, catering to both small rooms and sprawling living spaces. It can seamlessly project images ranging from a modest 60.01″ to a grand 180.02″. The throw distance is equally impressive, adaptable between 5.2′ to 15.7′.
Integrated Gimbal Design
Here's where the N1 Pro truly innovates. The integrated gimbal isn't just a gimmick. It grants users the freedom of a 360° horizontal pan and a 135° vertical tilt. During our testing, we were able to project onto unconventional surfaces, including ceilings, with ease.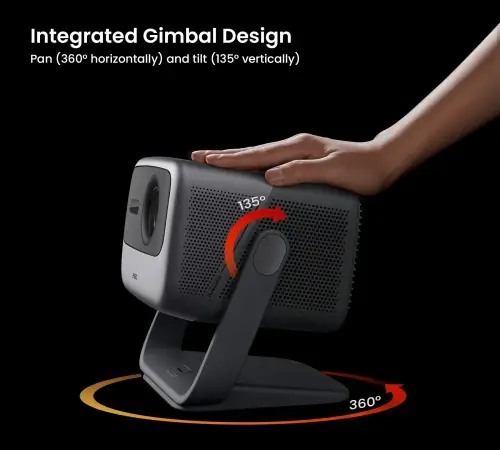 Smart Calibration with Multi Adaptive System
In our testing, the adaptive system stood out. Gone are the tedious setups. With its advanced 3D TOF Sensors & CMOS Hi-res Cameras, the N1 Pro transforms complex calibrations into a thing of the past.
Sound Quality
Audio often takes a backseat in projectors, but not with the N1 Pro. Its dual 10.0-watt speakers, boosted by the Dynaudio sound system, recreate movie theater-quality sound. The Dolby Audio and DTS decoding only serve to enhance the auditory experience.
Software and Functionality
With Android TV 11.0 onboard, the N1 Pro merges streaming and projection flawlessly. Google Assistant and built-in Chromecast further streamline the user experience, creating a fusion of smart TV and projector.
Connectivity
Whether you're a gamer or a binge-watcher, the N1 Pro's array of ports, including two HDMI 2.1, a USB-A 2.0, and a 3.5mm headphone jack, cater to all your needs. It seamlessly bridges the gap between various devices.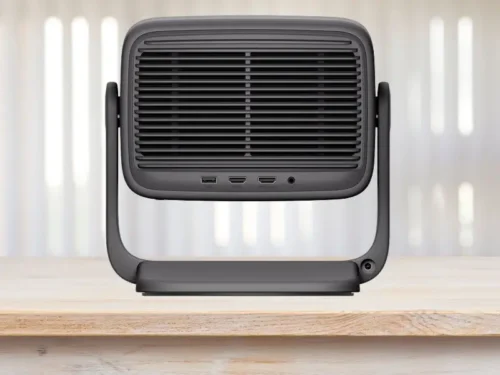 Customer Feedback
Customers seem to echo our sentiments. The feedback consistently highlighted the great brightness and video quality. The auto gimbal correction and autofocus features received universal acclaim. Many labeled it the pinnacle of portable projectors.
Ease of Use
Both our hands-on experience and user reviews suggest that the N1 Pro simplifies the projection experience. Its intuitive features minimize the learning curve, ensuring even novices can enjoy its full array of capabilities.
Final Verdict
The JmGO N1 Pro isn't merely another entry in the long list of projectors available today. It stands as a compelling representation of how innovative technology can significantly enhance home entertainment. Its harmonious blend of visual precision, auditory prowess, and user-centric features undoubtedly set it apart in the realm of portable projectors. However, it's crucial to strike a balance in understanding its offerings: while the N1 Pro delivers great performance for its portability, those for whom mobility isn't a primary concern might find more robust projectors in a similar price range. That said if a fusion of top-notch performance in a compact package is your aim, then investing in the JmGO N1 Pro is a decision you're unlikely to regret. Buy Now with One-Click on Amazon!
FAQ
Can the JmGO N1 Pro project on ceilings?
Yes, the JmGO N1 Pro's integrated gimbal design allows for a 135° vertical tilt, making ceiling projections a reality. The feature provides a unique viewing experience, especially in bed.
Does the projector come with built-in streaming apps?
Absolutely! The N1 Pro is equipped with Android TV 11.0, giving users access to over 5000+ apps, including popular streaming platforms, directly from the projector.
How does the Auto Keystone Correction work?
The Auto Keystone Correction uses 3D TOF Sensors & CMOS Hi-res Cameras to instantly calibrate the image. This ensures the projection remains rectangular and clear, regardless of the projector's angle or position.