A laser projector has a lot of advantages for the modern home theater owner. With their short throw distance, low maintenance requirements, and bright, high-resolution picture, they check all the boxes of traits you look for in a home theater projector. Since it's newer technology, laser projectors often also offer high-tech features like support for 4K resolution and smart features like voice control.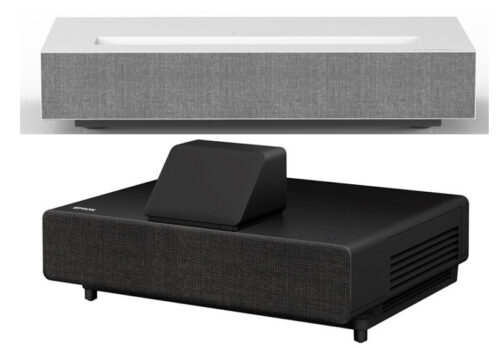 The LG HU85LA and Epson LS500 are two prime examples of today's laser projectors, offering buyers all the high-end features mentioned above. Comparing the LG HU85LA vs. Epson LS500, we'd say the Epson LS500 will be the better option for most users, especially if you're getting it for a multi-use space like a living room. The LG HU85LA has strengths of its own, though, especially when it comes to the smart features it offers.
Wondering which of these projectors is the best choice for you? Check out the full comparison below to see how they stack up side-by-side.
LG HU85LA vs Epson LS500 Side by Side:
| | LG HU85LA | Epson LS500 |
| --- | --- | --- |
| | | |
| Resolution | 3840x2160 | 1920x1080 |
| Brightness (Lumens) | 2,700 ANSI | 4,000 |
| Contrast Ratio | 2,000,000:1 | 2,500,000:1 |
| Throw Distance | 1.3' - 1.7' | 0.7' - 1.9' |
| Screen size | 90" - 120" | 70" - 130" |
| Speakers | 5.0 Watts × 2 | 10.0 Watts × 2 |
| Price | BHPhotoVideo.com | BHPhotoVideo.com |
Brightness
Both of these projectors will work fine for lights-on viewing. While the 2,700 lumens put out by the LG HU85LA is on the lower side, the short throw ratio keeps that from being an issue in moderately-lit spaces. For particularly bright rooms or daylight outdoor viewing, though, the 4,000 lumens from the Epson LS500 will maintain a better picture quality.
Brighter projector: Epson LS500
Included Accessories
The LG HU85LA comes with the basics you'd get with any projector: a manual, a power cord, and a remote for navigation (along with the batteries you'll need to power it). Unless you want to project straight onto the wall, this means buying a screen before you can use it.
With the Epson LS500, the screen comes included—and not just any screen, either. It's designed to reject ambient light and limit glare, high-end features you'll typically find on screens in the $500-$1,000 price range. That makes it a significant value add for first-time projector owners and a convenient choice, too, especially since it also includes mounting hardware for the screen.
Better included accessories: Epson LS500
Smart Features
The smart features on the Epson LS500 are pretty basic. It does have an Android operating system for downloading streaming apps and supports voice searches through Google Assistant, but doesn't support the full range of playback commands you'd need to integrate it into smart home routines.
The LG HU85LA works with both Amazon Alexa and Google Assistant, and offers a more robust array of commands for both. Its wireless connectivity is also more substantial, with support for Miracast as well as on-board streaming capabilities.
Smarter Projector: LG HU85LA
Gaming Performance
Input lag is the most important specification to consider if you want to use your projector for gaming. A high input lag means there will be a delay between your input on the controller and what you see on the screen, and that can be a problem in reflex-based games. For casual gaming, an input lag of 60ms or lower is recommended. Serious gamers will want an even more responsive projector, with an input lag of 30ms or less.
With the right settings, you can get an input lag as low as 57ms from the LG HU85LA. That's within the acceptable range for casual gaming but a bit high for more serious players. The Epson LS500 has an impressively low input lag of only 16.7ms, making it the better choice for gaming.
Better gaming projector: Epson LS500
LG HU85LA

The LG HU85LA uses a 3-channel laser with 12-bit color reproduction capability. This is reinforced by visual technology like TruMotion and Dynamic Tone Mapping, which prevent motion blur and optimize the picture on a frame-by-frame basis. With native 4K resolution and HDR10 support, it gives viewers a truly cinema-quality picture, with consistent brightness and rich blacks.
This is a user-friendly projector, as well. It's easy to set up with an ultra-short throw distance that gives you a massive screen with less than 2 feet of distance. The automatic anti-warping edge adjustment is a quick, easy way to align the image to the screen. Navigating the menus and content is easy, too, thanks to the intelligent ThinQ AI system.
The versatile connectivity of the LG HU85LA includes support for wireless screen mirroring through Miracast. It also supports streaming directly through the projector, with the option to download content streaming apps through LG's WebOS interface. Since it's also compatible with voice control systems like Google Home and Alexa, it's an excellent choice if you want to set up a smart home theater. Click if you want to read our full review of the LG HU85LA
Pros
Dynamic Tone Mapping optimizes picture frame by frame
Vibrant, accurate colors with no rainbow effect
Intuitive navigation with AI ThinQ system
Voice control through Amazon Alexa or Google Assistant
Automatic 12-point adjustment for easy picture alignment
Supports Miracast for wireless screen mirroring
Cons
Input lag is on the high side for serious gamers
Included accessories are limited
---
Epson LS500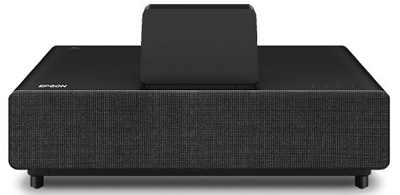 The Epson EpiqVision Ultra LS500 is an all-in-one entertainment package. Along with the projector, you'll get a 100" high-resolution ambient light rejecting (ALR) screen with a wide 178 degree viewing angle. That's convenient for first-time projector owners, sparing you the need to buy any extra accessories before you start watching.
We also appreciate the versatility of the Epson LS500. It uses a laser array technology that produces a 100" image with just 15" of distance and puts out an impressive 4,000 lumens of brightness. This means you can use it anywhere, even in smaller spaces or rooms with lots of ambient light. It's a great choice for media rooms, too, with an input lag low enough to satisfy even serious gamers. Check how it compares to the newer model, the LS800.
The Epson LS500 uses a smart Android operating system that supports direct streaming through a number of popular content apps. It's also compatible with Google Assistant for voice control, though its capabilities are admittedly limited in this regard. You can use voice searches to find content, but it's lacking playback and volume control commands you'll get with other smart projectors. For a more detailed review of Epson LS500 click here.
Pros
4K resolution with 10-bit HDR processing
Can be used in any room, regardless of size or ambient light level
Low lag and high processing speed are great for gamers
Includes a 100" ALR screen
Supports voice control through Google Assistant
Easy to navigate Android operating system
Cons
Limited voice control options
No support for wireless screen mirroring
---
What's the Bottom Line?
The LG HU85LA and Epson LS500 have a lot of strengths in common, including an easy, versatile installation and a sharp 4K picture with phenomenal color. Choosing between them comes down to how you plan to use it. If you want to play games as well as watching movies and TV, the low input lag of the Epson LS500 makes it the better choice (>>> Check on ProjectorScreen). On the other hand, smart home owners will appreciate the more robust voice control functions of the LG HU85LA. We hope the comparison above has given you a better idea of which one is the best fit for your home!