When you're comparing the Xgimi Aura vs. Horizon Pro, you can see right off the bat that they're designed for different users. The Aura is made to go in a home theater, while the Horizon Pro is built so you can take it anywhere (>>> Check on Amazon).
While they look different on the outside, these two projectors use similar image technology, and both have a fast set-up, high-quality speakers, and modern features like streaming and voice control. Let's take a closer look at where each one shines.
Xgimi Aura vs Horizon Pro Side by Side:
| | Xgimi Aura | Xgimi Horizon Pro |
| --- | --- | --- |
| | | |
| Resolution | 3840x2160 | 3840x2160 |
| Brightness (Lumens) | 2,400 ANSI | 2,200 ANSI |
| Input Lag | 43ms | 34ms |
| Throw Distance | 1.4' - 2.5' | 2.6' - 26.2' |
| Screen size | 80" - 150" | 30" - 300" |
| Speakers | 15.0 Watts × 4 | 8.0 Watts × 2 |
| Today's Best Price | Check on Amazon | Check on Amazon |
Portability
The Xgimi Aura is designed to pretty much stay put once you have it set up. At about 33 pounds, it's not excessively heavy as home theater projectors go, but it's not exactly portable. In contrast, the Xgimi Horizon Pro weighs only 6.4 pounds, and has a compact cube design that will fit easily into a backpack or suitcase.
This makes it easier to carry around, whether you're bringing it along on a camping trip or carrying it to the backyard for an outdoor movie night.
More portable projector: Xgimi Horizon Pro
Throw Distance
The Xgimi Horizon Pro is a standard throw projector. Its throw distance is reasonable within that category, but it still needs around 9 feet of distance to produce a 100" screen.
The ultra-short throw Xgimi Aura can produce that same 100" image with less than 2 feet of distance, and this both makes it better for small spaces and maximizes its brightness for lights-on viewing.
Shorter throw distance: Xgimi Aura
Built-in Sound
The speakers in the Xgimi Horizon Pro are better than what you'll find on most projectors, and it uses Dolby DTS-HD Studio Sound technology to ensure the quality and accuracy of the sound signal. The Xgimi Aura uses this same audio technology, but its physical speakers are superior, with dedicated tweeters and woofers that give the sound more power in the low end and a clearer, more detailed mid-range response.
Better built-in sound: Xgimi Aura
Gaming
If you're a professional gamer, neither of these projectors is going to be a great fit. For most players, though, anything with an input lag of around 30ms is fast enough you won't notice a delay, and for some a lag of up to 60ms won't get in the way of enjoying your game. The input lag of the Xgimi Aura measures around 43ms, while the Xgimi Horizon Pro is around 34ms, with a similar 60Hz refresh rate.
Better for gaming: Xgimi Horizon Pro
---
Xgimi Aura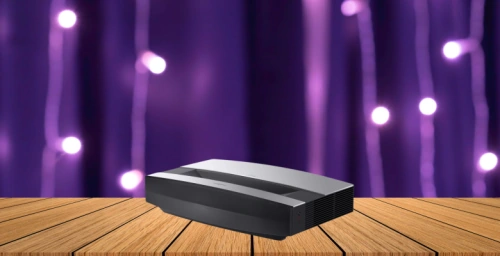 The Xgimi Aura is a great option for use in home theater spaces, or anywhere you want to watch movies and TV shows on a big screen. You can get a massive 150" image with just 2.5 feet between the lens and screen, and that short throw distance gives it good versatility for use in any size of space. It also maximizes the brightness of the laser phosphor light source, letting you use the Aura in spaces with moderate to bright ambient light without losing any picture quality.
The Xgimi Aura uses an ALPD laser display to produce a true Ultra HD image, with HDR10 for accurate and realistic colors and a sharp image contrast. It uses MEMC technology to reduce motion blur, with a 60Hz frame rate in both 4K and 1080p that keeps movies moving smoothly. Unfortunately, its lag is a bit on the high side for many gamers. Casual players may not have an issue, but serious gamers will want to look for a lower input lag.
Usability is another area the Xgimi Aura earns high marks. The 8-point keystone correction lets you easily square the image, and it uses an intuitive Android TV interface with the option of voice control through Google Assistant. You also won't need to worry about hooking up external speakers thanks to the impressive sound quality and room-filling output of the two tweeters and two woofers built-in to the Aura. Click here for our more in-depth review of the Xgimi Aura.
Pros
Excellent picture quality
Good lamp brightness for most indoor settings
Ultra-short throw distance
8-point keystone correction
Good range of wired and wireless connection options
Android streaming interface with voice control
Sound quality on par with most Bluetooth soundbars
Cons
Too bulky for traveling and on-the-go use
Input lag is on the high side for gaming
---
Xgimi Horizon Pro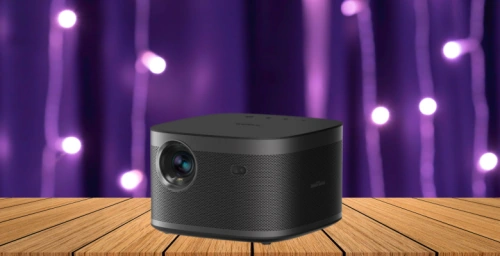 The first thing you'll notice about the Xgimi Horizon Pro is its unique cube design. At just over 6 pounds and about 8 inches across, it's small and light enough to take along on road trips or take in to the office for business presentations, and has a durable housing and recessed lens that minimize the risk of damage during transportation.
Something else that makes the Horizon Pro ideal for travelers is its super fast set-up. The optical sensor beside the lens lets it sense issues with the focus, brightness, or alignment and adjust automatically.
While you can take it anywhere, though, it does have some limitations when it comes to your viewing area. It's best used in large, dim spaces, with a lower brightness and a longer throw distance than the Aura.
Related comparison: Xgimi Horizon vs Horizon Pro.
The Xgimi Horizon Pro uses similar image technology to the Aura, with a true 4K display, HLG and HDR10 for realistic, vibrant colors, and MEMC for blur-free action. It also uses Harman Kardon speakers with DTS Studio Sound, with dual 8-watt speakers that produce a similar output and sound quality to a typical stand-alone Bluetooth speaker.
Combined with its Android streaming interface, this makes it an all-in-one entertainment machine, another reason it's a convenient choice for travelers. Click here for our more in-depth Xgimi Horizon Pro review.
Pros
Sharp 4K image with realistic color
Lightweight, portable design
Automatic alignment and focus
Good enough sound quality to use without external speakers
Responsive enough for most gamers
Wireless connectivity and streaming
Cons
Longer throw distance
Picture may be washed out in brighter spaces
---
The Verdict: Xgimi Aura vs Horizon Pro
For portability or gaming, the Xgimi Horizon Pro is the clear best choice (>>> Find on Amazon). On the other hand, the Xgimi Aura performs better in small and bright spaces, and its superior sound makes it a better choice for most permanent home theater setups. Whichever one you choose, you'll get a sharp 4K resolution, Android streaming interface, and fast, hassle-free setup.