Both BenQ and Epson are names you should consider when you're shopping for affordable, high-quality home theater projectors. You can compare the BenQ HT2050A vs Epson 2150 as similar entries in the two companies' catalogues.
Either of these projectors will give you a great bang for your buck. While we think most people will find the BenQ HT2050A (>>> Check price on Amazon) better-suited to their needs, the image quality of the Epson 2150 definitely makes it a strong contender. We'll break it down in more detail below.
BenQ HT2050A vs Epson 2150 SIDE BY SIDE
| | Benq HT2050a | Epson 2150 |
| --- | --- | --- |
| | | |
| Measurements | 4.80" x 15.00" x 10.90" | 4.80" x 12.20" x 11.20" |
| Resolution | 1920x1080 | 1920x1080 |
| Brightness (Lumens) | 2,200 | 2,500 |
| Contrast Ratio | 15,000:1 | 60,000:1 |
| Input Lag | 16ms | 28ms |
| Throw Distance | 4.4' - 25.1' | 4.7' - 29.0' |
| Image Size | 40.39" - 300.03" | 29.96" - 300.00" |
| Built in Speakers | 10.0 W | 10.0 W |
| Price | BHPhotoVideo.com | Check on Amazon |
Set-up and adjustment
Both the Epson 2150 and the BenQ HT2050A are user-friendly—if you can use a standard TV, you can use these projectors. The BenQ has a shorter throw ratio, as well as a zoom and 2D keystone adjustment. It also has a larger maximum screen size. This makes it the more versatile projector, one you can use in small rooms or for massive screens at outdoor movie nights.
| | | |
| --- | --- | --- |
|   | BenQ HT2050A | Epson 2150 |
| Throw ratio | 1.15-1.5 | 1.33-2.16 |
| Max screen size | 300" | 132" |
| Keystone adjustment | Vertical and horizontal | Vertical |
| Zoom | 1.3x | 1.6x |
Better option: BenQ HT2050A
Image quality
The image quality is high with both these projectors. The Epson 2150 edges ahead of the BenQ HT2050A with its higher brightness and better contrast ratio. The image is noticeably sharper on the Epson, and the quality of detail in black portions of the screen is especially impressive. The use of 3LCD display technology in the Epson also eliminates common display problems like the rainbow effect, giving you a smooth, realistic picture.
| | | |
| --- | --- | --- |
| | BenQ HT2050A | Epson 2150 |
| Brightness | 2,200 lumens | 2,500 lumens |
| Contrast ratio | 15,000:1 | 60,000:1 |
| Resolution | 1080p | 1080p |
| Display technology | DLP | 3LCD |
Better option: Epson 2150
Build and Performance
Both the Epson 2150 and the BenQ HT2050A are relatively compact and lightweight. From the outside, there's not much difference between them. The lamp on the Epson is more durable and will generally give you longer useful life. (Learn more about projector lamps durability here). When it comes to performance speed, however, the BenQ is the winner, with an ultra-low input lag that makes it great for gamers.
| | | |
| --- | --- | --- |
| Dimensions | 15" X 11" X 5" | 12.2" X 11.2" X 4.8" |
| Weight | 8lbs | 7.7lbs |
| Input lag | 16ms | 29.2ms |
| Lamp Life | 3,500-5,000 hours | 4,500-7,500 hours |
Better option: BenQ HT2050A
Full Reviews: BenQ HT2050A vs Epson 2150
BenQ HT2050A

Full HD Home Theater Projector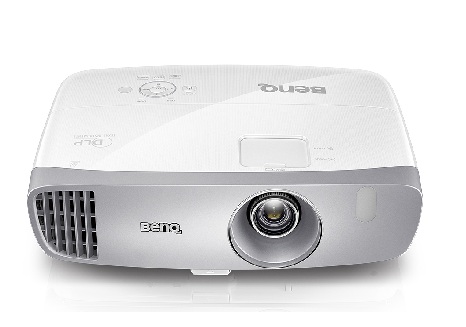 In many ways, the BenQ HT2050A is an ideal home theater projector. It's easy to integrate into any home theater set-up, and that flexibility is its main selling point. It's great for both watching movies and playing games. The input lag of 16ms is among the lowest in the industry and translates to no noticeable delay between what you do and what you see.
The BenQ HT2050A also offers flexible connection options. It gives you more than just the HDMI port you'll find on most projectors. You still get 2 of those, but you can also connect through USB or use direct video or PC inputs. This means you can still use older content sources without a lot of hassle.
Last but certainly not least, the BenQ HT2050A is versatile when it comes to the set-up. With enough distance, the screen can get up to 300"—more than twice the maximum image size of the Epson 2150. The inclusion of both vertical and horizontal keystone adjustment, as well as a 1.3x zoom. In layman's terms, this means you don't have to center the projector on the screen to get a good image. This gives you a lot more flexibility in your room layout and makes it a great choice for cramped or oddly-shaped spaces.
The BenQ HT2050A ticks all the boxes in our mind when it comes to a great home theater projector. It combines a user-friendly interface with high image quality and offers it all for an excellent value.
Pros
2D keystone adjustment
Low input lag makes it perfect for gaming
One-time plug and play set-up
Better value
Large maximum screen size
Flexible connection options
Cons
No on-board mirroring or wi-fi
May experience some rainbow effect
---
Epson 2150

Home Cinema Wireless Projector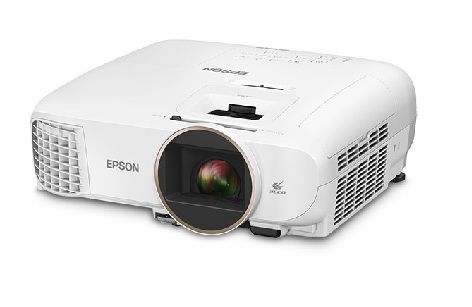 If you're looking for the best picture quality for your money, the Epson 2150 is right up your alley. The image from this projector is absolutely stunning, noticeably sharper and more vibrant than other projectors in the under-$1,000 price point. Find a full list of best projectors under $1,000 here.
The high contrast ratio is the main reason the picture from the Epson 2150 is so great. The lamp produces about 2,500 ANSI lumens, plenty for a room with low to moderate ambient light. It's equally bright for whites and colors, too, with no hotspots or rainbow effect thanks to the 3LCD technology used inside.
The Epson 2150 is also one of the few mid-price projectors to come with built-in wireless connectivity. You can mirror content from Android and Windows devices easily, streaming content straight to your projector with no extra dongles or set-up.
You won't get quite as much placement flexibility from the Epson 2150 as you do with the BenQ HT2050A. The longer throw ratio makes it less suitable for small spaces. While it does have a zoom and vertical keystone adjustment, the lack of horizontal keystone control does restrict your set-up options.
Ultimately, the Epson 2150 is your ideal projector if the quality of the image is your primary consideration. In that regard, it outperforms the BenQ HT2050A.
Pros
No rainbow effect
Easy to set up straight from the box
High contrast ratio for a sharp, detailed picture
True to life, cinema-quality color accuracy
Wireless connectivity
Long lamp life
Cons
Higher price point
Not as flexible in terms of set-up
---
User impressions
Users rave about both of these projectors in the majority of reviews. Both get high marks for picture quality and ease of use, as well as important metrics like usability and reliability.
The main complaint against both the BenQ HT2050A and the Epson 2150 comes from users with a lot of ambient light to contend with. Neither of these projectors has high enough lamp brightness for well-lit rooms and will likely look washed out.
So which projector should you buy?
For our money, the BenQ HT2050A is the best overall option. (>>> Check current price on Bhphotovideo) While the picture quality on the Epson 2150 is slightly higher, the flexibility of the BenQ gives it a leg up.
The wireless compatibility on the Epson is a nice feature if you want to mirror your screen. Since you can do the same thing with a $40 wireless dongle, though, we wouldn't consider that feature alone worth the difference in price.
The truth is these are both great projectors. Whichever one you buy, you'll get years of movie watching enjoyment. We hope this review has helped you choose the perfect one for you!
REFERENCES AND FURTHER READING: