The projector is the central piece of any projector-based home theater set-up. Taking the time to research before you buy can save you a lot of money, time, and frustration in the long run.
There are a lot of projectors out there. The stats that separate one from the other can be confusing for first-time buyers. Learning which ones you need to pay close attention to is key to getting the most out of your new projector.
That's why we put together this step-by-step guide. By the end of it, you'll know how to choose the perfect projector for your home theater.
Step 1: Measure and visualize your space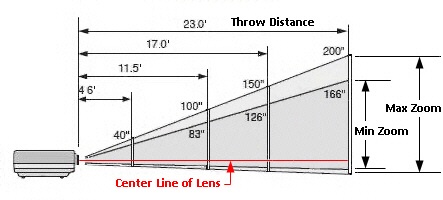 Source:Projectorcentral.com
You've probably already figured out which room you want to use. Before deciding this for certain, you'll want to make sure it will work for a projector-based home theater. The main features you should look at are:
Not all projectors are created equal in this respect, however. The throw ratio of a projector tells you how much distance you need to get a given screen size. The shorter the throw ratio, the less distance you need to get the same screen size, as you can see from the chart below:
| | | | |
| --- | --- | --- | --- |
| Throw Ratio | Feet to 35" | Feet to 50" | Feet to 100" |
| 1.5:1 (Standard) | 3.8 | 5.4 | 10.9 |
| .5:1 (Short) | 1.3 | 1.8 | 3.6 |
| .25:1 (ultra short) | .6 | .9 | 1.8 |
Step 2: Decide what you'll use the projector for
Figuring out what kind of content you'll play on your projector—and how you plan to get it there—will help you decide which one is best for you. First off, if you'll use the projector for gaming you want to look for one with a short lag time. It doesn't necessarily have to be marketed as a gaming projector as long as the lag is down around 16ms or shorter. Having said that, gaming-specific projectors often have viewing modes that optimize the screen for gaming, something that can be especially helpful in brighter spaces.
Next, determine how many content sources you'll be hooking up to your projector. Modern home theater projectors will have at least 1 HDMI port, and many even have 2. This will suffice for most users, allowing you to hook up a streaming stick and a gaming system, for example. Some projectors will also include USB, VGA, and other connection options, though these are less common.
Step 3: Pick your resolution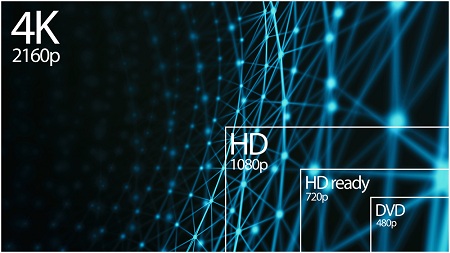 Source:Shutterstock.com
A resolution of 1080p is now fairly standard for home theater projectors. This will give you a relatively clear HD image. In terms of price, you can get projectors with a native resolution of 1080p for as low as $200, though more sophisticated models can cost $1,000 or more. For 1080p projectors buying guide click here.
You can also find projectors with 4K UltraHD resolution. These will be more expensive, running somewhere in the neighborhood of $2,000-$3,000 on average. They also tend to have a better picture quality overall and often come with other features that make them worth the extra investment.
Step 4: Plan for sound
The speakers on the vast majority of home theater projectors are relatively worthless. Worry less about the installed speakers on the projector and more about the audio output options. If you had a speaker system for your old TV, make sure you get a projector that's compatible—a new speaker system can be a big unexpected expense. Find projector soundbars review here.
Step 5: Make your feature checklist
Now that you basically know what you're looking for, you can determine which features are your must-haves. Put these together into your feature check-list. At a minimum, this should include:
Finally, consider whether you want any extra features, like 3D capability, Bluetooth compatibility, or built-in Wi-Fi. Keep in mind these features will also increase the price, especially if you have a limited budget to work with.
Bringing it all together: buying your projector
Now that you know what you're looking for, it's time to go shopping. Compare your ideal projector to the ones you're finding on the market in your budget. In some cases, it may mean making a few compromises, like ditching the 3D capability so you can get the short throw ratio you need for your narrow living room. With so many great projectors on the market, though, you can almost always find one that meets all your needs at an affordable price.
REFERENCES AND FURTHER READING: